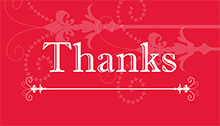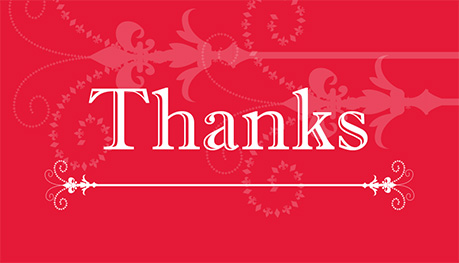 As you gather with friends and families on Thanksgiving and think of all the things you are thankful for in your own lives, the librarians, staff and students of UC Libraries would like to express their gratitude for the people, places and activities that make working at UC worthwhile – and even fun. Below are just some of the things that make our jobs worth setting the alarm clock for.

I am thankful to have returned to my hometown a year ago for my challenging and exciting position as Digital Archivist, and to be surrounded every day by such fantastic colleagues.
Eira Tansey
Digital Archivist/Records Manager, Archives and Rare Books Library
 ~~~~~~~~~~~~~~~~~~~~~~~~~~~~~~~~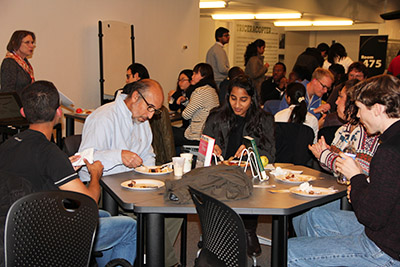 I am thankful for the Langsam Connect events that provide an opportunity for students to experience the library and learn something new in a fun, light-hearted way while also providing those of us who work in the library a way to get to know our users in a new way.
Olga Hart
Coordinator of Library Instruction and Selector and Liaison for German Studies and World Language, Reference and Instructional Services
~~~~~~~~~~~~~~~~~~~~~~~~~~~~~~~~

I am thankful for my time as a co-op student worker in UC Libraries because it has given me a unique, fun and valuable experience in my field of study.
Anna Freeman
Communications Co-op Student, 3rd-year graphic design student in the College of Design, Architecture, Art and Planning
~~~~~~~~~~~~~~~~~~~~~~~~~~~~~~~~

I am thankful for the collaborative and supportive approach that IT@UC and UC instructional designers have toward working with UC Libraries and librarians.  Thank you for supporting us and helping us learn new ways to engage UC students!
Lori Choudhury
Coordinator of e-Learning for UC Libraries and the College of Education, Criminal Justice and Human Services (CECH) Library
~~~~~~~~~~~~~~~~~~~~~~~~~~~~~~~~~~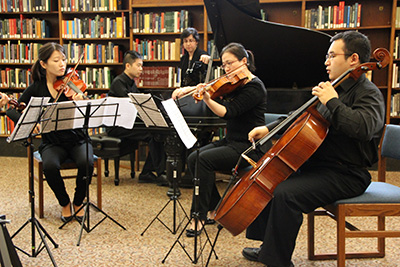 I am thankful for programs such as the "Music in the Gorno Library" that provide the opportunity for me to hear concerts by talented CCM students and the "50-Minutes/One Book" lectures in the Archives and Rare Books Library that allow me to learn more about the interesting collections of UC Libraries. Any day you hear beautiful music or engage in intellectual pursuits is a good day.
Melissa Cox Norris
Director of Library Communications  
~~~~~~~~~~~~~~~~~~~~~~~~~~~~~~~~~
I am thankful for the opportunity to fulfill a dream to be a bridge between the research community and the library. My job did not exist when I first thought this is what I want to do, and I am thankful that UC Libraries had the vision to create such an opportunity for me.
Amy Koshoffer,
Science Informationist, Geology-Mathematics-Physics Library
 ~~~~~~~~~~~~~~~~~~~~~~~~~~~~~~~~
A note of thanks to the volunteers who donate their time, energy and talents to the libraries, including Jerry Newman who is processing the Cincinnati Observatory Collection, and those working in the Preservation Lab: Lucy Schultz, Catarina Figueirinhas, Ashley Espinosa, Jeanne Taylor, and Recent Volunteer Emeritus – Ron Frommeyer.
Ted Baldwin
Director, Science and Engineering Libraries
Holly Prochaska
Head, Preservation Services
~~~~~~~~~~~~~~~~~~~~~~~~~~~~~~~~~~
I love the diversity of people I see in and around UC Libraries. It reminds me of when I was in the U.S. Air Force. I met so many peoples in the service and overseas. It taught me that we all are here on earth to learn from each other…and that we all can contribute to the betterment of our world!
Alfreda Green
Library Media Technical Assistant 1, Acquisitions and Cataloging
~~~~~~~~~~~~~~~~~~~~~~~~~~~~~~~~~~
I am grateful for the opportunity to take UC classes that allow me to further my career and expand my knowledge base.
Lisa Haitz
Web Developer  
~~~~~~~~~~~~~~~~~~~~~~~~~~~~~~~~~~
Special wishes for a wonderful Thanksgiving from UC Libraries! We hope you have the opportunity to enjoy time, and good eats, with your family and friends.