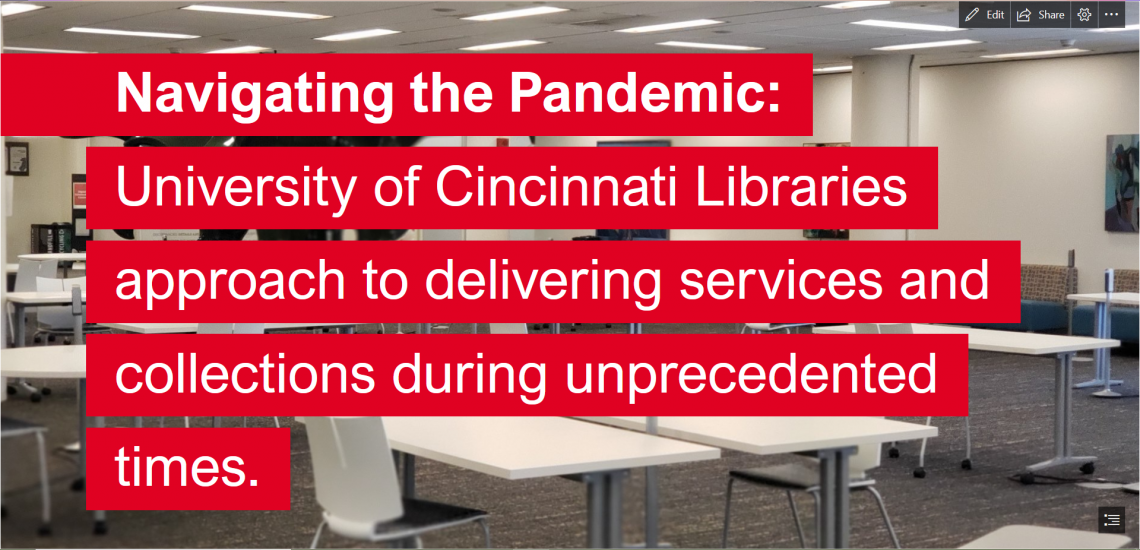 UC Libraries approach to delivering services and resources during unprecedented times.
---
This past academic year has been a lesson in resiliency and versatility. Through the shared experience of the unknown, illness and lives lost, people around the world did their best to keep one another safe and to hold out hope for an end to the global pandemic. We, too, in UC Libraries did our best to pivot – striving to maintain the core tenants of our mission, while adhering to pandemic health and safety standards as we re-imagined core library services aimed at a user base that had largely moved online. As the university weathered the challenges and relentless change brought on by the pandemic, the Libraries proved again and again our role as an integral partner in the university's effort to achieve its core mission of teaching, research and community engagement.
We pivoted once again in the summer, following guidance from the state and the university, as we worked tirelessly to prepare for students to return. All 10 library locations reopened in time for the fall semester, a massive achievement for our small, but dedicated staff.
Librarian's Ted Baldwin, Catie Carlson, Katie Foran-Mulcahy and Debbie Tenofsky surveyed their faculty and staff colleagues regarding their experience providing library services during a pandemic. They worked with Melissa Cox Norris, director of library communication, to create a Sway presentation documenting the experiences.