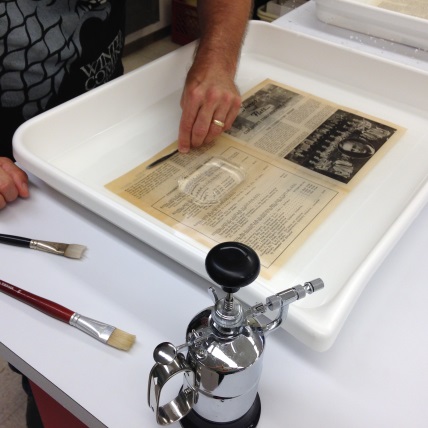 'Preserving the Past for the Future' Exhibit Showcases Work of Preservation Lab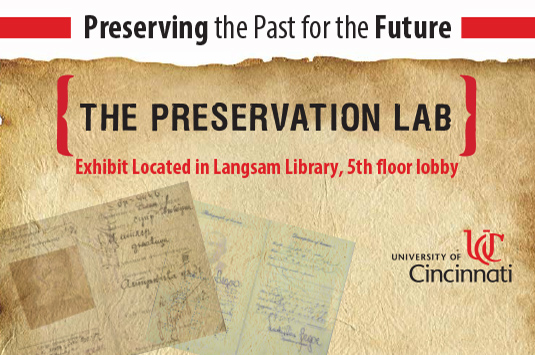 In January of 2012, the Public Library of Cincinnati and Hamilton County (PLCH) and the University of Cincinnati Libraries (UCL) began a long-term collaboration to provide conservation and preservation treatments in an equally managed, staffed and equipped preservation lab located in UC's Walter C. Langsam Library. Employees from both PLCH and UCL work on the general circulating and rare/special collections of each institution. The division of labor for all work performed by the Preservation Lab is divided evenly between UCL and PLCH.
The exhibit "Preserving the Past for the Future," currently on display on Langsam Library's 5th floor lobby, showcases the work done by the Preservation Lab on a selection of rare/special items from both PLCH and UCL. Items in the exhibit range from photo albums to bridge reports to scrapbooks. The items from UC in the exhibit include a program and scrapbook from the College-Conservatory of Music (CCM); The Maniac, with Other Poems by John Lawson located in the Archives & Rare Books Library; and Vilma Segoe's Identification Card (1921) & Ladislas Segoe's United States Passport (1928). The exhibit demonstrates both before and after images of the treatment done to the objects and explains the process.
The exhibit was curated by Jessica Ebert, conservation technician in the Preservation Lab, and designed by Amanda Jackson, former communications co-op design student. The online exhibit was created by Lisa Haitz, web developer.
The exhibit can be seen in its entirety online at https://libapps.libraries.uc.edu/liblog/2015/04/preservation-exhibit/.
Items from UC in the exhibit: