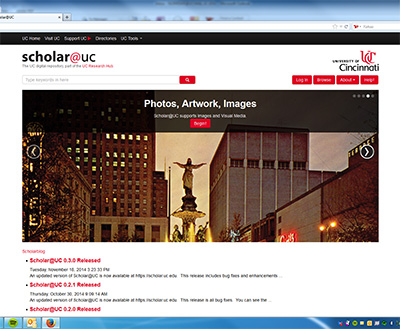 It is with great fanfare that we announce the name of UC's Next Generation Digital Repository: Scholar@UC.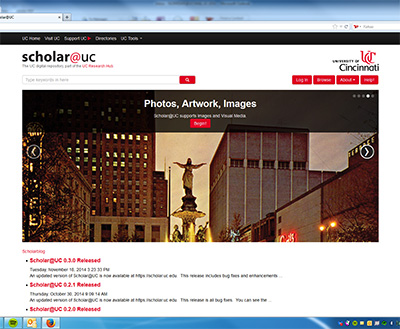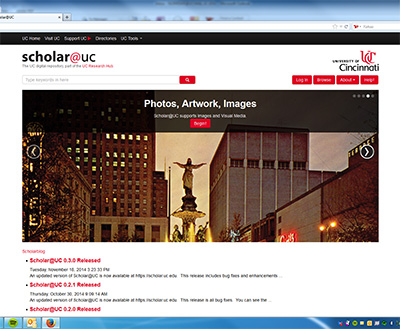 A digital repository makes accessible, enables re-use, stores, organizes and preserves the full range of an institution's intellectual output, including scholarly, historical and research materials. Scholar@UC is part of UC's emerging Research Hub and is being developed in partnership with UC Libraries and UCit. Scholar@UC initially will support direct deposit by faculty and staff of digital materials and data that are a result of their scholarly work and research, as well as deposit of faculty-approved student work such as theses and senior capstone projects.
Scholar@UC is now in an early-adopter phase. Fourteen UC faculty members are using Scholar@UC to self-submit their scholarly output such as white papers, analyses, data sets, publications, presentations, instructional materials and more. Feedback on their experience self-submitting content will help to refine functionality, workflow and to define future development of Scholar@UC. The next phase of implementation, to add features and expand the number of participating faculty members, will begin in early 2015.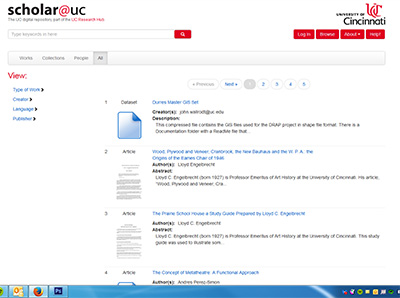 "As scholarly and research communities strive to make their output more openly discoverable, it is imperative that we develop new tools to store and preserve these materials," said Xuemao Wang, dean and university librarian. "With the participation and feedback from our early adopters, we will create a repository that is easy to use and navigate, that can serve as a permanent home for the hard work of UC faculty and researchers along with their colleagues and students."
For more information about Scholar@UC, please contact scholar@uc.edu or visit its blog at http://libapps.libraries.uc.edu/scholarblog/.