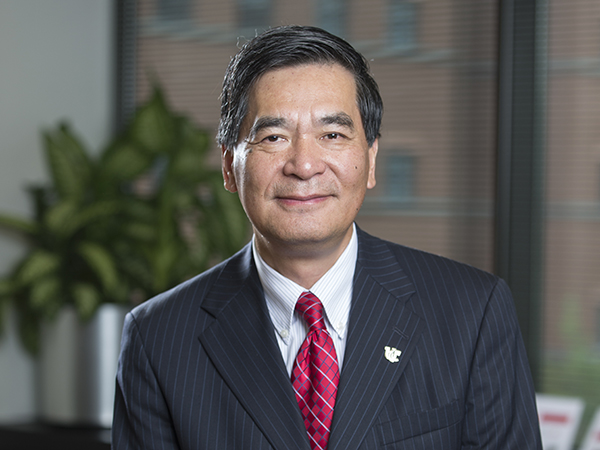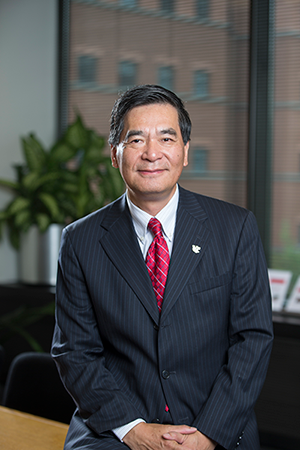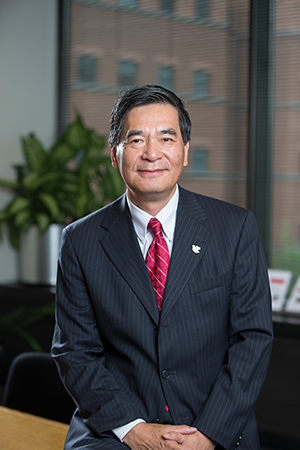 With this publication of Source, we are two months into the 2020/21 academic year. And while things are very different than any other fall semester that I have ever experienced, UC Libraries continues to provide faculty, staff, students and researchers with access to library resources, services and information expertise. The interiors of our libraries have been transformed as we moved furniture and closed off spaces to allow for social distancing. However, the spirit of UC Libraries is in full force as our library faculty and staff remain dedicated to work with users in fulfilling their research and learning needs.
I am impressed and grateful for how everyone in UC Libraries first pivoted to working remotely in spring, but then immediately began planning for how to return to campus in whatever form that might take. We've re-opened library facilities to the UC community in a limited, phased approach to ensure safety. We are once again providing OhioLINK and Interlibrary Loan borrowing. Our Click & Collect retrieval and pickup service provides the UC community access to our print library collection. New print materials and electronic resources are being ordered, cataloged and added to the collection. Our preservation staff continues to care for and protect our collection.
Online, we are serving users through our Online Library portal, library instruction, data management and the ever-growing CHAT reference service. And while our libraries aren't filled as they normally would be with students studying or working in groups, we continue to support their academic needs in both familiar and new ways online and limited in-person as they utilize the library to access research materials, print and scan documents and study between classes.
This new academic year also begins a new term for me as the Dean and University Librarian as the Board of Trustees approved my re-appointment at their August meeting. One of the things that attracted me to come to work at the University of Cincinnati eight years ago was the obvious dedication of the librarians and staff to the university community, in addition to the inspirational and ambitious growth trajectory of the university. I stated at that time that my top priorities as dean were to continue strengthening the Libraries' role as the intellectual commons of the university, to bring innovative initiatives forward and to take UC Libraries to new heights, nationally and internationally. With collective hard work, careful planning and pioneering thinking, we've accomplished a great deal towards these goals.
Looking back, I am very proud of our organization's accomplishments under the four pillars of our Strategic Plan – from advancing digital scholarship and innovation, enhancing our knowledge base from data to information to knowledge, building our diverse workforce and transforming our library spaces. We could not have made such a significant accomplishment without the contributions of all library faculty and staff and without donor support. We particularly owe our deep gratitude to those faculty and staff who have retired from their long and devoted careers to serve the university. To all of these people, I give my sincere thanks for eight productive years.    
Towards the Future
Looking forward, I hope that we can use the lessons learned over the last eight years, along with the challenges we've faced these past six months, to continue to propel UC Libraries forward. I am using the fall semester for reflection and to ask questions that will help determine our future priorities. I have been exploring a broad set of questions, such as:
– How has the pandemic altered society's and people's information seeking behavior?

– What does the new landscape of American higher education look like post pandemic?

– Will the remote, online and virtual instruction methods take a predominate role and be truly integrated into an on-going learning mode? 

– How has the information and knowledge content development and distribution model been disrupted and changed?

– How does it impact the research ecosystem? 

– With the majority of UC working remotely, how do we continue to connect students, faculty, researchers and scholars to dynamic data, information and resources in the ways they need? 

– With the continued rise of our digital content usage, and steady decline of print materials circulation, should we consider further modification of content and collection development strategies? 

– How can libraries help to bring people together in a time when we all feel so far apart, whether that be physically or figuratively?

– Could the pandemic permanently change or alter our "Library as a place" vision? 

– How can libraries foster a free and open exchange of ideas?

– What does community mean now and how can libraries build and support community?

– How can our libraries with reduced resources continue to fulfill our full mission?

– What new, emerging opportunities or innovative and entrepreneurial ideas are worth us pursuing?

– Last, but certainly not least, I am asking myself as the country continues to reconcile its history of systemic racism and injustice, what role do libraries play?
I don't have the answers to these questions, but I look forward to the journey of exploration with upcoming planning processes and the collective wisdom of our organization. Whether working remotely or in-person, I feel confident that by working together UC Libraries can achieve our vision to become the globally engaged, intellectual commons of the university – positioning ourselves as the hub of collaboration, digital innovation and scholarly endeavor on campus.
Xuemao Wang,
Vice Provost of Digital Scholarship and Dean and University Librarian