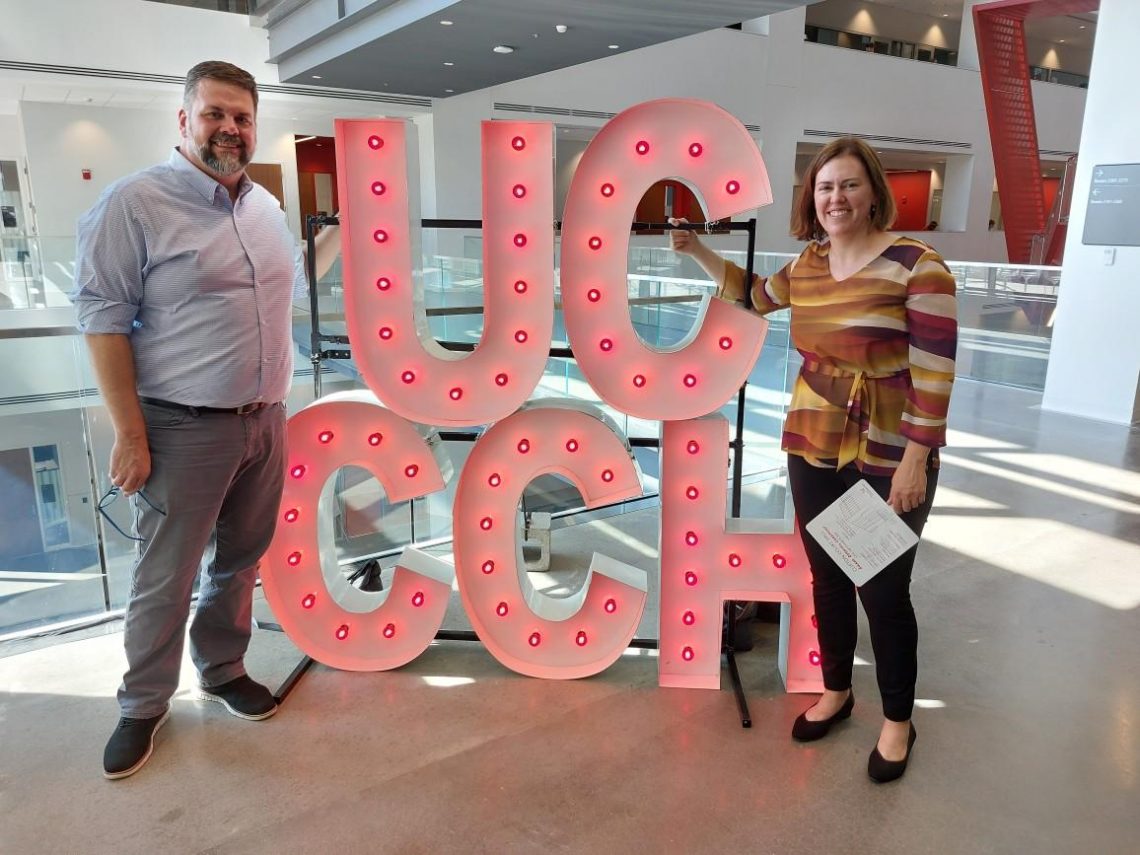 An interview with Liz Kiscaden, Dean and University Librarian
On August 14, 2023, Elizabeth Kiscaden began her tenure at the University of Cincinnati Libraries as dean and university librarian, coming to UC from Creighton University where she was the university librarian and assistant vice provost of library services. Following is an interview with Liz about her professional background, immediate goals for the new position and her early impressions of UC Libraries, as well as how she is having fun exploring Cincinnati.
Please tell us your professional background
Prior to beginning my tenure at UC, I was the university librarian and assistant vice provost of library services at Creighton University, a Jesuit university located in Omaha, NE. At Creighton, I led the modernization of library systems and infrastructure to support an anytime, anywhere, any device philosophy. I also completed a realignment of campus libraries into a single enterprise, unifying library practices, collections and spaces. Additional projects during my tenure at Creighton included establishing a new climate-controlled space for archival storage, integrating the campus innovation and design lab into the libraries and launching a comprehensive research information management system. My final project at Creighton was re-imagining the main undergraduate library and leading a renovation, which included retaining some select (retro!) pieces from the past.
Prior to working at Creighton, I held positions at the University of Iowa, first as the head of library services at Hardin Library for the Health Sciences, and later as the associate director of the Greater Midwest Regional Office of the National Network of Libraries of Medicine. The work on behalf of the National Network of Libraries of Medicine was conducted under grant funding from the National Library of Medicine and the charge was to serve as a regional medical library for a ten-state region in the Upper Midwest. In this role, I led a team that provided grant funding and education – and, I had the opportunity to network with academic health sciences libraries across the nation.
Early in my career, I served as the library director at Waldorf College (now Waldorf university), a small Lutheran college founded by Norwegian immigrants in Forest City, Iowa. And finally, my first position as a new graduate was as a medical librarian at Mercy Medical Center – North Iowa, now Mercy One.
I received an undergraduate degree in Music Performance from the University of Minnesota – Twin Cities and hold a master's degree in library and information sciences from the University of Wisconsin – Milwaukee.

Why were you interested in being the Dean and University Librarian at the University of Cincinnati Libraries?
During my career, I've worked in hospital libraries, private universities and colleges, and public universities – I have enjoyed the journey and respected each institution. While working at a hospital, I worked frequently with the lead cardiologist, who shared the impact my work made on his patient care. At Waldorf, I had the privilege of stewarding a unique archive that told the story of a school with deep local roots. Creighton University introduced me to Jesuit values and how those are put into practice within higher education, with the goal of bettering society. However, it was my experience at the University of Iowa that made me feel the most at home. I attended public schools and universities and believe in the mission – to provide students from all walks of life with an opportunity to learn and advance themselves.
Why the University of Cincinnati in particular? As I shared earlier, I had the opportunity to network with many academic libraries during my time at the University of Iowa, and I remembered traveling to Cincinnati to visit the Donald C. Harrison Health Sciences Library previously. Both Cincinnati and the university made a positive impression on me. When investigating the opportunity to join UC, something that stuck with me was that UC is not afraid to challenge the status quo to support student success – this is a mission I can get behind.
From your experience, what are some of the major trends in academic libraries, especially in regards to how students, faculty and researchers interact and use the library?
One of the biggest trends is the continuing evolution of our collections, which are increasingly published and consumed in a digital format. While some disciplines will continue to prefer print, most of our collections are transitioning to a digital format. This transition provides academic libraries with the opportunity to re-imagine our spaces for students and incorporate new services and partnerships. To do so, academic libraries are making decisions about what print to retain in our spaces and what to store elsewhere.
Academic library services are expanding, libraries are increasingly partners in teaching, learning and research. These services are evolving to meet users where they are, within research and teaching workflows. Libraries are embedding themselves within electronic courses, integrating into the classroom and joining research teams. This, in turn, leads libraries to become more externally focused through increased partnerships across campus.
Related to an external focus, academic libraries are increasingly amplifying and making the scholarly work of their own researchers and students accessible. No longer are academic libraries responsible only for bringing an external body of knowledge to campus; now they also broadcast the knowledge of their own scholars beyond campus. Promoting access to scholarly work is a part of the open access publishing mission, in which academic libraries are key stakeholders.
Finally, academic libraries at research intensive universities, like ours, have unique opportunities to partner with researchers. These libraries initially offered services to manage and curate research datasets, but as research becomes more data-centric, this has evolved to include all types of data. Similar to the partnerships librarians formed with health professionals to publish systematic reviews, librarians are now forming partnerships with professionals across all disciplines on projects involving bibliometric analysis, text mining and data visualization.
What are the top challenges facing academic libraries?
A challenge facing academic libraries is the changing landscape of scholarly communication, which is keeping us on our toes. Previously, the publishing model was what we call "pay to read," which is best illustrated by an academic library paying for a subscription to journal content. As open access publishing has advanced, more scholarly content is made freely available after publication, but publishers generally administer a fee to cover the cost of publication. This type of publishing is often referred to as a "pay to publish" model, indicating that there is a cost paid up front for publication. Academic libraries are increasingly navigating this landscape through what is often referred to as transformative agreements, agreements that include both reading and limited publishing.
Another challenge is working through the long-term retention of our print collections, by this I mean where and how to store collections and determining our responsibility for retaining content indefinitely. While most academic libraries have established off-site storage facilities, often high-density storage to minimize the cost, these facilities have filled up quickly. It has been the responsibility of academic libraries to retain the scholarly record for the long haul, the challenge is how to do this in the most effective manner possible.
A persistent challenge within academic libraries is in diversifying our profession; while a number of initiatives to diversify the profession have emerged over the past decade, graduates in the field continue to be predominately white females. There is an urgency to recruit a more diverse student body to the profession and to retain that diversity within the field. An example of a student pathway is the OhioLINK Luminaries Program, which provides students from under-represented populations and economically disadvantaged environments with paid experience in academic libraries.
These are examples of some of the more unique challenges facing academic libraries, but there are familiar challenges that persist. One of these is managing the increasing cost of information with budgets that remain flat, necessitating discontinuing resources. There is also the challenge of keeping up with rising expectations from our users, who are used to getting everything rapidly and online. We face the challenge professionally of bucking the Marion-the-librarian stereotype, continuously educating our faculty, administrators and the public about how academic libraries have evolved. Oh, and the rise of artificial intelligence (AI), I see this as both an opportunity and a challenge. Perhaps these problems will be solved by our AI partners in the future?
In a related question, how do you see UC Libraries can best capitalize on these trends while successfully addressing the challenges?
UC Libraries are at a turning point when it comes to our print collections and physical spaces; we must determine what off-site storage solution to invest in for the long term and re-imagine our physical spaces. Our library spaces, particularly our undergraduate library space, continue to be popular among students. In fact, we broke a record for student visitors to the Walter C. Langsam Library this semester! UC Libraries has the opportunity to re-imagine our space, which necessitates storing more of our print elsewhere. This possibilities are exciting, but this is a big project that will require an analysis of our print collections and some decision making surrounding existing off-site storage options.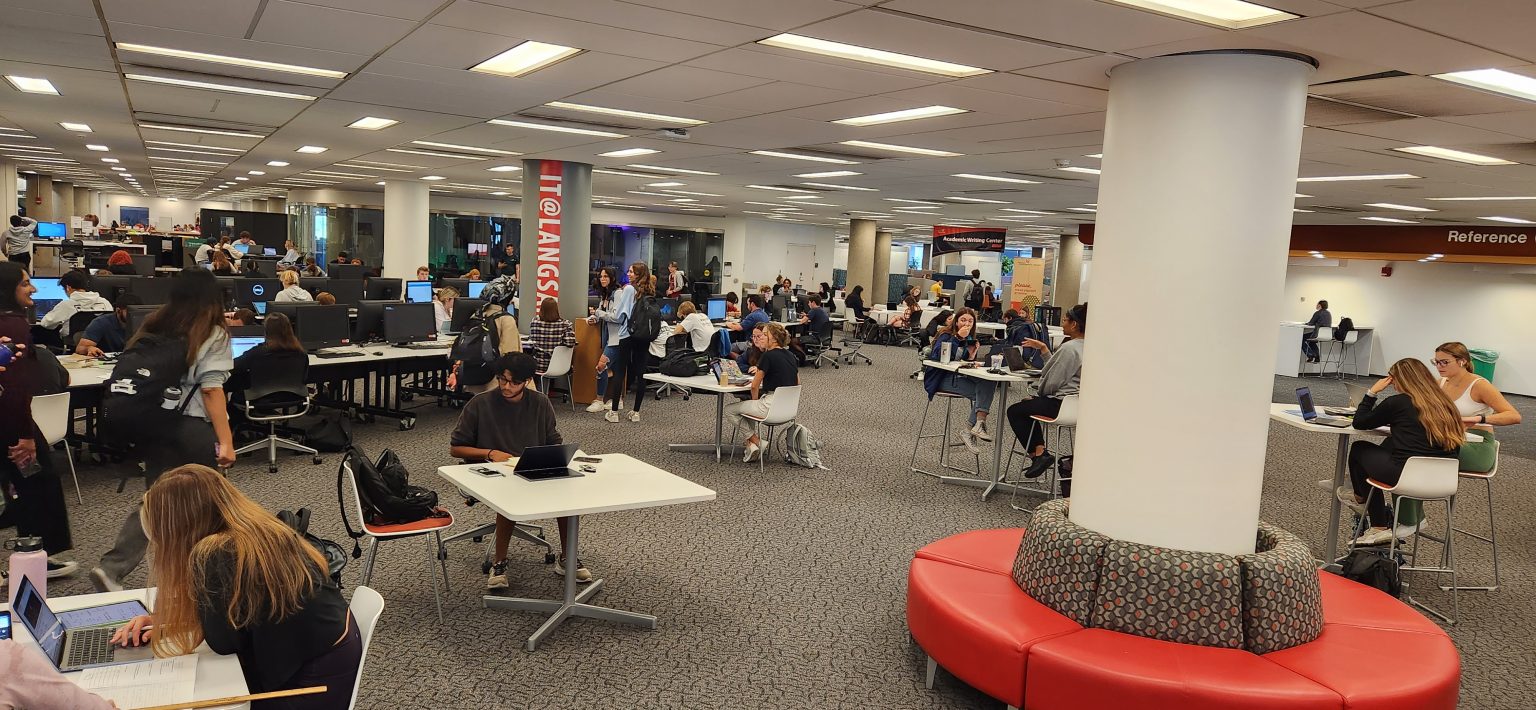 When it comes to the changing scholarly publishing environment, UC Libraries has a real advantage in our membership in OhioLINK, Ohio's statewide academic library consortium. The consortium has begun to negotiate limited academic publishing within renewals to journals, effectively creating transformative agreements, and doing so in a cost neutral manner. Last year, these agreements resulted in member libraries saving $4 million collectively in publishing fees for open access publication. Membership in OhioLINK is a strength of UC Libraries and our shared purchasing power results in negotiation to keep the cost of information as manageable as possible.
Regarding amplification of our own scholarship, UC Libraries is completing a third year of an Open Access Initiative that provides grants to faculty to create, modify or adopt open educational resources. These projects take the form of freely available resources that usually replace high-cost textbooks, saving UC students a considerable sum of money. Supporting open educational resources on an ongoing basis will be a part of UC Libraries' strategy going forward, you will see more about this in our upcoming strategic plan.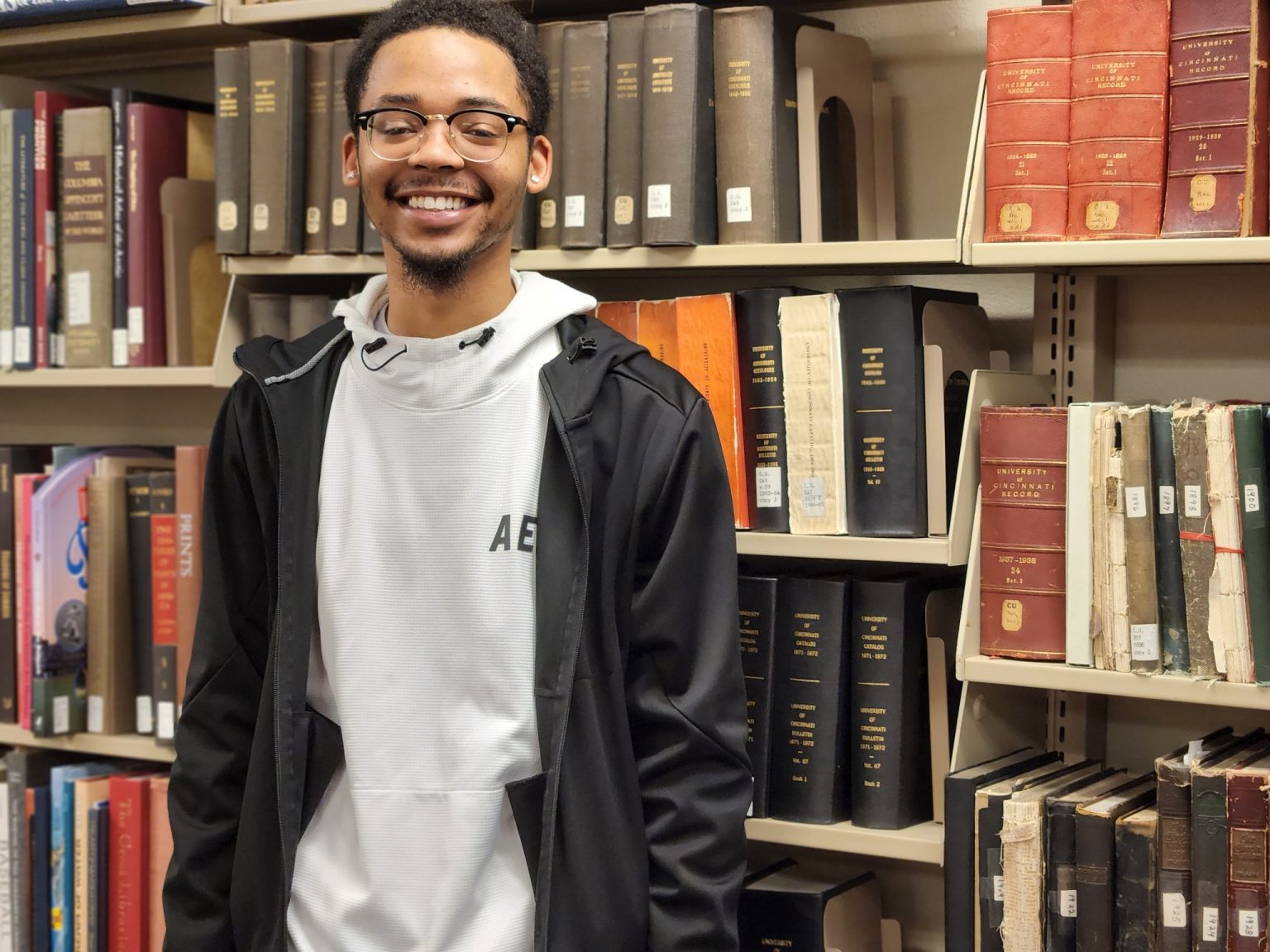 UC Libraries drives inclusive excellence, our faculty and staff are actively involved in initiatives surrounding critical librarianship locally, nationally and even internationally. Diversity, equity and inclusion is a guiding principle and the work undertaken to highlight marginalized communities is seen through our programs, events, exhibits and activities. In fact, UC Libraries has been a participant in the program I mentioned earlier, the Luminaries program sponsored by OhioLINK. Pictured to the right is Marvin Jones, who worked in various libraries and departments in 2022.
A commitment to inclusive excellence will continue to be a priority for UC Libraries and will be amplified through strategic actions and goals in our plan.
UC Libraries is positioned for success within a growing university which prioritizes student success, research, and innovation. With distinctive collections and a talented workforce, UC Libraries are building an engine that will secure the success of the academic mission of the university.
Any early impressions of Cincinnati, UC or the Libraries you wish to share?
I am originally from Minnesota, but lived in Iowa and Nebraska for the past 15+ years. I had forgotten what it was like to live somewhere with trees and hills, it is just beautiful here. I have been kayaking and biking in the area and hope to get out fly fishing yet this fall. (In fact, I just bought a couple of raffle tickets for a fly rod from an outfitter near my house.) I have been to see the Cincinnati Pops Orchestra, I cheered on the Cincinnati Reds at baseball game, and I've been to many of the area museums – this city has a lot to offer!
Also, the Cincinnati skyline is fantastic, you may not see it if you grew up here or have lived here for years, but every time I drive down Columbia Parkway towards downtown, that skyline makes me smile.
What is one thing that has surprised you about Cincinnati, UC or the Libraries that you wish to share?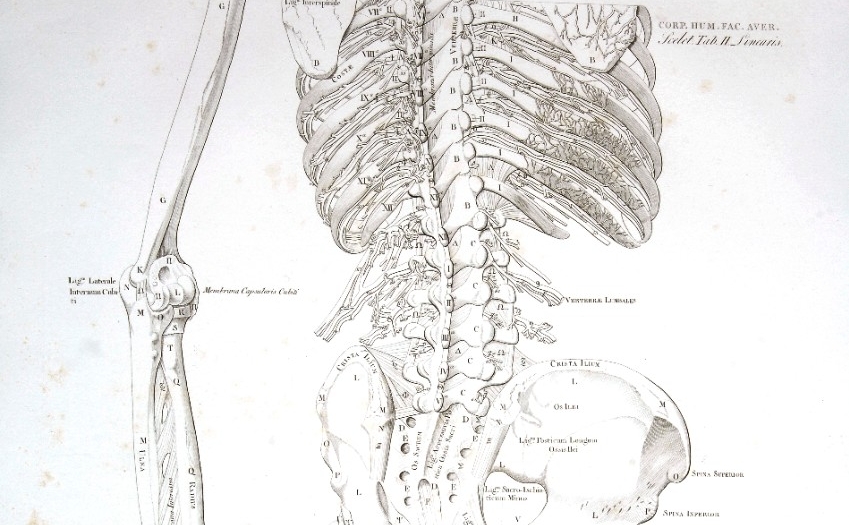 I love to discover the unique items within academic libraries, something that surprised me within UC Libraries was the Mascagni atlas in the Henry R. Winkler Center for the History of the Health Professions collections over at the Health Sciences Library. Paolo Mascagni was a physician from the eighteenth-century who produced limited copies of an anatomical atlas. The atlas is huge to depict anatomy life-sized and contains plates that were engraved and colored by hand. There was a copy of the atlas at the University of Iowa which I bragged about when I was employed there, as there are only three copies that exist in the US. I was surprised to learn that we have a copy here at UC also, you can view it on display at the Winkler Center.
This is just for fun, but something that made me laugh my first day at UC were the signs in the parking garage, warning everyone not to leave valuable CDs in their cars due to theft. We probably have students who have never seen a CD before! If I leave my unwanted Green Day CDs on the seat, will someone please take them?
How are you exploring and getting to know your new city? Any highlights?
I have a retired racing greyhound and we make it our mission to explore as many parks in the area as possible. Parks here are beautiful, with great overlooks over the river and eclectic coffeehouses never far away. Also, I brew beer as a hobby, and I enjoy "researching" beer by frequenting local microbreweries. Cincinnati is a great place to explore microbreweries! I took an underground tour of old beer fermentation caves and sampled beer at Rheingeist, MadTree, Northern Row and Moerlein Lager House. I also like to explore local history and well, just unusual local sites, and intend to visit the Lucky Cat Museum and Vent Haven Museum (a museum of ventriloquial figures) in the near future.
Anything else you wish to add?
As I shared, I have a background in music performance and I play the bassoon. I try to find ensembles to play with in order to keep myself playing and to hang on to that skill. Once I am settled in the area, I would like to find a local community orchestra or wind ensemble to play in.