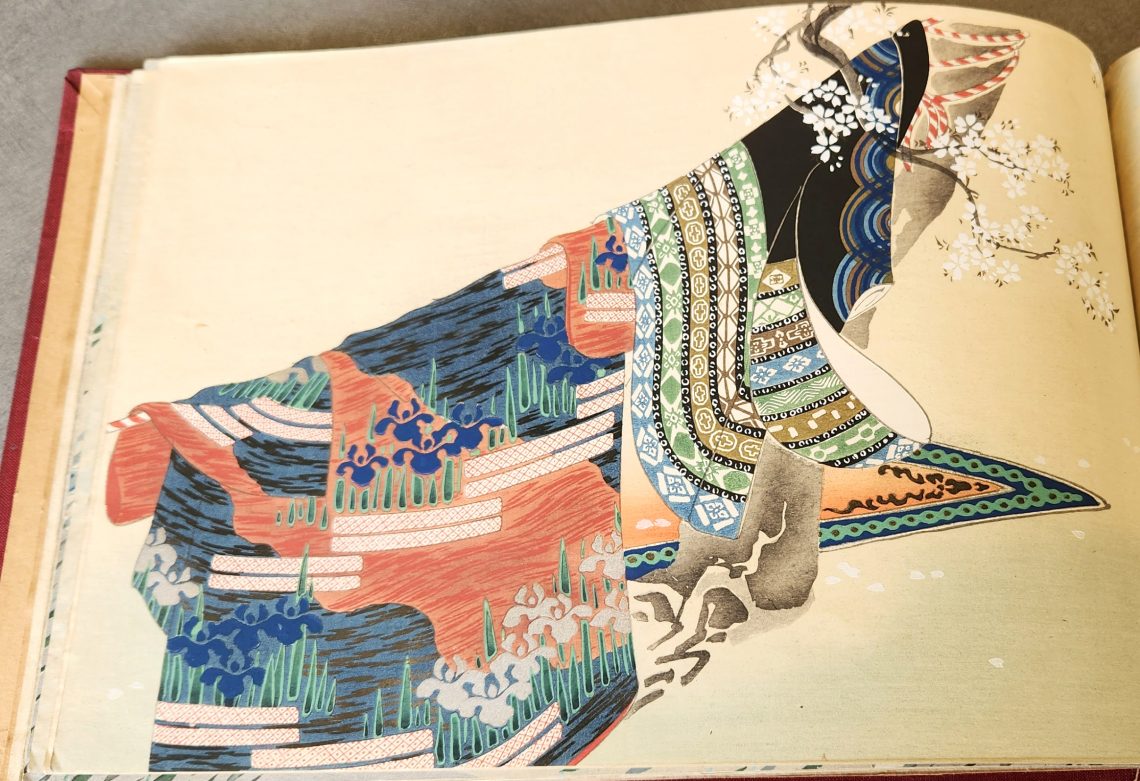 The art of cataloging Japanese design books
Sometimes being a cataloger is somewhat like being a detective. Looking for clues on a book or item, researching its history and provenance, filling in blanks left from librarians or book sellers of the past. Such was the case for Mikaila Corday, library associate and Japanese language cataloger in Content Services, when she was sent volumes from the Archives and Rare Book Library with the request to find out what she could so that they could be properly cataloged. It helps that Mikaila speaks and reads Japanese from her time living in Japan as a child. Her knowledge of Japanese art and culture also served her well as she researched what these rare books were and how to describe them and list them in the library catalog. What she discovered is that these four items, part of the Rare Books collection in the Archives and Rare Books Library, are Japanese design books, or "zuan-cho" from the Meiji and Taishō periods.
"These works are not only important in the way they document Japanese textile design during the late 19th and early 20th centuries, but their presence in our Rare Books collection allow us to explore the global nature of book design and printing," said Christopher Harter, UC archivist and head of the Archives and Rare Books Library. "Students can use these to explore how books were created in Japan at the time and how those books may have differed from books produced in other parts of the world."
As for how these books came to be in the Archives and Rare Books Library, and why the volume sets are incomplete, that remains a bit of a mystery. From her investigation of the items, Mikaila speculates that we may not have complete sets because these items were a gift and not an area the library was actively collecting. In fact, some of these books may have been picked up in book markets with the buyer not knowing they were even part of larger sets, and then they found their way to UC Libraries' stacks through a donation. In addition, Japanese book collections such as these (libraries and personal collections) were decimated in WWII firebombings, making exports incredibly scarce, so complete collections and runs of series are that much more valuable. Mikaila goes on to say, "It's hard to say their exact origin, but I did see a few of these had a sticker or label inside from a bookstore in NYC called Orientalia, a popular bookstore for collectors during it's time specializing is East Asia. I've seen this sticker before in books leading me to think that an individual book collector had donated them to us." The volumes were originally located in the former College of Applied Science Library before being transferred to the Archives and Rare Books Library.
Thanks to the investigative work of Mikaila, the books are now fully cataloged and available for research and study.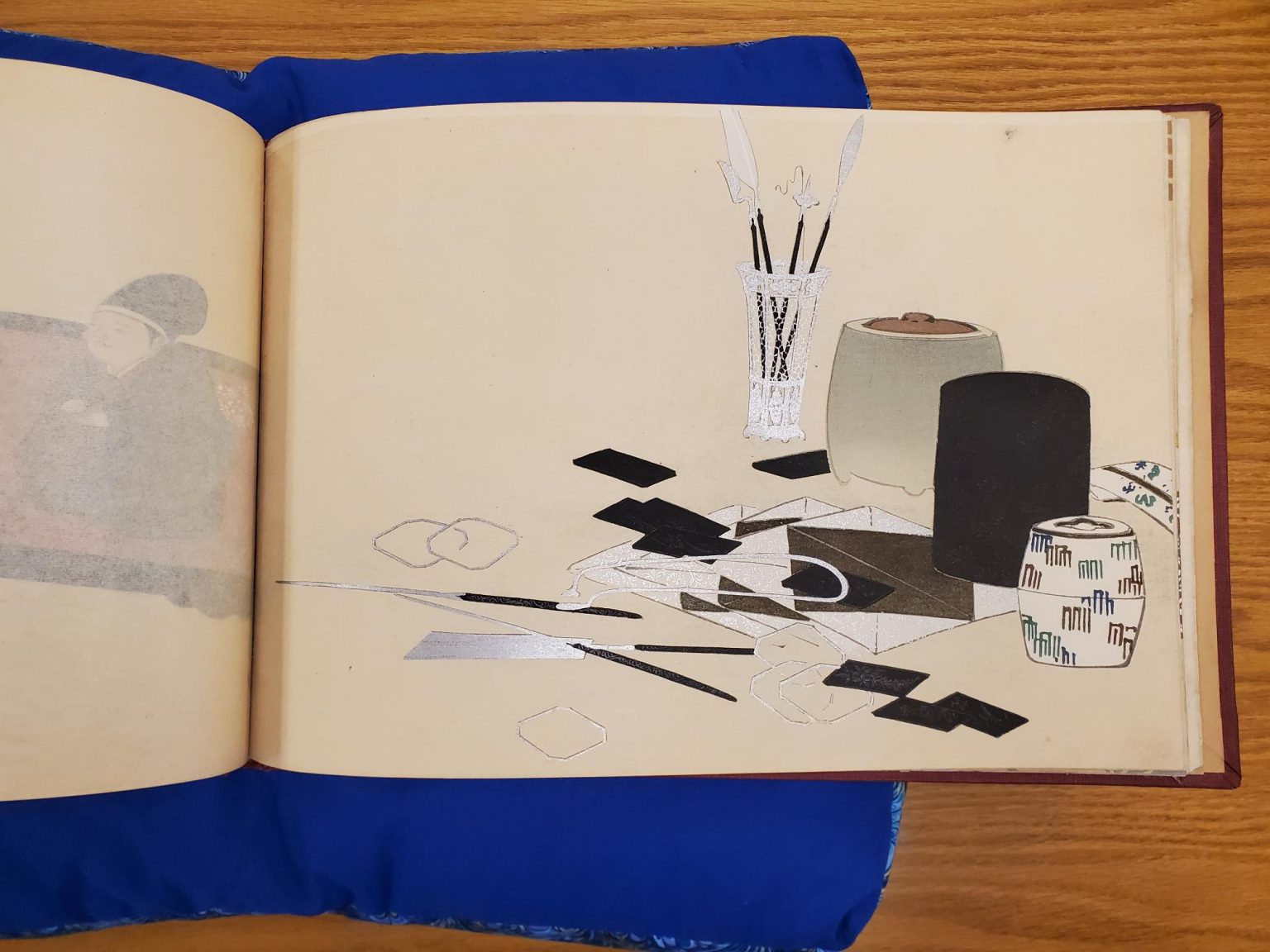 Seiei by Yamada Naosaburō, published by Yamada Unōsodō, 1903-1907. This work consists of 17 volumes with colorful illustrations. They are woodblock printed books featuring ink, mica and metallic pigments on paper. Unsōdō launched a number of influential design periodicals including Bijutsukai 美術海 (Oceans of Art), which ran from 1896 to 1902 and was succeeded by Shin Bjitsukai 新美術海 (New Oceans of Art) (1902-1906) and Seiei 精英 (Elite), which appeared in 15 issues from 1902 to 1907. Together these innovative publications featured hundreds of designs by dozens of different artists, giving them the opportunity to explore new styles and themes as they honed their skills. –Description from the British Library web site.
---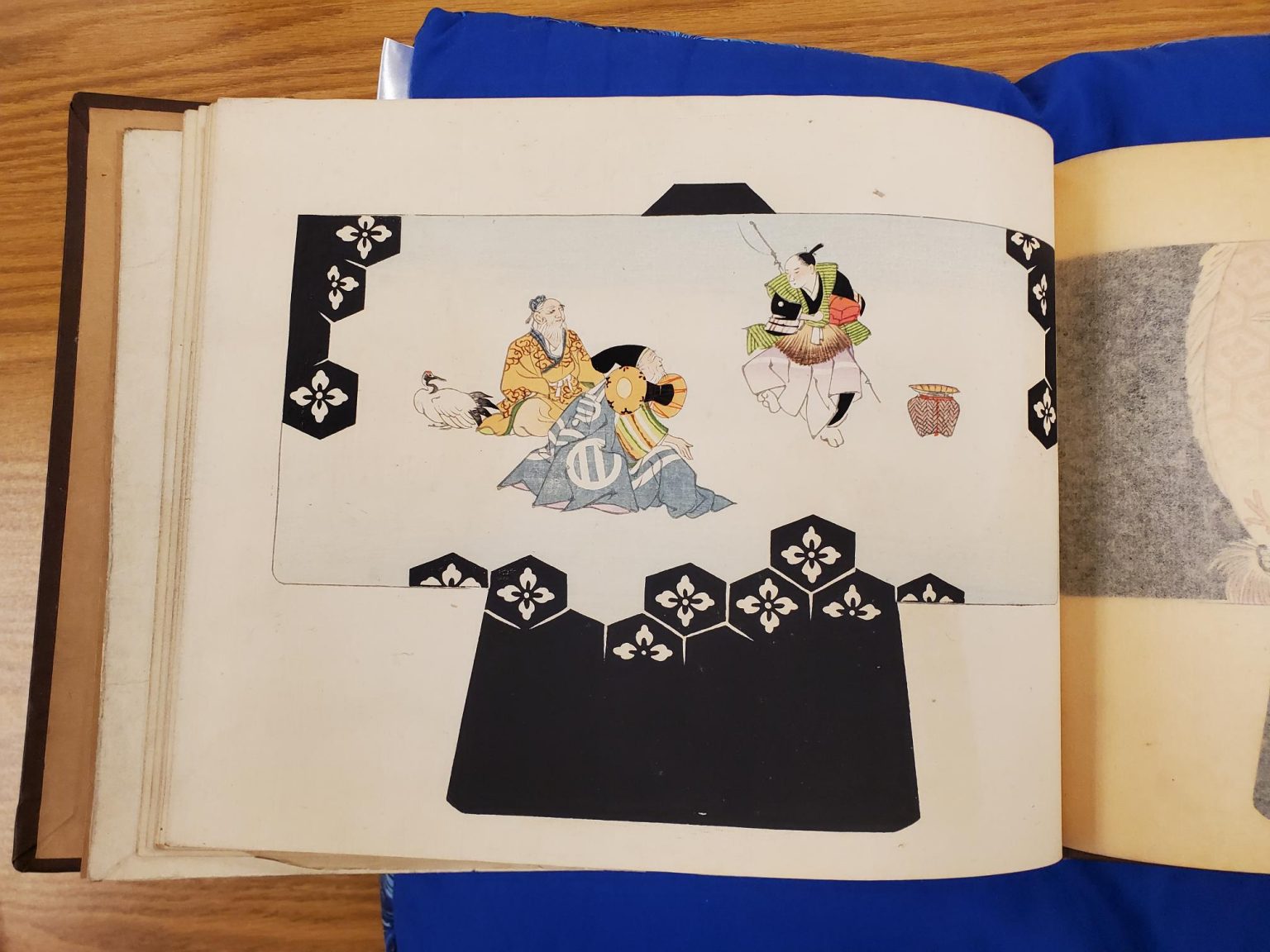 Tennen moyō kagami by Tennen Kaigai, published by Yamada Unōsodō, 1898-1899. These seven volumes on double leaves include color illustrations of Kimono designs and motifs. The Tennen Moyo Kagami is a celebrated "pattern book" that was extremely popular from around 1890 to 1930. The "nishiki e" style woodcuts offer poly-chrome Kimono designs and motifs meant for use on other textiles, etc. There are several portrayals of complete kimonos, folded over a hanging pole, or stretched flat across the page. However, most of the colored woodcuts offer traditional motifs for kimono sleeves or lower parts of the kimono. The subject matter includes: small animals, flowers, bamboo, birds, butterflies, Japanese fans, maple leaves, landscape river and mountain scenes, and abstract geometric designs. — Description from biblio.com web site.
---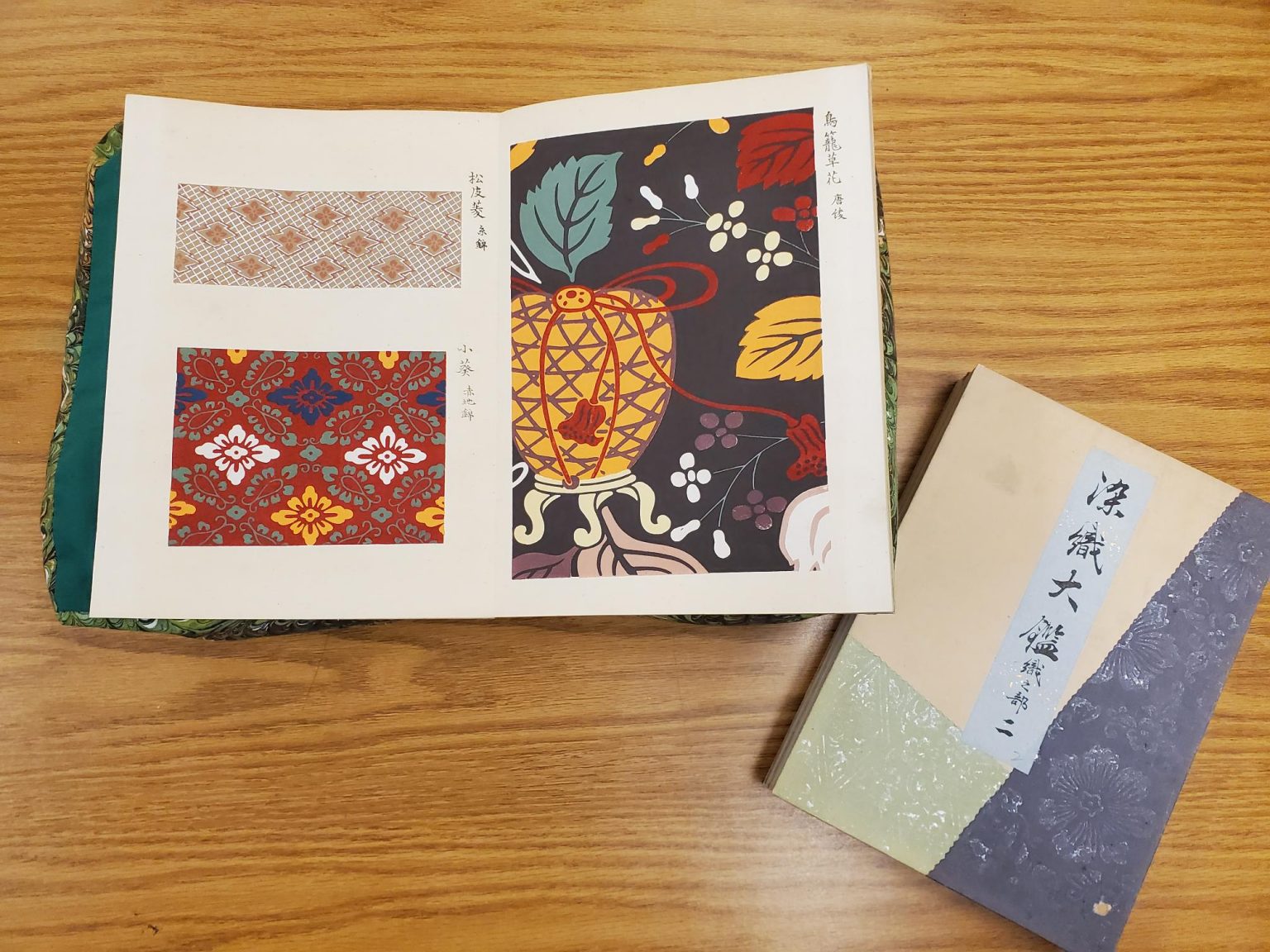 Senshoku taikan by Takashi Tsujimatsu. Published by Unōsodō Taishō, 1914. The three volumes in 10 with color illustrations are a dyeing and weaving encyclopedia.
---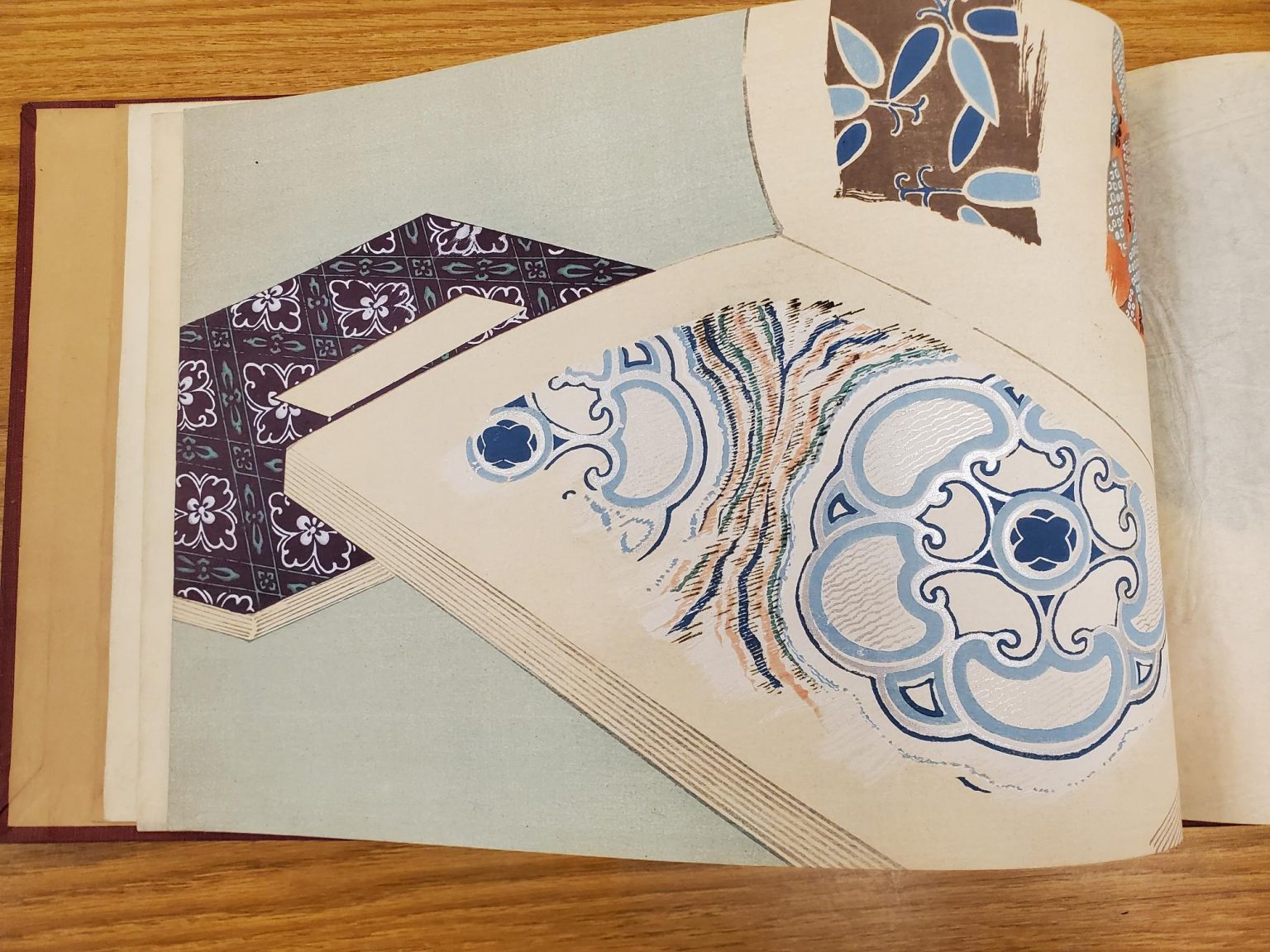 Chigusa by Sekka Kamisaka. Published by Yamada Unōsodō, 1901. Consists of 3 volumes with color illustrations and is a collection of the artist's works, including some designs. "Considered the father of Japanese modern design, Kamisaka Sekka was born in Kyoto in 1866 and began studying painting at the age of 16. A 1901 trip to the Paris International Exposition proved pivotal in his artistic career, leading to his study of modern European industrial design. Sekka became a master of the historic Japanese tradition known as Rimpa, combining this traditional Japanese aesthetic with his own innovations to create stunning designs that are both modern and timeless. Dating back to the 17th century, characteristics of the Rimpa school include the use of large planes of vivid color to create a flattened pictorial space, abstracted compositions, and the use of mica and gold and silver leaf. Sekka's designs incorporate traditional Rimpa techniques and subjects, such as Japanese tales and nature scenes, with pioneering, more abstracted compositions and bright aniline dyes. In addition to paintings and woodblock prints, Sekka applied the Rimpa philosophy to decorative arts, including ceramics, lacquer ware, textiles, and screens, emphasizing the importance of beautiful design in everyday life. Sekka taught at the Kyoto Municipal School of Arts and Crafts, influencing many younger artists and revitalizing traditional craft forms in Kyoto. Sekka's two masterwork series are A Thousand Grasses (Chigusa), published in 1899, and A World of Things (Momoyogusa), designed from 1909-1910. The designs in these two fantastic series represent the pinnacle of Sekka's career and are quintessential designs in the Rimpa tradition."–Description from Fuji Arts web site.