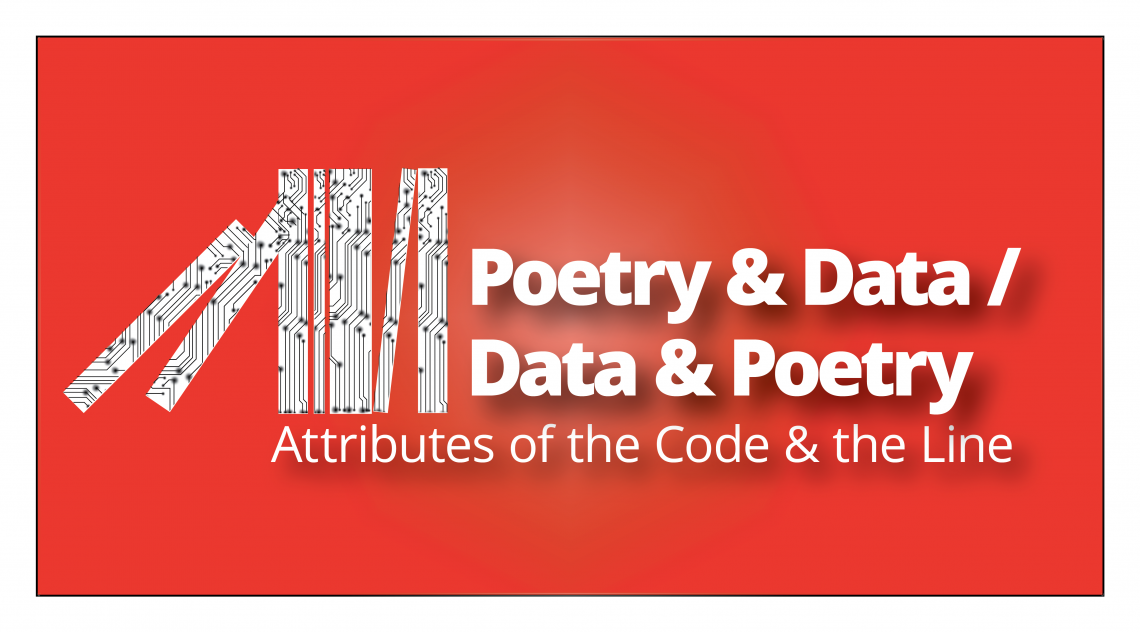 Data & Poetry might predict the future
By Amy Koshoffer, assistant director for Research and Data Services, and Ben Kline, assistant department head of Research, Teaching and Services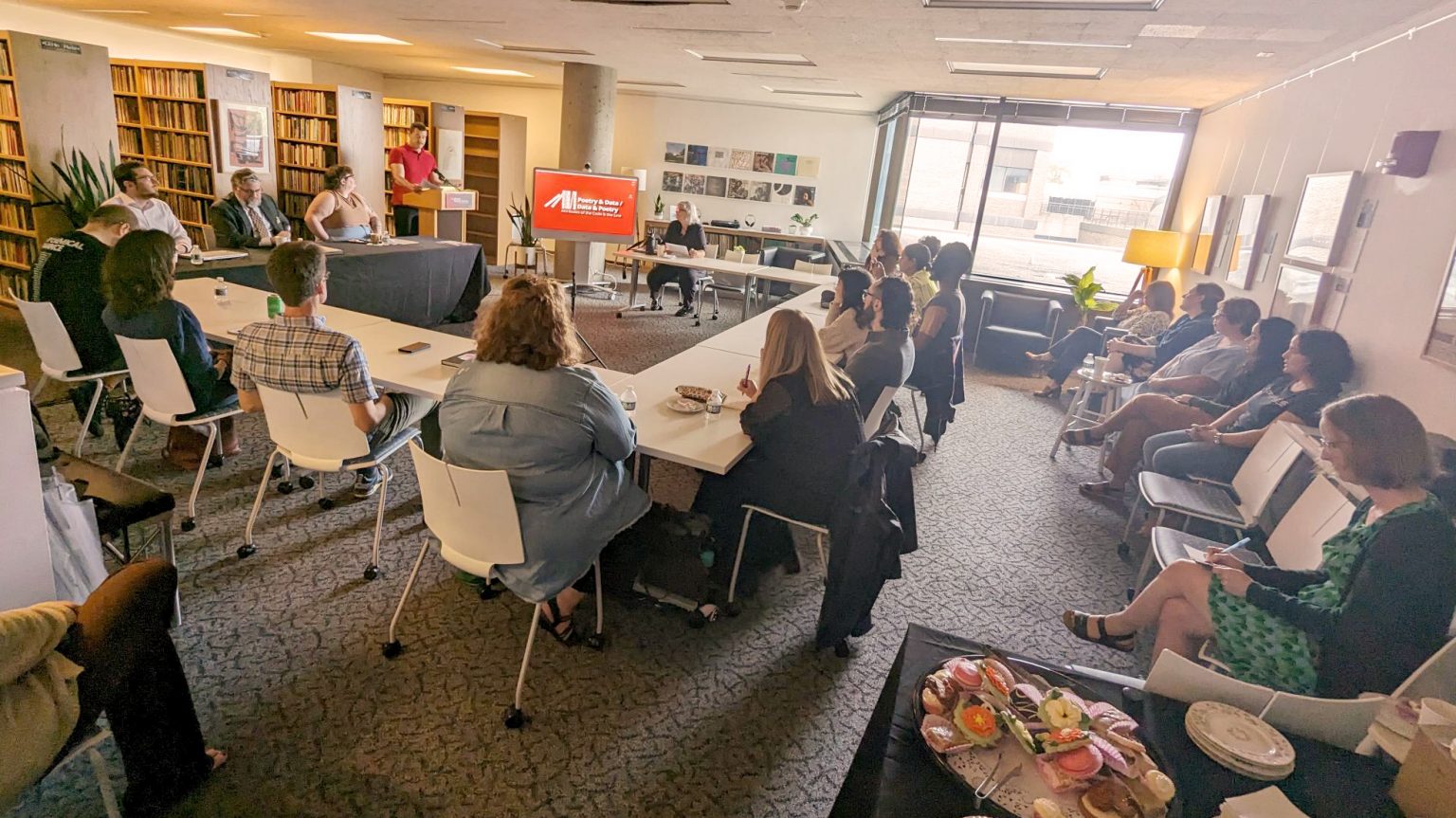 On Tuesday, September 12, 2023, students, staff and faculty from around campus and the community gathered in the Walter C. Langsam Library's Elliston Poetry Room for Data & Poetry | Poetry & Data Workshop: Attributes of the Code & the Line. Featuring participants that included University of Cincinnati law faculty, librarians, data scientists and community poets, this event invited attendees to explore relationships between data and poetry, how emerging Artificial Intelligence (AI) programs might change the nature and our perceptions of poetry and literature, as well as the implications these technologies present for copyright.
Presented by Amy Koshoffer, assistant director for Research and Data Services, and Ben Kline, from the Research, Teaching and Services Department, the event featured a trio of panelists with diverse expertise and experience on the relevant topics.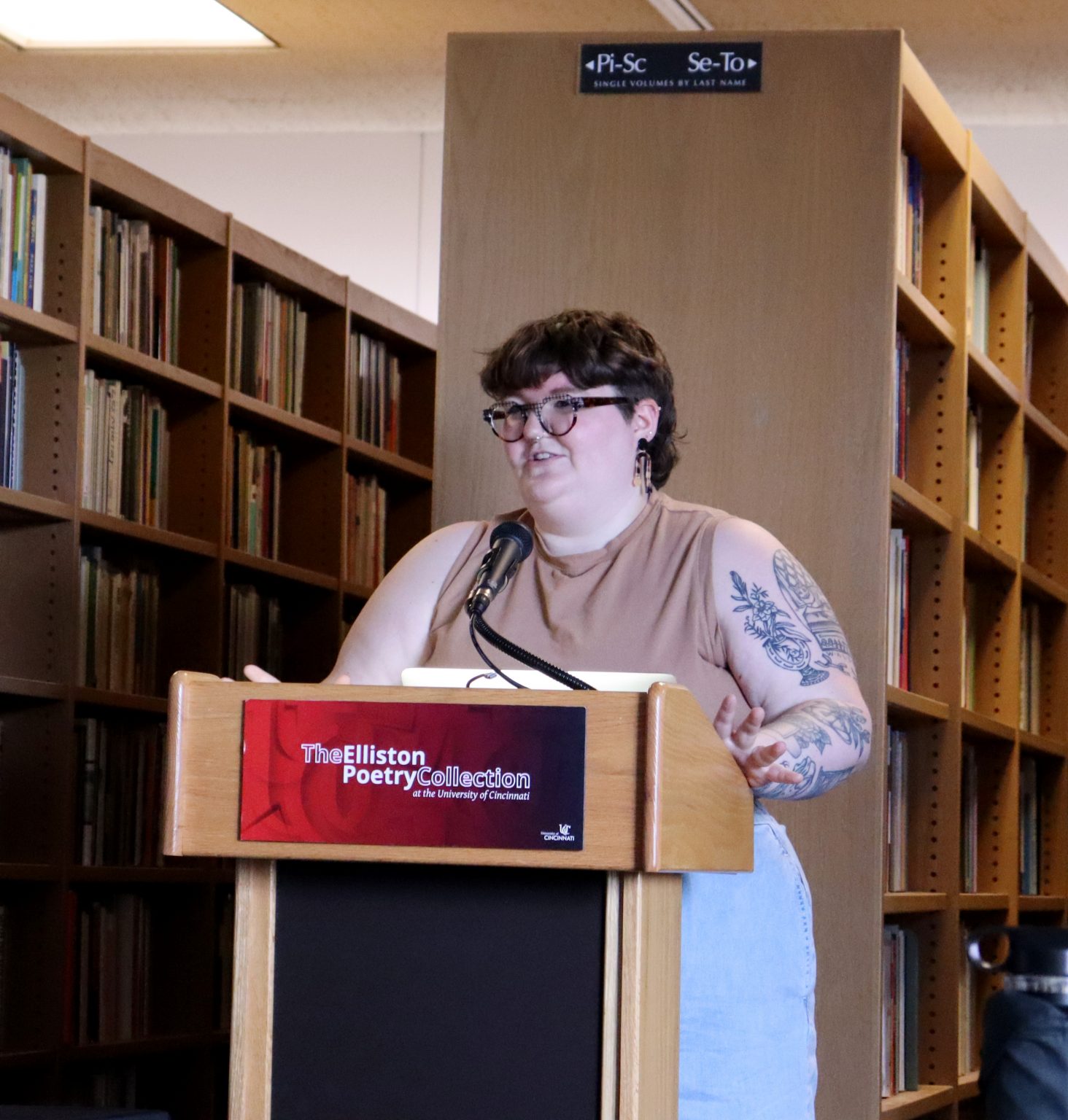 After Amy and Ben introduced the afternoon's overarching concepts concerning data as poetry and poetry as data, sharing examples of each and discussing how to access said resources in the Libraries' Summon discovery tool, Kay Bancroft, a poet, editor, educator and artist, shared data-intensive poetry from their in-progress collection of poems. Kay merges creative writing with pre-existing structures, data and more. About the event, Kay said, "Being in conversation with creatives, data scientists, lawyers and students alike was an eye-opening experience and a vibrant, informative conversation. Cultivating spaces where we can discuss burgeoning societal issues is no small feat, and the Data & Poetry event was a success in this—it created a safe, thriving, exciting conversation about advanced technology, which affects us all."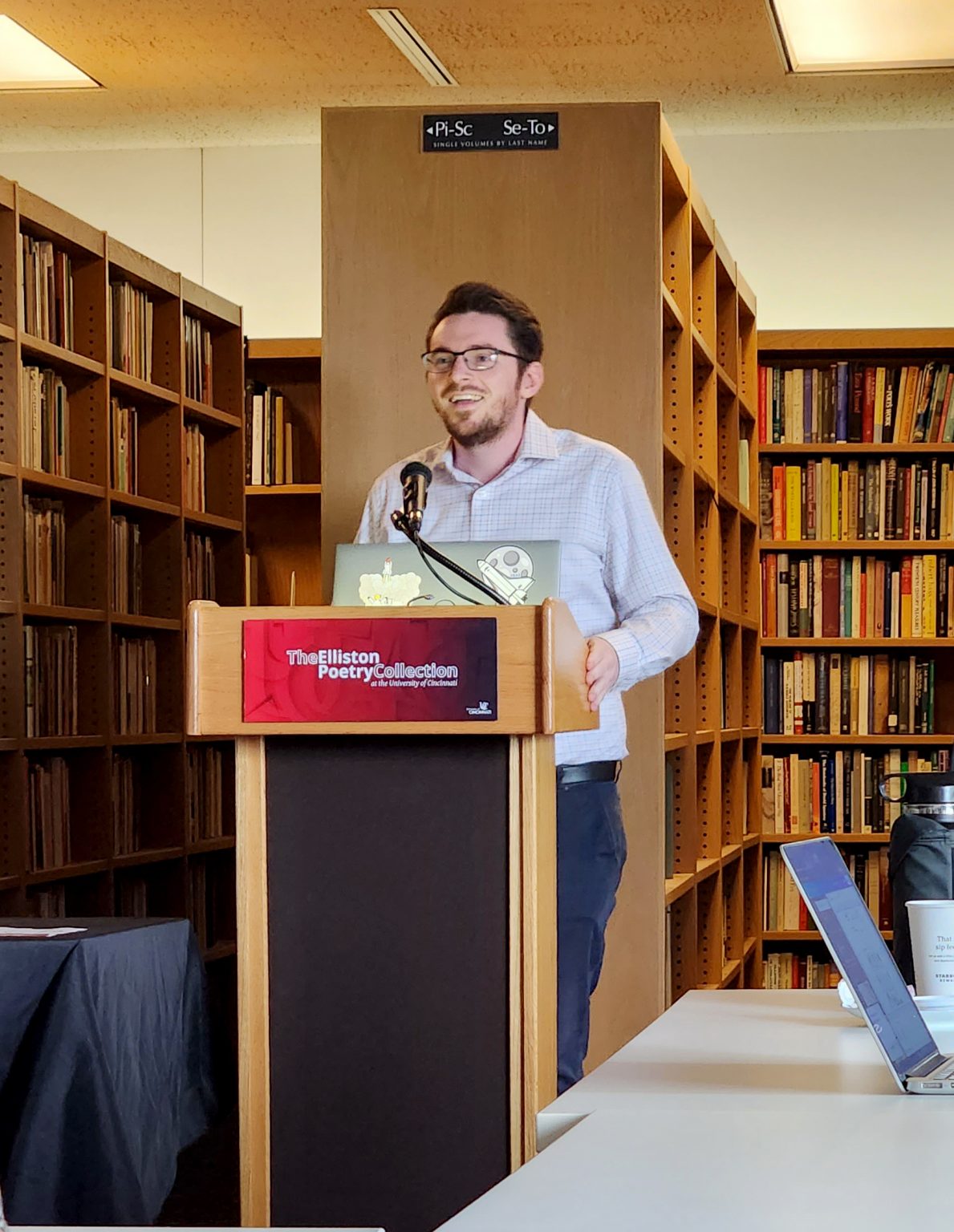 Next, Mark Chalmers, science and engineering librarian who manages the College of Engineering and Applied Sciences Library's coding workshops and an AI enthusiast, introduced the audience to the basics of AI apps, large language models and how to craft prompts to achieve the best output from the applications. Mark conducted a live demonstration of prompt engineering, AI output, creating a usable text that Kay reinterpreted as an erasure poem, re-contextualizing output into a transformed, generative new work. "Working on this collaboration took me out of my comfort zone, which was a great challenge, but also an opportunity for growth. I personally valued the unique experience of collaborating with an AI, Ben and Kay in a way I never could have predicted. This event was like a collision of worlds where different perspectives came together in the spirit of exploration. It was awesome to be a part of it and I was enriched by the experience."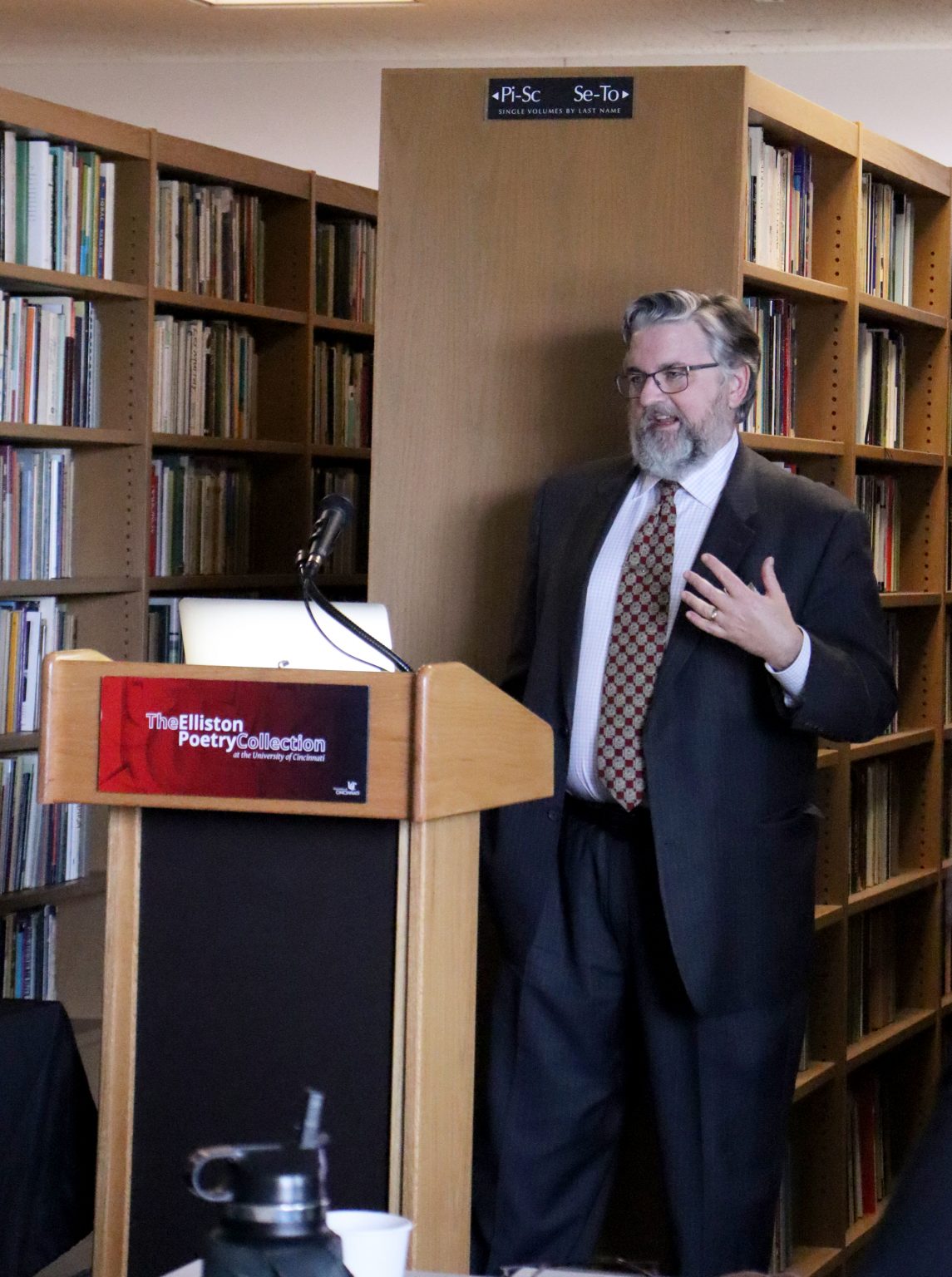 Tim Armstrong, a lawyer, associate dean of faculty and research, professor of law, and technologist who studies the intersection of advanced communications technologies and intellectual property law, followed Kay's poem with a brief presentation on AI, creative work and the current legal environment around the use of AI. Many of the laws that pertain to copyright were written in the 1970's and much has yet to be adjudicated in the courts. "Technologists, lawyers, and poets have more in common than they might think—that's the lesson from the recent "Poetry and Data" workshop. Generative AI tools offer opportunities, not just threats; and I was fascinated to see how skilled creators can incorporate these new tools into projects that remain powerfully, and recognizably, human."
In the Q&A that followed, presenters answered numerous questions, further exploring the connection between the research process, the nature of prompting, how large language models are trained and the relation of technology to the poet's work. They discussed the power of AI, its limitations for nuance and emotion, and how the issues of copyright manifest for poets working in today's mostly digital publishing environment. The event was live streamed through the Elliston Instagram account, and an audio recording of the event will be available through the Elliston audio archive.
Bibliography
Poems
Further Reading
---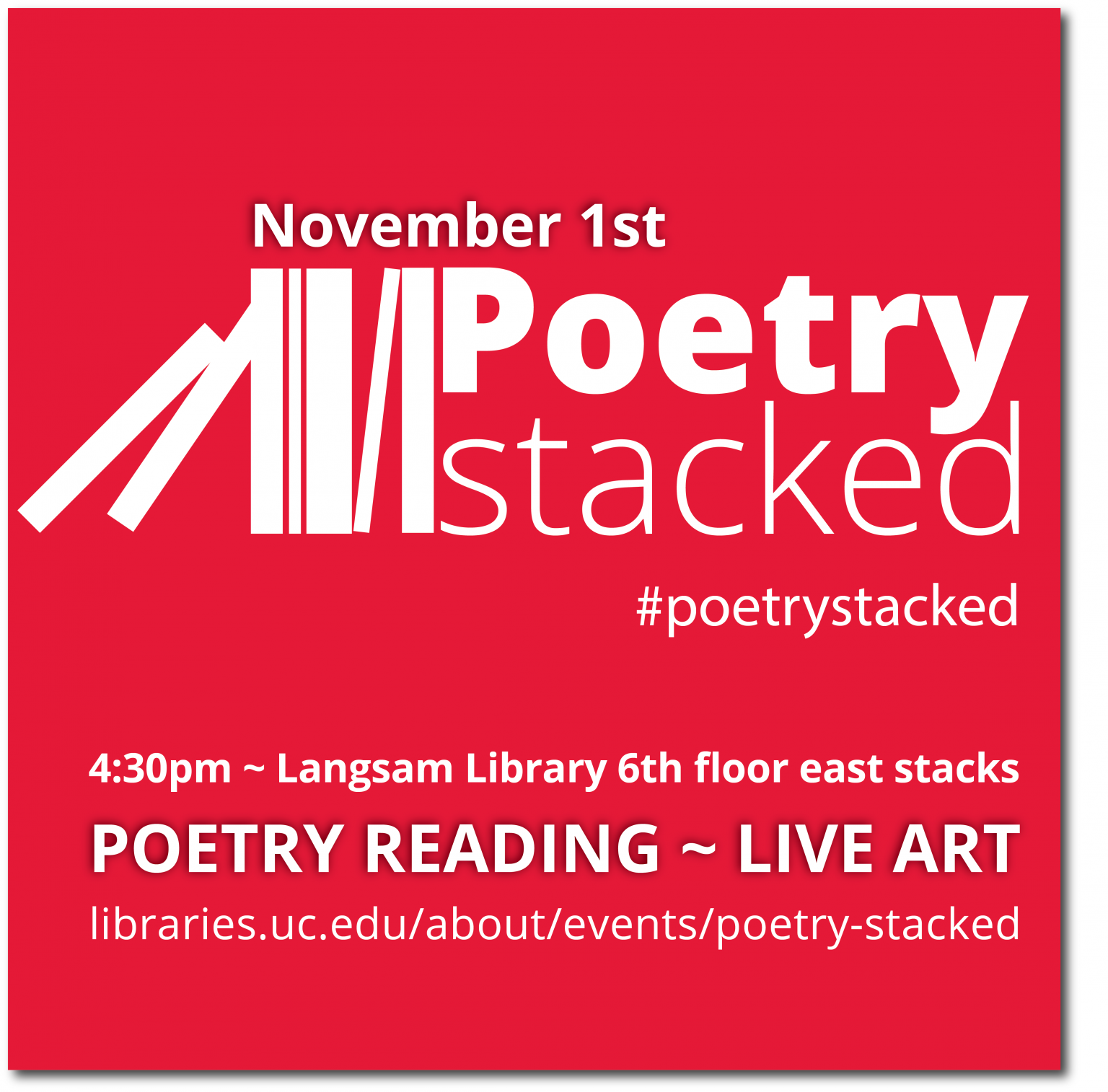 The University of Cincinnati Libraries and the Elliston Poetry Room announce the next roster of poets for Poetry Stacked, a semi-regular poetry reading series held in the 6th floor east stacks of the Walter C. Langsam Library.
At the next event, scheduled for Wednesday, November 1 at 4:30pm, three poets will read their original work: Alecia Beymer, Kristen Renzi and Violeta Orozco.
This session of Poetry Stacked will be cross-disciplinary and feature artists from the College of Design, Architecture, Art and Planning (DAAP) who will do live illustrations as each of the poets read their work. The visual artists are: Kyle Angel, Kelsey Linder and Pedal Miranda.