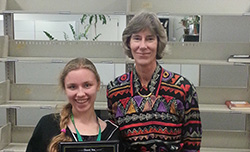 UC Libraries Recognized for Our Participation in LAUNCH Transition Program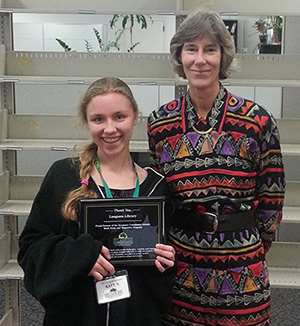 Lorna Newman, head of the Interlibrary Services and Access Department in Langsam Library, was recently presented with a plaque recognizing UC Libraries' partnership with Sycamore High School and its LAUNCH program.
The Launch Transition Program is housed on the campus of the University of Cincinnati and provides young adults aged 18-21 with an opportunity to be immersed in a community of same-aged peers. Launch participants work on the university campus and the surrounding Clifton area with an opportunity for multiple work placements towards developing vocational aptitudes. The goal is to help Launch participants gain self-advocacy, personal independence and problem-solving skills. Opportunities are provided for authentic application of academic skills.
Sycamore student Katy Sohlden has worked for the past two years as an intern in the Walter C. Langsam Library helping with the unpacking and processing of OhioLINK materials. Working in the Interlibrary Services and Access Department gives Katy new vocational skills as well as the opportunity to interact with and get to know UC students who she works alongside. This opportunity to "promote social relationships through participation in college life, including organizations, special events and other recreational activities, often supported by peer mentors" is one of the goals and successes of the Launch Transition Program.
"We are pleased to participate in the Launch Transition Program and see it as a win-win for both us and the students," said Lorna Newman. "Katy has contributed to our department in helping to process materials that come into the library. At the same time, however, it is rewarding to see Katy gain experience in a work environment and to contribute to her growing independence."
UC Libraries has worked with other student interns through the Launch Transition Program in the past and will continue to do so in the future as we have job opportunities in the Libraries that are a perfect fit for the participants in this program.