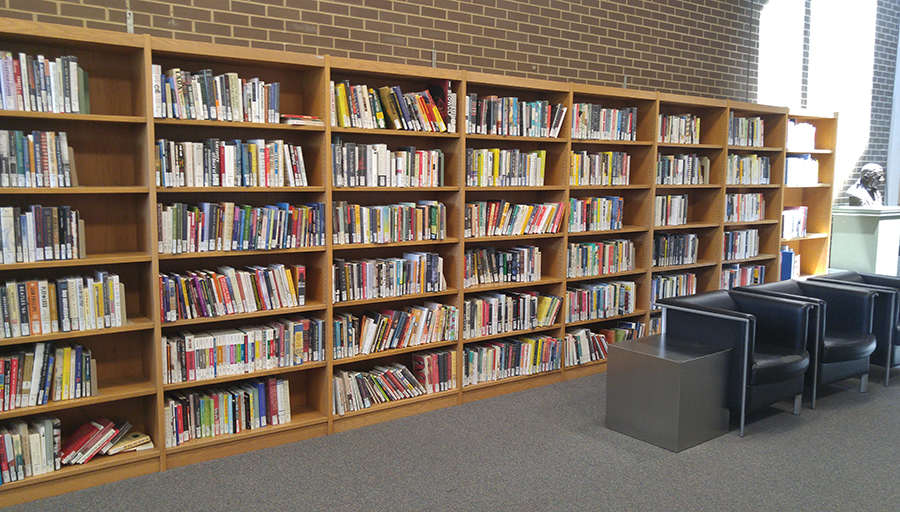 Discovering the Cohen Enrichment Collection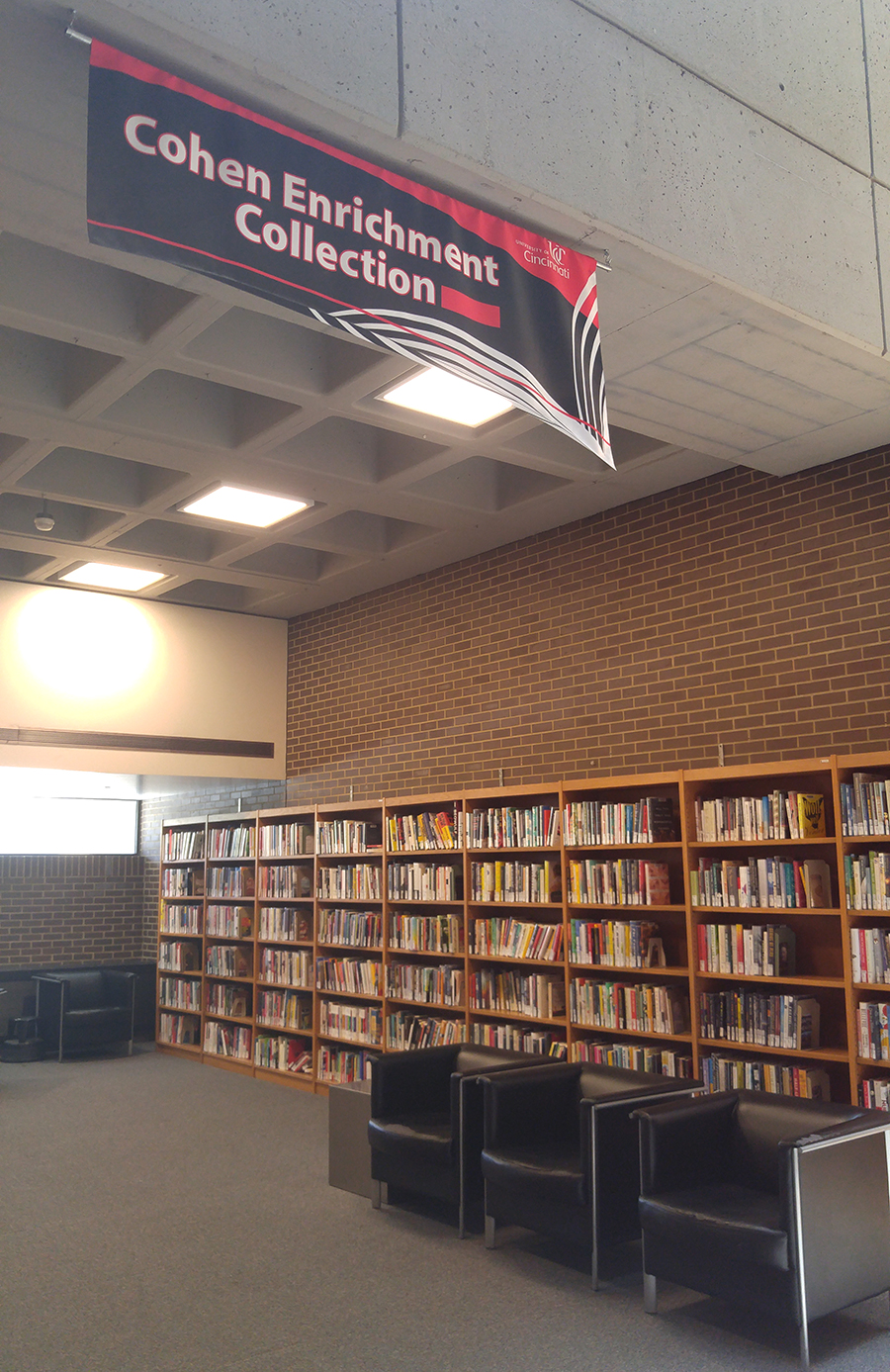 By Jenny Mackiewicz.
On the fifth floor of the Walter C. Langsam Library, nestled away in a prominent alcove on the library's north end, you will find an eclectic collection of fiction and nonfiction books to browse from in The A.B., Dolly, and Ralph Cohen Enrichment Collection.
The red and black banner heralding its location makes this collection difficult to miss, but the space feels intimate; a library within a library. This comfortable nook is a favorite spot for serious scholars and pleasure readers alike.
The contents of the Cohen Collection reinforce this welcoming appearance with works on a myriad of subjects ranging from astronomy to zoology. The bust of French philosopher, paleontologist and Jesuit priest Pierre Teilhard de Chardin stands guard, a fitting mascot for the wide breadth of topics explored by the materials that comprise the collection.
Funded by an endowment gifted to the library in 1978 by Julie Cohen, in honor of her husband, Ralph, and in-laws, A.B. and Dolly Cohen, the goal of the Cohen Enrichment Collection was to establish a reading room and to enrich the humanities. Originally, Julie Cohen wanted the collection to be housed in a closed room. It was Nancy Loughridge, then head of collections, who convinced her instead to build an enrichment collection of books in a dedicated location within the existing confines of Langsam Library. This decision has made this special collection visible and accessible to all library users. The original policy, developed that same year, has provided guidance and inspiration for the collection's custodians since its inception, and will continue to do so for years to come. It reads:
"The Cohen Enrichment Room provides a warm, inviting, comfortable environment in which to browse and read. The books to be found there should reflect the surroundings: They should be attractive to the eye and should tempt a passer-by to 'settle down with a good book.' The collection contains many of the world's classics but does not pretend to be comprehensive in that regard. The collection is eclectic and the selection policy relaxed. 'Just for fun' books, such as childhood favorites, are included along with a sampling of current fiction and poetry. The guiding principle behind the collection, simply stated, is to enrich and strengthen the educational experience at the University of Cincinnati."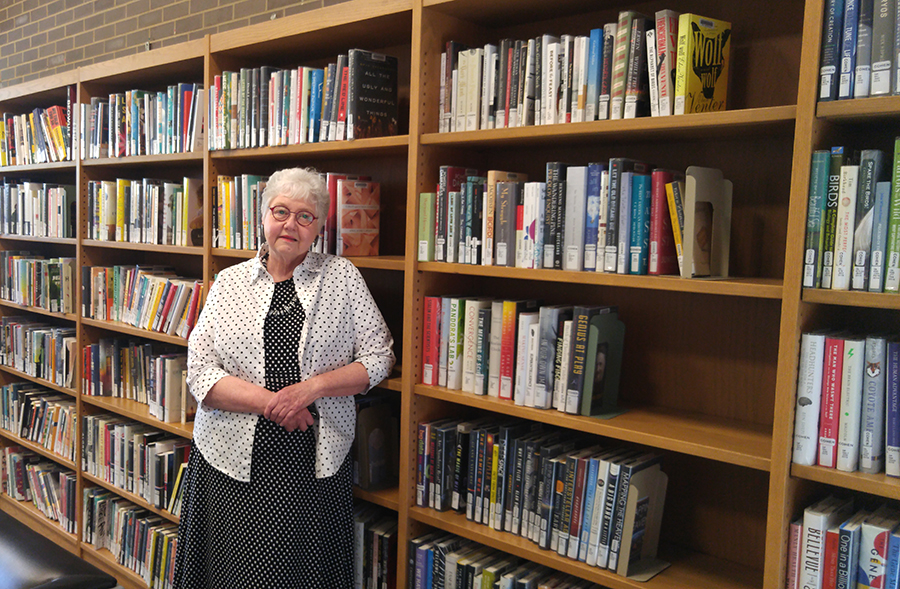 Sally Moffitt serves as reference librarian and bibliographer for anthropology, history, philosophy, political science, Africana studies, Asian studies, Judiac studies, Latin American studies, Middle Eastern Studies, women's, gender and sexuality studies. She is also the current bibliographer for the Cohen Library Enrichment Collection.
How long have you been bibliographer for the Cohen Library Enrichment Collection?
How long…I am the third bibliographer for the collection following Nancy Loughridge and Virginia Parr.  I lose track of time but I think Virginia has been retired 12-15 years so that's how long I've been building the Cohen Collection.
How do you choose which works to include?
I select titles for inclusion from reviews of newly published or about-to-be published books. Publishers' Weekly is an especially good source for the about-to-be published books since it is a trade publication for bookstores. Occasionally, other bibliographers will pass along an interesting title, most often for works of fiction newly translated into English. Speaking of fiction, there is just so much of it! In order to give the Cohen Collection distinction in this category of publishing profusion I now limit additions to well-reviewed debut novels written in English and to works of fiction written in other languages but newly translated into English, whether for the first time or a literary classic receiving a new English translation.
What can you tell us about the collection's most recent additions?
Well I can tell you that because it stays in constant circulation I haven't been able to read one of Cohen's new additions, The First Wife: a Tale of Polygamy by Paulina Chiziane (the only published woman novelist in Mozambique); translated from the Portuguese by David Brookshaw.
Do you have any favorite memories to share of your time working with the collection?
Oh, my goodness there are so many wonderful memories but if I have to choose I must first make a confession. I adore Evelyn Waugh's satirical novels. In light of that mea culpa, one of my fondest memories is discovering The Swansong of Wilbur McCrum by Bronia Kita—LOL—and it has a lovely ending.