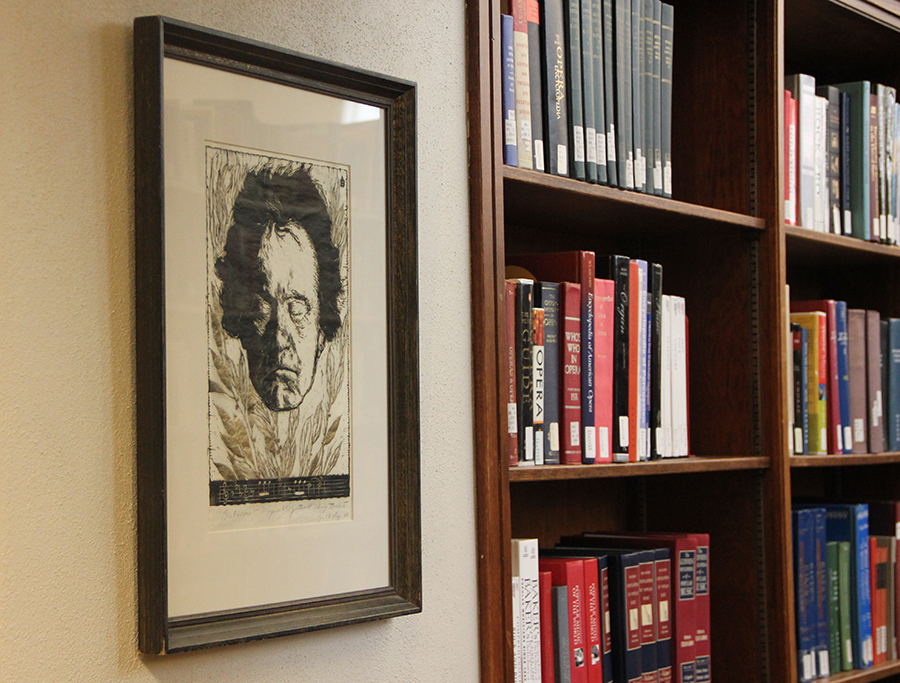 Have You Seen Beethoven's "Life Mask" in the CCM Library?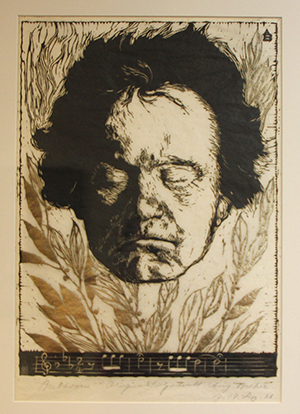 By Paul Cauthen.

The Albino Gorno Memorial (CCM) Library is delighted that a woodcut, dating from December 18, 1920, of Ludwig van Beethoven's "Life Mask" by August Becker (1878–1942), German artist and Holzschneider (woodcutter), now hangs in the north end of the Reading Room. This work was presumably prepared in celebration of Beethoven's 150th birthday celebrations, which had occurred two days before its creation.
As professor emeritus Edward Nowacki observes:
"The image is Beethoven's life mask surrounded with laurel leaves painted in gold with the motto of the Fifth Symphony across the bottom and Becker's monogram, AB, at the top. The story of the mask is well known in the Beethoven literature. In 1812 Beethoven's friend Andreas Streicher, a manufacturer of pianos whose showroom was decorated with portraits of composers, commissioned the sculptor Franz Klein to create a bust of the composer.  As a preliminary step, Klein asked Beethoven to sit for a plaster casting of his face. Midway through the sitting Beethoven panicked and tore off the cast before it had set. The sculptor then persuaded him to permit a second attempt, which was successful. The bronze bust made from this cast is now in the Kunsthistorisches Museum in Vienna. It is considered the most accurate likeness of the adult Beethoven, and several artists have made their own images based on it."
The woodcut is part of the University of Cincinnati's Fine Arts Collection. It hung in the offices of the College-Conservatory of Music since 1989, but now resides in the CCM Library. We would like to thank Prof. Nowacki for kindly contributing the history and background research on the mask.