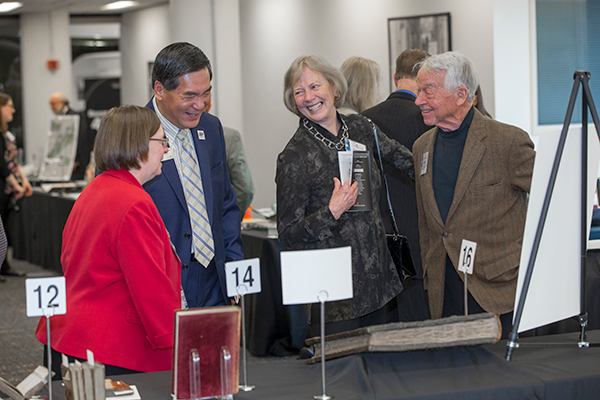 Event Recap: Inaugural Adopt-A-Book Event
This past March, donors braved a sudden spring storm to attend the University of Cincinnati Libraries' inaugural fundraiser, Hidden Treasures: An Adopt-A-Book Evening.
UC Libraries' Adopt-A-Book program was piloted in 2018 with materials selected from two of the Libraries' special collections – the Archives and Rare Books Library and the Henry R. Winkler Center for the History of the Health Professions. These initial rare materials selected for the Adopt-A-Book program required varying levels of treatment from the Preservation Lab, preserving them for future generations of students, faculty, researchers and scholars.
The pilot was a success, resulting in the preservation of 10 rare books and materials; thus providing the inspiration to expand the program to include all of UC's special collections libraries. The March 2019 program would also go beyond preservation to help build the collection. Donors were given the opportunity to support the acquisition of new materials or the general operations for a particular special collections library.
Curators for the various special collections chose books, manuscripts and other materials for one of two Adopt-A-Book categories: Build the Collection or Preserve for the Future. Represented libraries included Archives and Rare Books, the Winkler Center, the John Miller Burnam Classics Library, the Albino Gorno Memorial Library (CCM), the Ralph E. Oesper Chemistry-Biology Library, the Geology-Mathematics-Physics Library, the Donald C. Harrison Health Sciences Library and the Robert A. Deshon and Karl J. Schlachter Library for Design, Architecture, Art and Planning (DAAP). These items were put on display for the event at the Walter C. Langsam Library for donors to peruse and consider for adoption.
The evening began with a reception and tours of the Preservation Lab. Guests were given a backstage look at the lab's equipment and some of the current items they were working on. Once the tours were completed, donors were free to view the 61 items on display and available for adoption.
By the end of the evening, half of the items had been adopted. The remaining items are available for adoption on the new Adopt-A-Book website at http://libapps.libraries.uc.edu/adoptabook.
To learn more about our Adopt-A-Book program, or other areas of supporting UC Libraries, contact Christa Bernardo at (513) 556-0055 or christa.bernardo@uc.edu.