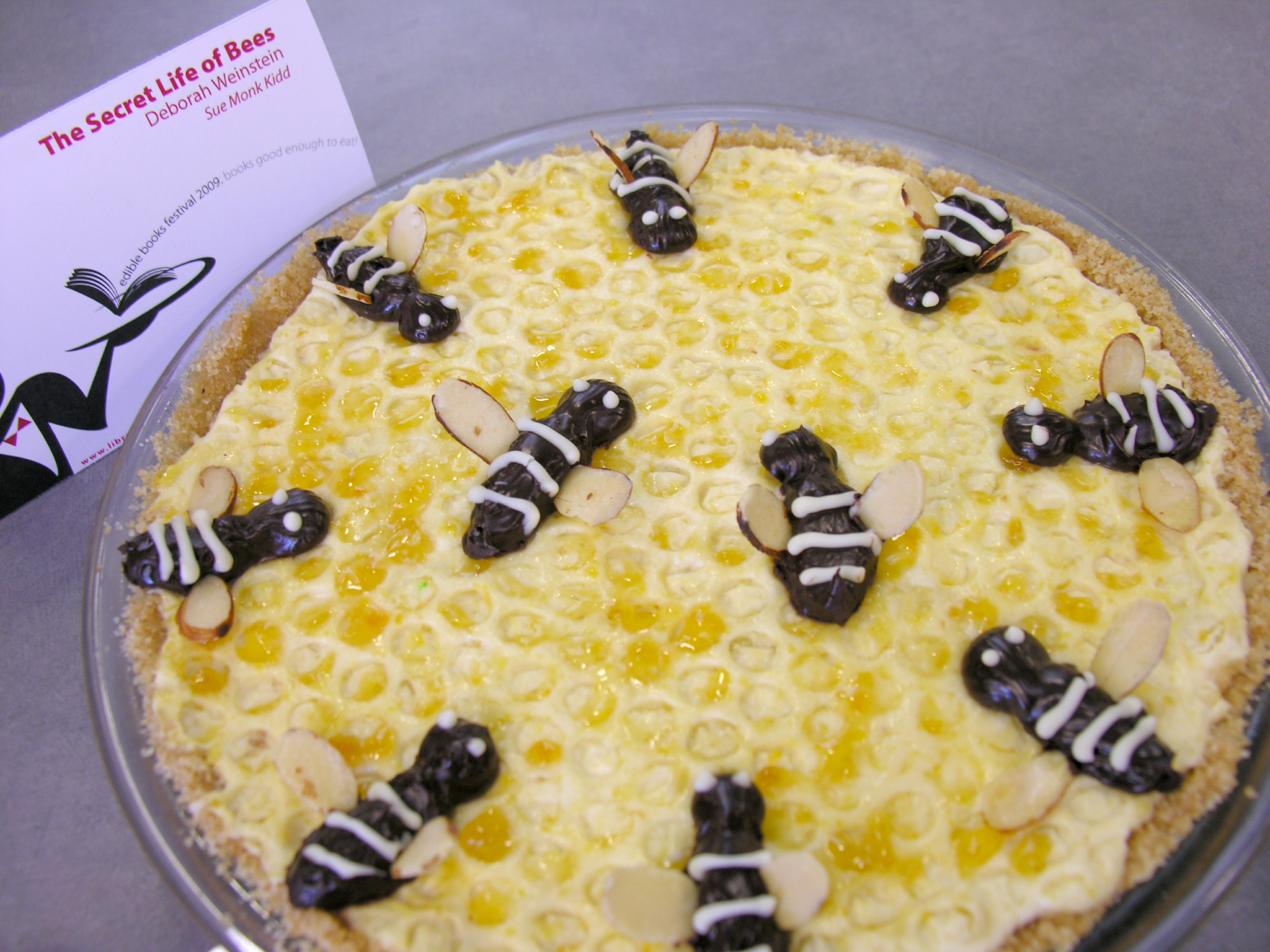 From the Archives: Celebrating Edible Books
In the volume 8, no 2 issue of Source, we wrote about the 2009 International Edible Books Festival. UC Libraries has celebrated the annual event since 2001. With classes taught online this past spring, Edible Books was celebrated virtually via the Libraries various social media accounts.
---
Books Good Enough to Eat
By Dawn Fuller and Melissa Cox Norris
For the eighth consecutive year, the University of Cincinnati Libraries celebrated April Fools' Day and "books good enough to eat" with the International Edible Books Festival held April 1, 2009. The festival brought a record number of entries and participation from throughout the Libraries and campus.
The edible tomes ranged from children's books to classics to biographies. They were created using cakes, cookies, candy, and fruit and vegetables.
Two entries reflected UC's year-long celebration of the 150th anniversary of Charles Darwin's work in evolutionary biology, "The Oreo of Species," a play off of Darwin's On the Origin of Species, was a submission by Katrina Bowling-Bergman, Circulation and Student Supervisor at the Chemistry-Biology Library. The display featured Oreo-cookie birds, a reflection of the finches that Darwin studied in the Galapagos Islands. Linda Newman, Coordinator of Digital Projects, used gingerbread cookies to trace Darwin's "Descent of Man."
Barb Macke, Instruction Librarian, honored the passing of literary great John Updike with her submission, Rabbit, Run. The display was a sheet cake with racing lanes divided by icing and marshmallow rabbit Peeps ready to take off at the starting gate.
The edible books were judged by Pamela Baker, Director of the Center for Enhancement of Teaching & Learning (CET&L), and Cheryl Albrecht, Associate Dean of Library Services, and awarded bookmarks for such things as "Most Literary," "Most Checked-Out" and "Long Overdue."
Deborah Weinstein, Director of Business Affairs for Student Affairs & Services, who regularly comes up with more elaborate submissions year after year, used bubble wrap to make a honeycomb pattern in a pie-shaped display to pay tribute to The Secret Life of Bees. The creation was named "Best Overall" by the judges and Weinstein was awarded with a gift card to the UC Bookstore.
The best student entry, which was also awarded with a certificate to the UC Bookstore, went to Alexandra Hart for her entry Thundercake.
According to the International Edible Book Festival Web site (www.books2eat.com/Books2eat/books2eat.html), the edible book was initiated by librarian and artist Judith A. Hoffberg during a 1999 Thanksgiving celebration with book artists. It became an international sensation in 2000 when artist Béatrice Coron launched the Books2Eat Web site. Traditionally, the event is celebrated on April 1 to mark the birthday of Jean Anthelme Brillat-Savarin (1755-1826), a French lawyer and politician who became famous for his book, Physiologie du gout (The Physiology of Taste).
There was also an edible book in memory of Hoffberg, who passed away this year. Melissa Cox Norris, Director of Library Communications, created "Umbrella," reflecting a journal on art and artist books that was edited and published by Hoffberg.
Edible Books Participants 2009
Karen Kreyenhagen, Business Manager, Academic Health Center Finance & Administration – Skinny Dip by Carl Hiaasen. Awarded "Best Beach Read."
Deborah Weinstein, Director of Business Affairs for Student Affairs & Services – The Secret Life of Bees by Sue Monk Kidd. Awarded "Best Overall."
Katrina Bowling-Bergman, Circulation and Student Supervisor in the Chemistry-Biology Library – "The Oreo of Species," by Charles Darwin. Awarded "Best Written."
Melissa Cox Norris, Director of Library Communications – "Umbrella," in memory of International Edible Books Festival creator Judith Hoffberg. Awarded "Most Inspired."
Linda Newman, Coordinator of Digital Projects, University of Cincinnati Libraries – "Descent of Man" by Charles Darwin. Awarded "Most Graphic." Bean and Nothingness: An Essay on Phenomenological Ontology by Jean-Paul Sartre. Awarded "Most True to Form." True Grit(s) by Charles Portis. Awarded "Most Creative."
Jane Thompson, Librarian, Donald C. Harrison Health Sciences Library – Heidi by Johanna Spyri. Awarded "Most Clever."
Sara Mihaly, Student and Circulation Supervisor, Robert A. Deshon and Karl J. Schlachter Library for Design, Architecture, Art, and Planning – Water for Elephants by Sara Gruen. Awarded "Long Overdue."
Rose Einhaus (retired employee of UC Libraries) and her daughter, UC Assistant Professor Charity Accurso, College of Allied Health Sciences –The Rainbow Fish by Marcus Pfister. Awarded "Most Beautiful."
Tim Zack – Puzzles in Wood by Edwin Mather Wyatt. Awarded "Most Ambitious."
Jessica Ebert, Library Associate 1. University of Cincinnati Libraries – The Odyssey by Homer. Awarded "Most Classic."
Olga Hart, Instruction Librarian, University of Cincinnati Libraries – Scarpetta by Patricia Cornwell. Awarded "Most Deadly." Very Valentine by Adriana Trigiani. Awarded "Most Romantic."
Alexandra Hart – Thunder Cake by Patricia Polacco. Awarded "Best Student Entry."
Holly Prochaska, Interim Head of the Geology/Mathematics/Physics Library; Head of Conservation Services; and Coordinator of Renovation Projects – The Complete Works of O. Henry. Awarded Most Literary. The Grape Gatsby by F. Scott Fitzgerald and Grape Expectations by Charles Dickens. Awarded "Best Seller".
Barb Macke, Instruction Librarian – Rabbit, Run by John Updike. Awarded "Staff Pick."
Stephanie Bricking, Research Associate, Donald C. Harrison Health Sciences Library – The Very Hungry Caterpillar by Eric Carle. Awarded "Most Childlike."
Ben Hay and Mary Kate Henrikson, UC students – "Where's Waldorf Salad?" Awarded "Funniest." For Whom the Taco Bell Tolls by Ernest Hemingway. Awarded "Most Epic."
Gabrielle Fox, Libraries Conservator – "Kindlecake." Awarded "Scariest."
Amanda Luckenbill, student – Gone with the Wind by Margaret Mitchell. Awarded "Most Checked Out."
Aravind Ranganathan, student – Atlas Shrugged by Ayn Rand. Awarded "Least Edible."
Donna Gering, retired UC employee – The Soloist by Steve Lopez. Awarded "Strangest Contents."
Anastassia Bowers, UC student – Hope for the Flowers. Awarded "Most Edible."
Marie Knecht and Suzette Combs – Great Expectations by Charles Dickens. Awarded "Most Well Crafted."