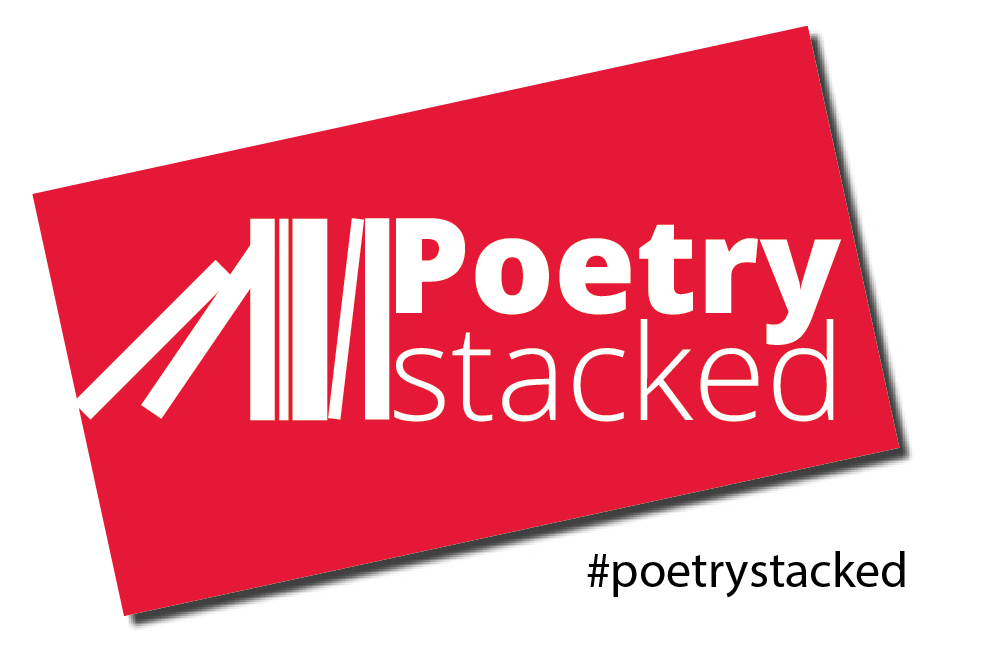 This past academic year, people enthusiastically gathered in the stacks among the literature and poetry books to listen to poets perform their work. They heard from both experienced and published poets, as well as students of poetry just starting on their writing journey. Poetry Stacked, a semi-regular poetry reading series held in the 6th floor east stacks of the Walter C. Langsam Library, was organized by the University of Cincinnati Libraries and the Elliston Poetry Room. The mission of Poetry Stacked is to celebrate poetry and raise awareness of the collections of both UC Libraries and the Elliston Poetry Room. Each reading features a UC faculty member, student and community poet who presented their poetry, resulting in increased appreciation for both the talents of UC and community poets, as well as for poetry itself.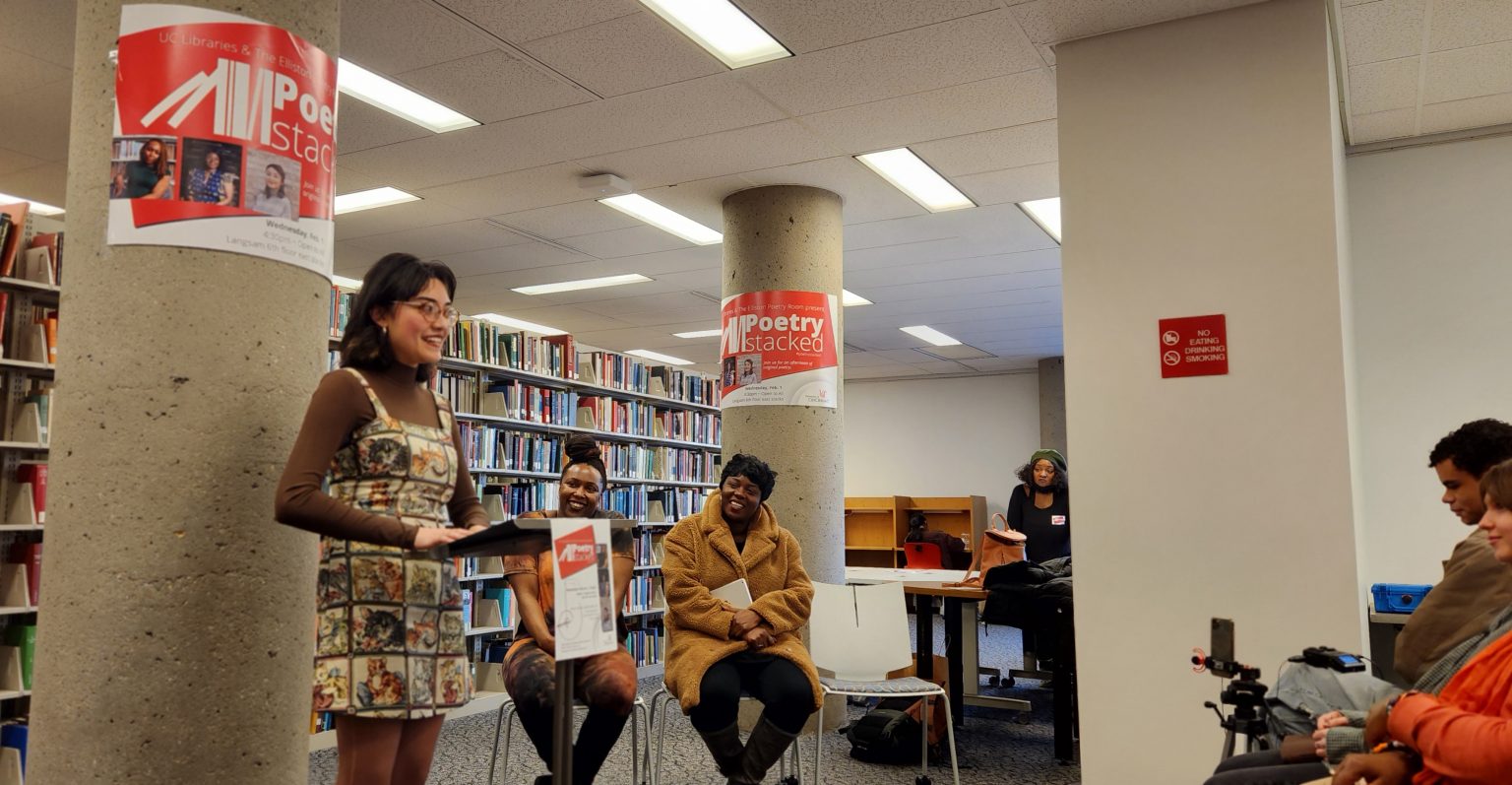 The intent of the series is to enrich and engage the UC campus and Cincinnati communities in accordance with the Libraries' Strategic Framework and the NEXT Lives Here Strategic Directions in support of Academic Excellence and Community Engagement. It aligned with the Libraries' vision as the globally engaged, intellectual commons of the university – positioning ourselves as the hub of collaboration, digital innovation, and scholarly endeavor on campus and beyond.
"We launched Poetry Stacked to reunite several things we love in a community-building, enrichment-focused NEXT Lives Here spirit," said Ben Kline, assistant department head of Research, Teaching and Services, who devised the idea of the poetry series. "We wanted to bring poets and their work back into the stacks, these shelves bursting with stories, knowledge and art. We wanted to spruce up our bridge between campus and community by featuring student poets, faculty and staff creators, alumni and community writers. We wanted a live audience and a digital one (via the Elliston Poetry Room's Live Instagram Feed). We wanted to reengage poetry readings as a connective experience, a potential long-term memory, a work of art, a happening."
With five events, the inaugural year of Poetry Stacked was a big success and exceeded all expectations of the organizers. Each reading attracted a large, devoted audience and created opportunities for engagement and collaboration. The March Poetry Stacked was interdisciplinary and featured College-Conservatory of Music (CCM) undergraduate dancers (watch YouTube video) who each performed an interpretive dance of one of the poet's readings. The dancers were: Sydney D'Orso, Emilia Mieczykowski and Gracie Zamiska.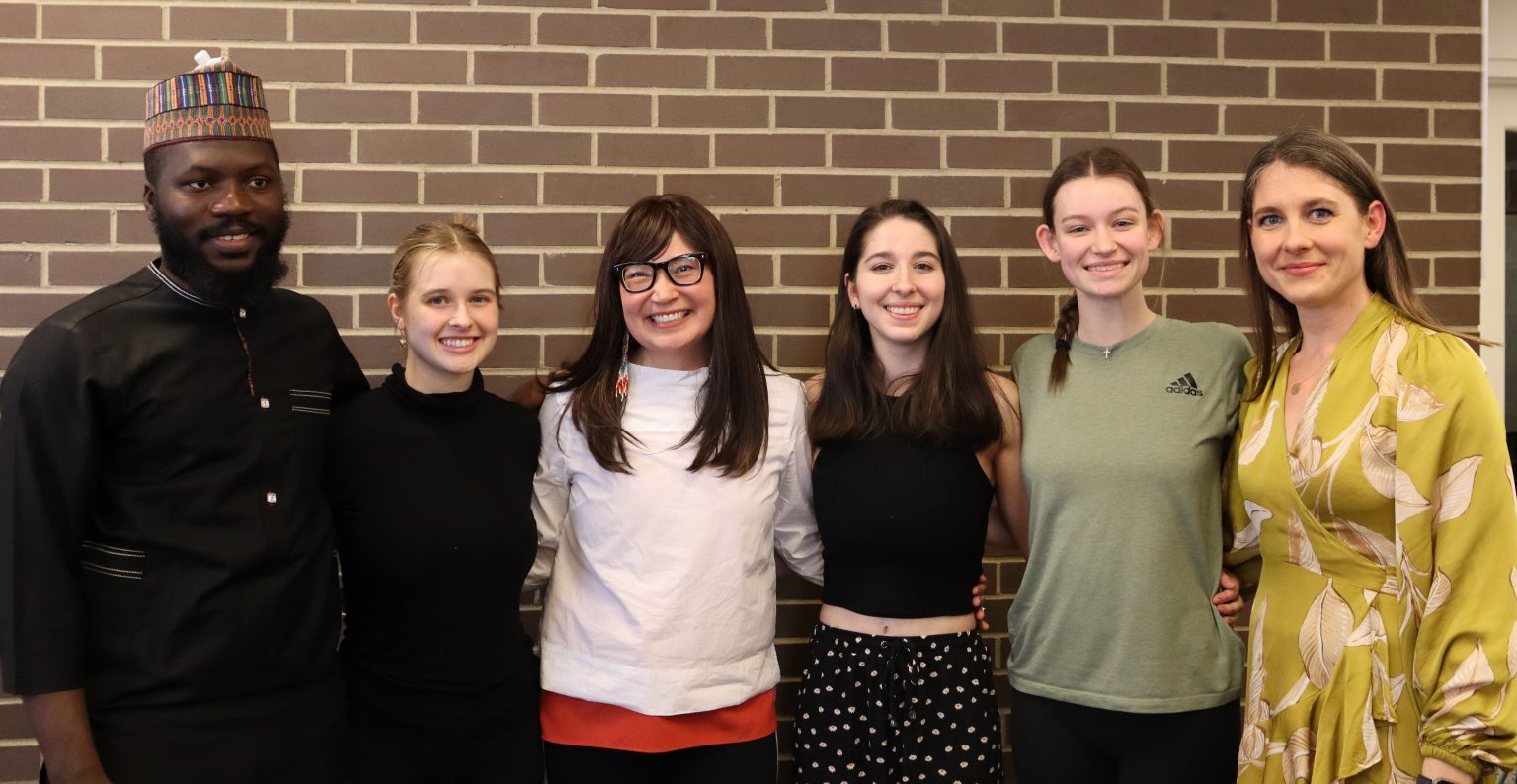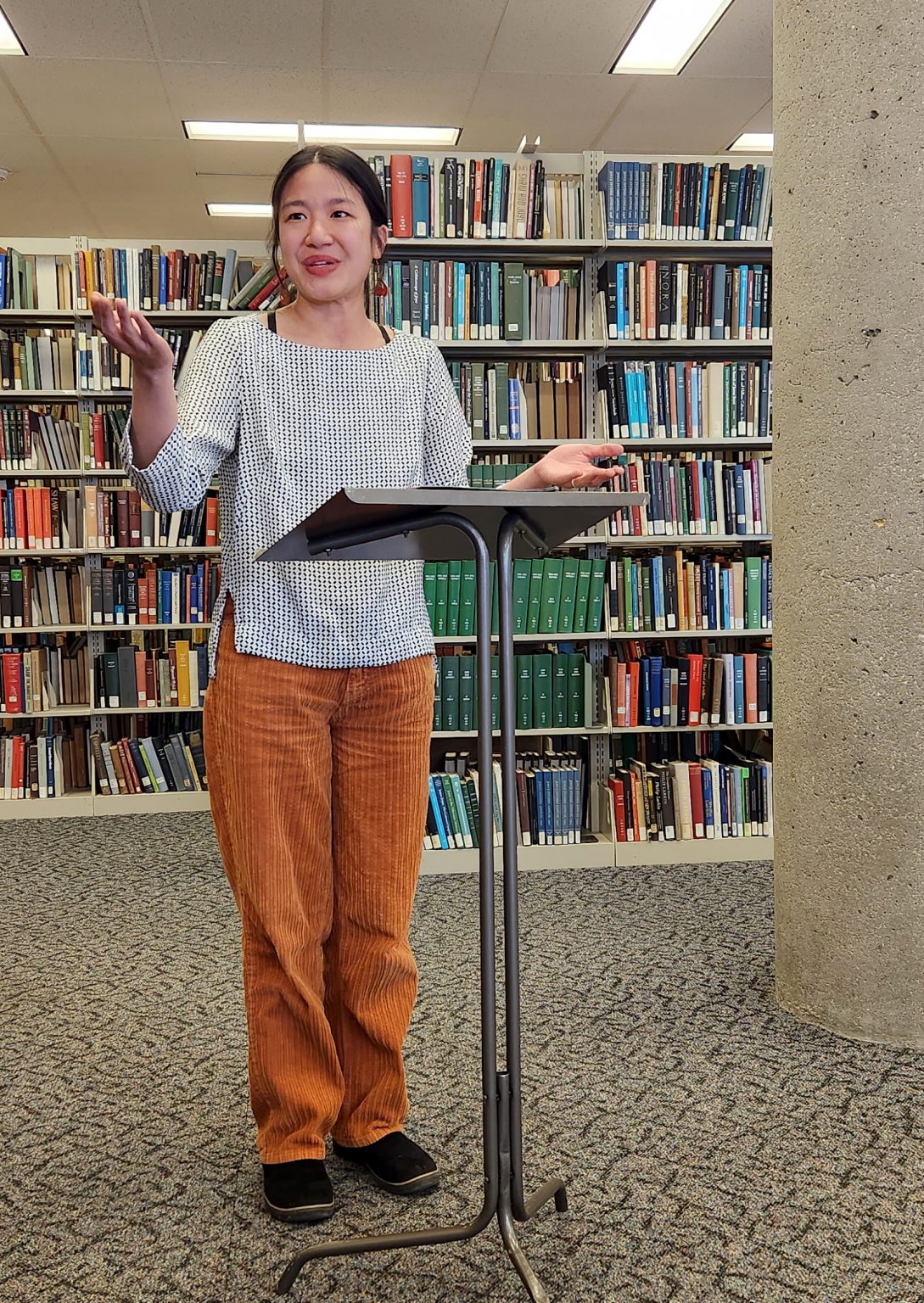 In celebration of National Poetry Month, and as a capstone to a successful first year, the April reading featured an expanded program with Kari Gunter-Seymour, Ohio Poet Laureate, and celebrated graduating University of Cincinnati doctoral students: Nick Molbert, Marianne Chan (pictured right), Connor Yeck and Taylor Byas.
In addition, an exhibit installed on the 4th floor lobby of the Walter C. Langsam Library featured work by the 2022/23 Poetry Stacked poets. Featured in the exhibit were poems from 13 of the University of Cincinnati student, faculty and community poets. Included in the exhibit were UC faculty poets: Aditi Machado, Rebecca Lindenberg, Felicia Zamora and Simone Savannah. Rae Hoffman Jager, Manuel Iris, Yalie Saweda Kamara, Caroline Plasket and Kari Gunter-Seymour represented poets from the community. A highlight of Poetry Stacked were the UC students who read at each session. Students featured in the exhibit were: Dior Stephens, Romie Hernández Morgan, Hussain Ahmed and Casey Harloe.
Thanks to the continued support of the College of Arts and Sciences and UC Libraries, especially from Lori Harris, interim dean and university librarian, Poetry Stacked has been renewed for two more years and has plans to expand. During the 2023/24 academic year, there will once again be five readings – two in the fall, three in the spring. One of those events will be an additional interdisciplinary, multimedia event involving another UC college. In addition, organizers are planning to host two workshops, one each semester, to be announced later this summer. And most exciting, through collaboration with the Preservation Lab and the University of Cincinnati Press, an anthology of work by all of the Poetry Stacked contributors will be created and released during National Poetry Month 2024.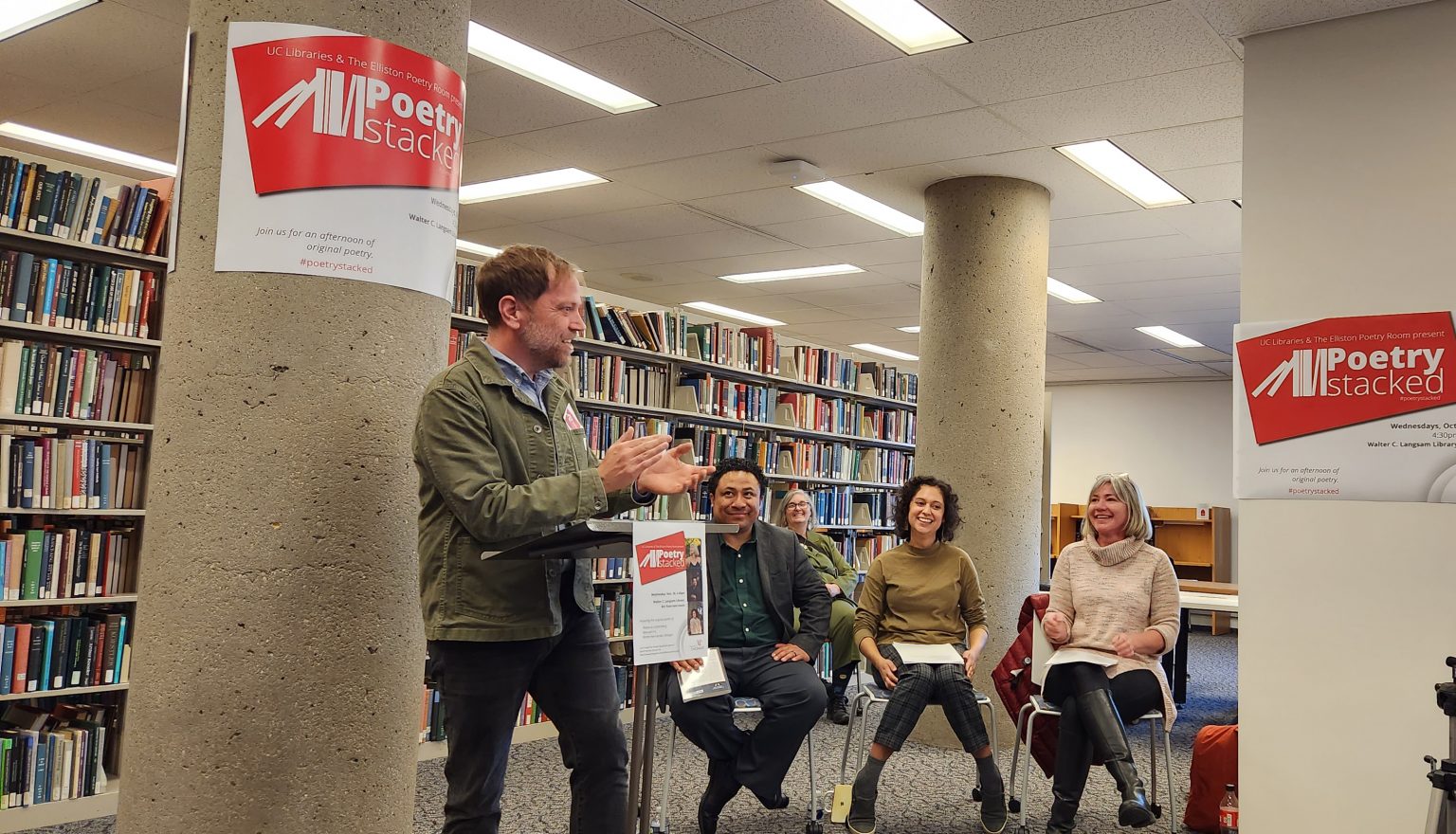 As plans develop, check LiBlog for announcements of Poetry Stacked events in the fall. In the meantime, visit Langsam Library's 6th floor stacks and the Elliston Poetry Room to immerse yourself in poetry books.