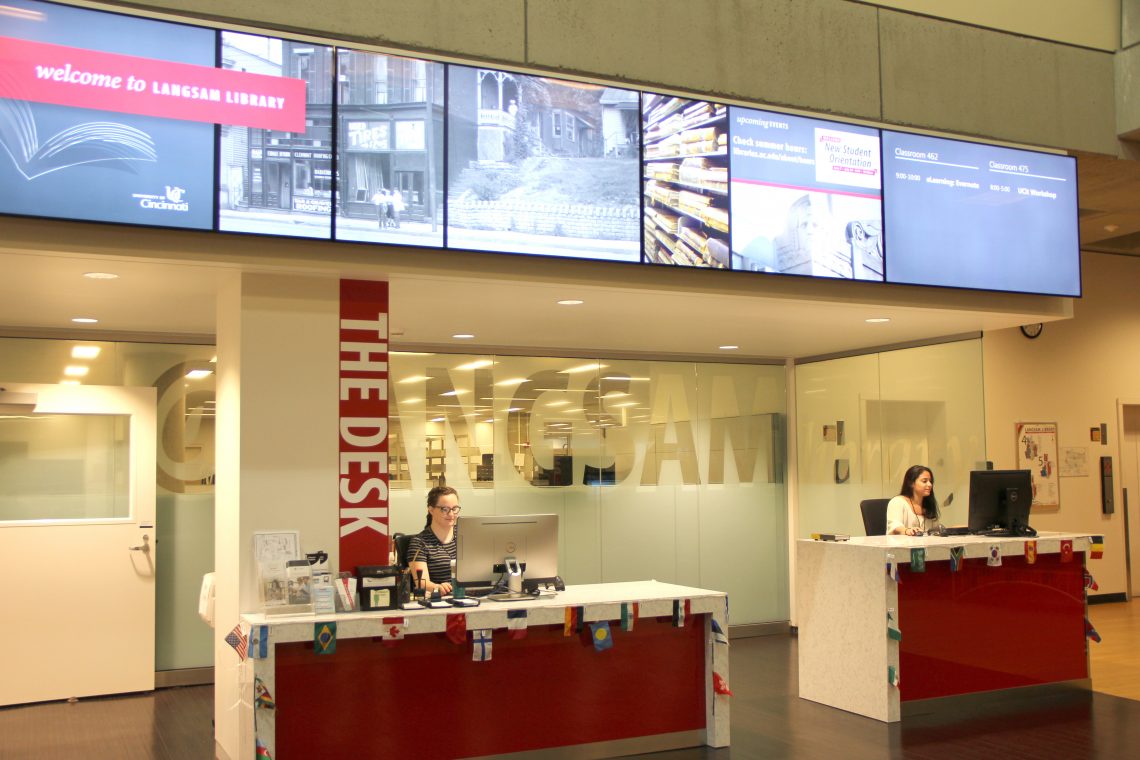 Supporting Library Student Workers
By Jenny Mackiewicz, Coordinator, Special Projects & Programs
In 2014, the University of Cincinnati Libraries created a new fund to benefit our student workers, the UC Libraries Student Worker Scholarship Fund. The scholarship was established by then Library Faculty & Staff Campaign co-chairs Susan Banoun and Mikaila Corday. "We were looking for a way to reinvigorate giving by introducing a new fund everyone would be excited about donating to, our student workers," says Mikaila.
Students are a key component to UC Libraries success. Libraries have long been a top student employer on campus, and student workers are essential in keeping libraries up and running, the stacks filled with books and the doors open. The libraries employ student workers, co-ops, federal work-study and graduate assistants for an array of duties and opportunities for experiential learning.
Interim dean and university librarian Lori Harris had this to say about library student workers:
"For me, the pandemic solidified the importance and value of student workers. They were the backbone, the core, of how the library was able to move to an online atmosphere. They took on tasks and training from home and worked collaboratively across libraries to support the entire organization. Our students go above and beyond, they think in terms of collegiality and partnerships. Students are one of our foundational resources, and one of the things I enjoy most about my job here at UC Libraries."
In the years since its inception, the fund has awarded 10 scholarships to students across UC Libraries' 10 campus locations. Recipients come from a variety of backgrounds and different areas of study. They have three commonalities outside the basic scholarship requirements: they are exemplary students, they have potential for the future and they have exhibited extraordinary service to UC Libraries. All scholarship applicants are eager to discuss their work, which ranges from manning the service desk to helping to establish new processes.
We are the happy to announce the two recipients for this year's scholarship: Linh Dieu and Tegan Recker.
Linh Dieu works for two units, the Preservation Lab, located in the Walter C. Langsam Library, and the Science and Engineering Libraries. She is majoring in psychology, with a minor in early childhood education. In her application essay, Linh said, "…Working as conservation student assistant in the Preservation Lab, I am amazed by the variety of methods that can transform a damaged book. Performing these meticulous treatments has developed my attention to detail and made me practice a habit of double-checking assigned tasks. Since working with data requires accurate entry and analysis, these skills greatly benefited me when I became a research assistant for the Healthy Bearcat Families Lab and Dr. Beymer Motivation Lab."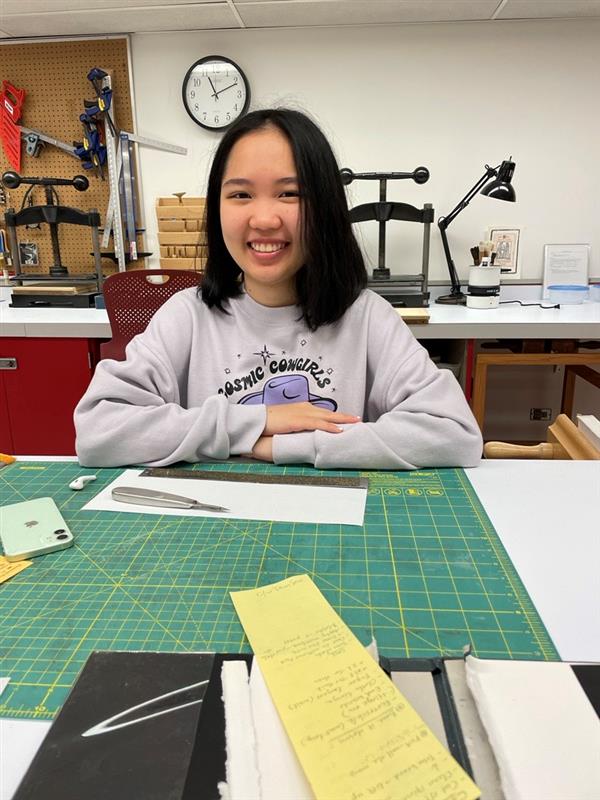 Tegan Recker is an art history major with a focus on museum studies and historic preservation. She works at the Archives and Rare Books (ARB) Library. She was inspired to seek out a job after touring the library with a medieval art class. "As someone with a passion for history and cultural heritage, it means a lot to be in a workplace that values making research materials and historical documents accessible to as many people as possible…Working for the ARB library has been an incredible and valuable professional opportunity, and has helped me choose my future career path."
To donate to the UC Libraries Student Worker Scholarship Fund, visit the Foundation's website.