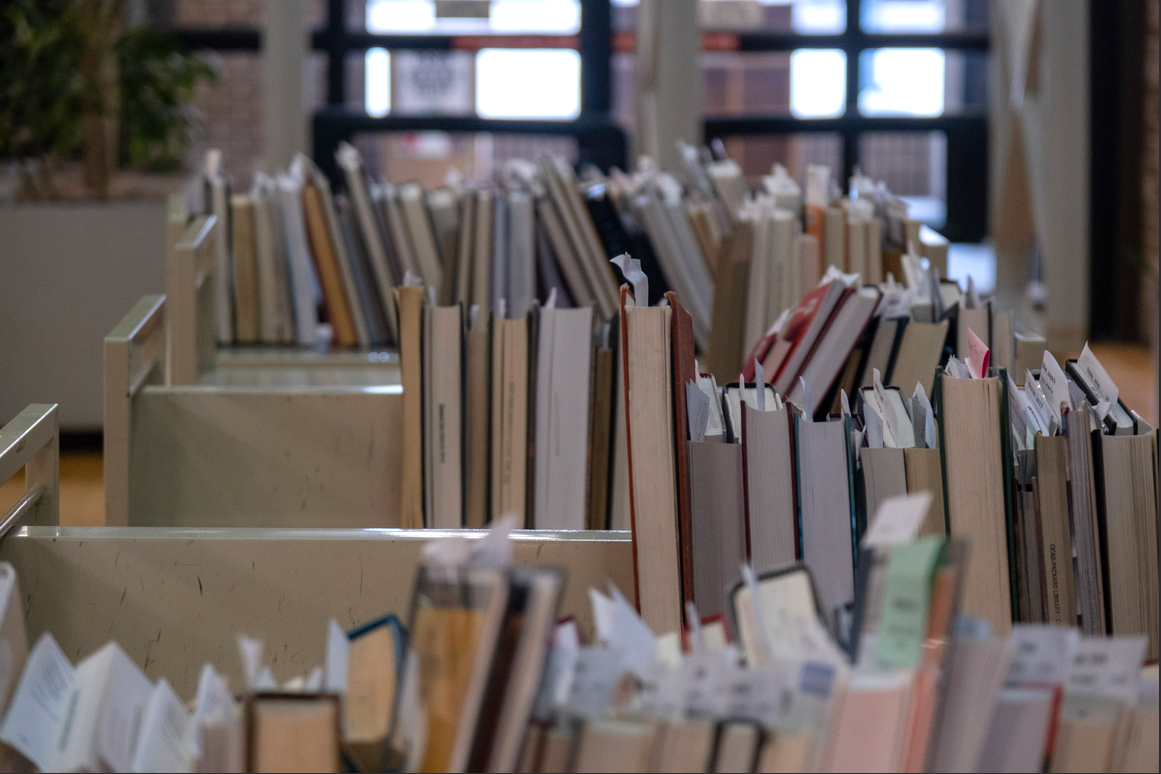 Showcasing UC Libraries' Innovation and Impact during the COVID-19 Pandemic
By Ted Baldwin, Catie Carlson, Katie Foran-Mulcahy, & Debbie Tenofsky
After a period of months, our workforce pivoted again – from reaction to reflection. Like the rest of the world, UC Libraries faculty and staff had been working and innovating through a time of uncertainty. Many of these efforts were highly visible, but important work and service to our communities was also happening behind the scenes. The need to document these efforts, collect these stories and to celebrate these victories amid crisis became apparent. To that end, a COVID Data Group was assembled and charged by UC Libraries administration to gather data about the nature of library services and innovations during the COVID-19 pandemic.
Data and stories on the enduring value of UC Libraries were collected after the fall 2020 and spring 2021 semesters. Quantitative data such as the number of questions answered, classes taught and books circulated was mined from readily available data sources or collected via e-mail. Qualitative data, including stories, anecdotes and even e-mail thank-you notes from grateful library users, was collected via a survey sent to the entire UC Libraries workforce.
Defining UC Libraries Innovation and Impact
The COVID Data Group heard back from the work forces of UC Libraries, the Robert S. Marx Law Library and the regional campus libraries at UC Blue Ash and UC Clermont. The work across these libraries and departments varies greatly, but some key themes ran across the data. While at times, many of us can relate to the sentiment of Susan Boland, associate director at the College of Law Library, "Honestly, just getting through the spring [2020] semester was our big success," all those within our libraries made tremendous contributions moving forward the mission of the university even during the challenging times.
There were those, such as librarians and staff working in preservation, IT, content services, public services and the various college and departmental libraries, who continued to visit campus regularly to provide access to collections and equipment even when most people had just begun adjusting to working from home. Many had a moving story about how they tried to help faculty and staff when they themselves may have been barely holding on given the new world.
Teaching and Learning
UC Libraries taught approximately 345 instruction sessions to over 6,500 students and faculty from March 2020 through April 2021. Both synchronous (learning in real time) and asynchronous (learning not in real time) virtual instruction sessions were a success. The librarians and staff utilized numerous online methods to engage students, including being embedded into courses, creating extensive online Canvas and LibGuides modules and even filming a 3-D tour of the John Miller Burnam Classics Library. Successes from these efforts can be seen in various ways, such as Madeleine Gaiser, online learning & instructional support specialist, noting that the College of Education, Criminal Justice and Human Services (CECH) Library increased their instruction collaboration by 50% compared to a non-COVID period. Elizabeth Meyer, visual resources librarian at the Robert A. Deshon and Karl J. Schlachter Library for Design, Architecture, Art and Planning (DAAP), worked with a faculty member to design videos of interviews of professionals since the students could not go on field trips. Additionally, librarians such as Erin Rinto, learning and research librarian, and Mark Chalmers, science and engineering librarian, received notes of gratitude for their facilitation of student learning.
Online Library Collections
Without the ease of access to physical collections, the library amped up online collections adding/refreshing over 308,000 online access records for library resources and purchasing 189 streaming videos and 1,123 e-books (many acquired for a direct course or research need). In order to accommodate a reconfiguration to remotely accessing online resources across the university, the library updated more than 800,000 web addresses to ensure continued access to the collection. Because of these changes, we realized the need for an overall system upgrade. Susan Banoun, eResources and access librarian, and her team have tirelessly upgraded access systems and the linking implications so that library users have uninterrupted access near and far.
What's Next?
After compiling a report, the COVID Data Group presented their process and results to the UC Center for Improvement Science (CIS) team, a core group of the Center for Clinical & Translational Science & Training (CCTST) and to the UC Libraries workforce. Melissa Cox Norris, director of library communications, created an online presentation based on the collected data – making it easier to communicate UC Libraries' impact through COVID to stakeholders.
UC Libraries used this data collection to fill some assessment gaps. Moving forward, the Libraries will consider how to go about collecting more data. Some considerations are whether the data is readily available, the types of collections held by the Libraries and what data we want to collect immediately versus periodically. Additional data that included targeted groups not represented in the first round was collected in spring to fill out the pandemic time period.

There is a hope that this work will become the seeds of an assessment program and practices so that we may communicate our value more effectively to users, administrators and the academic community.