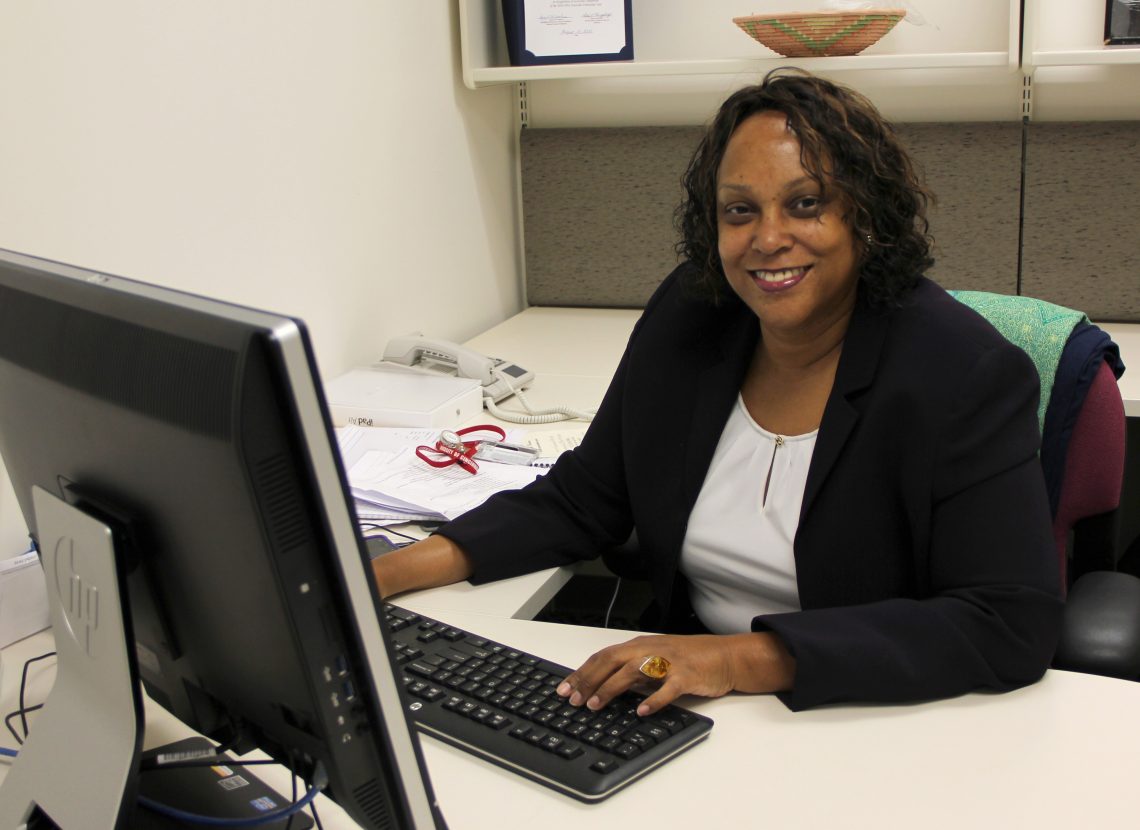 Staff Spotlight: Lori Harris
On July 1, Lori Harris began her tenure as interim dean and university librarian. As she embarks in this new role at the university, we thought this a perfect opportunity to ask her a few questions about her aspirations and hopes for the Libraries.
What are your goals for the coming year? Both immediate and long-term.
My immediate goal is to move forward with increasing the number of faculty and staff throughout the Libraries. I would like to use this as an opportunity to bring on board people who have the lived experience, expertise and initiative to support our strategic goals in ways that are innovative and that highlight the efforts and values of the University of Cincinnati. This increase in faculty and staff will also ensure that the Libraries will be able to not only maintain, but to broaden our excellent support of UC students, faculty, researchers and staff.
One of my long-term goals is to continue to align with the University's Next Lives Here strategic initiatives, especially as it relates to integrating Diversity, Equity and Inclusion more fully within our own organization.
What are you looking forward to as interim dean?
I look forward to working with my library colleagues more broadly and in new ways. The diverse needs of our users and the communities we work with, coupled with the complexities of working in a research library, require a high level of communication. The priorities and objectives of library staff differ from those of the faculty, as well as from those of researchers, students and the like. I look forward to getting to learn more about these and the visions of the various departments, units and individuals throughout the Libraries so that I may discover ways to best integrate those needs into the Libraries' Strategic Framework plans as we move forward.

You have a broad range of professional experience from working at a law firm to your time at the National Institutes of Health | National Library of Medicine and then at the Health Sciences Library. How will those experiences contribute to your new role?
I have been fortunate to have a variety of professional experiences throughout my career that allow me to consider various perspectives and points of view. Communication has always been a key component in how I interact with colleagues and other professionals. Being able to listen also gives me an opportunity to pause, take time out to understand the speaker's point of view and then to react accordingly. In every professional opportunity I've encountered, I have found that communication – being clear about intentions and goals – helps contribute to more successful outcomes when entering a new role.
UC Libraries recently published an updated Strategic Framework. How will it guide your work in the coming year?
I had the good fortune to be part of the University of Cincinnati Libraries' Strategic Framework Committee. The time and energy our faculty and staff put in to not only developing this document, but aligning it to the University of Cincinnati's Next Lives Here, speaks to our commitment to developing an approach that is both systematic and that will assist us as we move forward as it relates to growth and change within our organization. Our Strategic Framework serves as a guide for our work and should grow and adjust as we do as we focus on the pathways of Enrich – the Academic Experience; Empower – Research, Scholarship and Innovation; and Engage – We are Cincinnati. The framework continues to focus on priorities of the university under the categories of Academic Excellence, Urban Impact and Innovation. In doing so we will continue to engage, teach, educate and be impactful.
Anything else you wish to add?
During the past two years, many of us have experienced both personal and professional changes and loss. Library faculty, staff and students were exceptional in addressing many challenges and issues during the COVID-19 Pandemic and beyond. As we move forward as an organization, I look forward to working with my UC Libraries, Law, UC Blue Ash and UC Clermont library colleagues as we collaborate and support our UC students, faculty, researchers and staff.