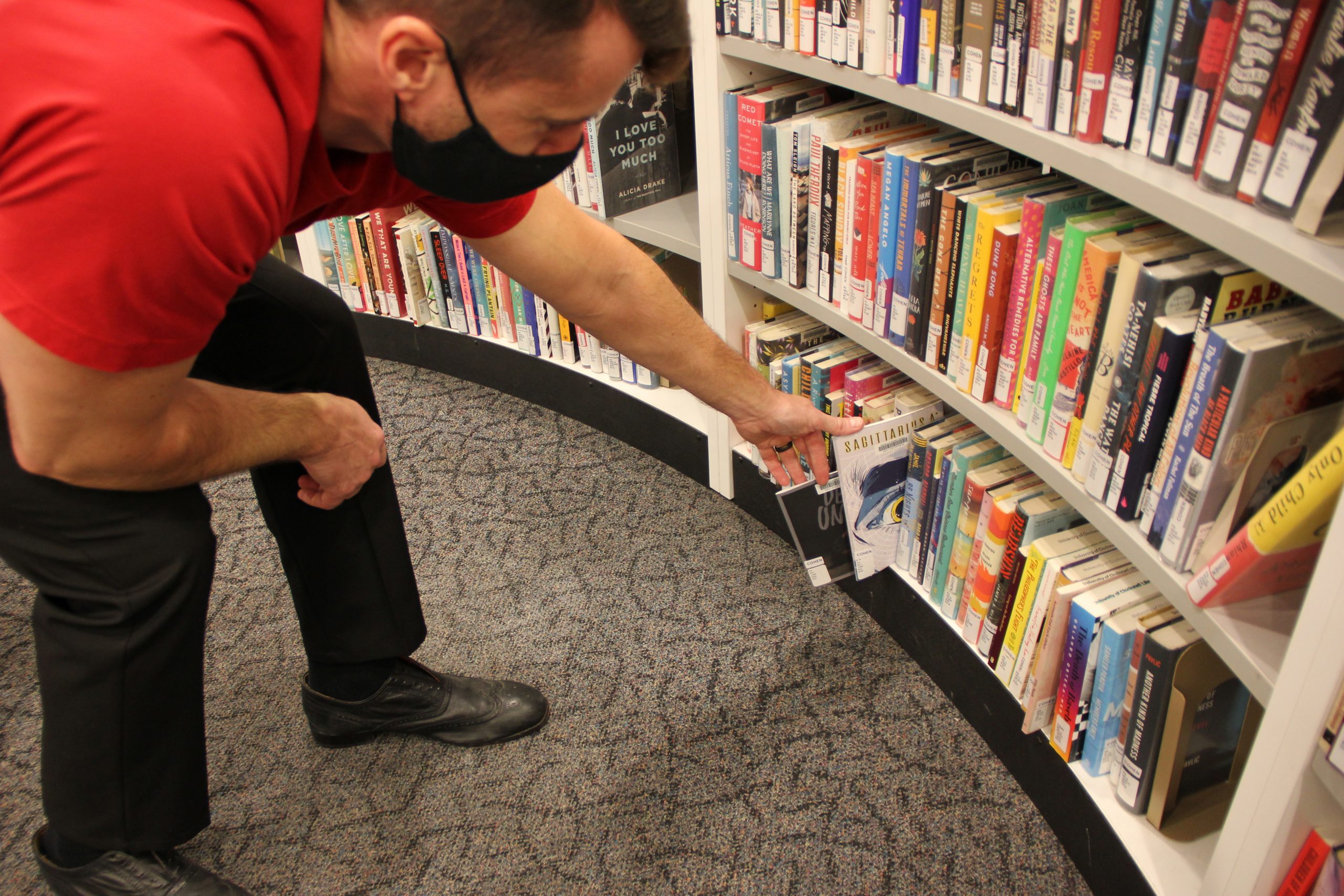 Staff Spotlight: Ben Kline, a poet among us
Ben Kline, assistant director of Research, Teaching and Services, is recognized by many students, faculty and staff who study and work in the Walter C. Langsam Library as he can often be found at The Desk@Langsam assisting users and his fellow library colleagues. What many of them don't know, however, is that Ben is also an accomplished and published poet. Following is a interview about his work as a poet, including his influences, process and the importance of a good play list.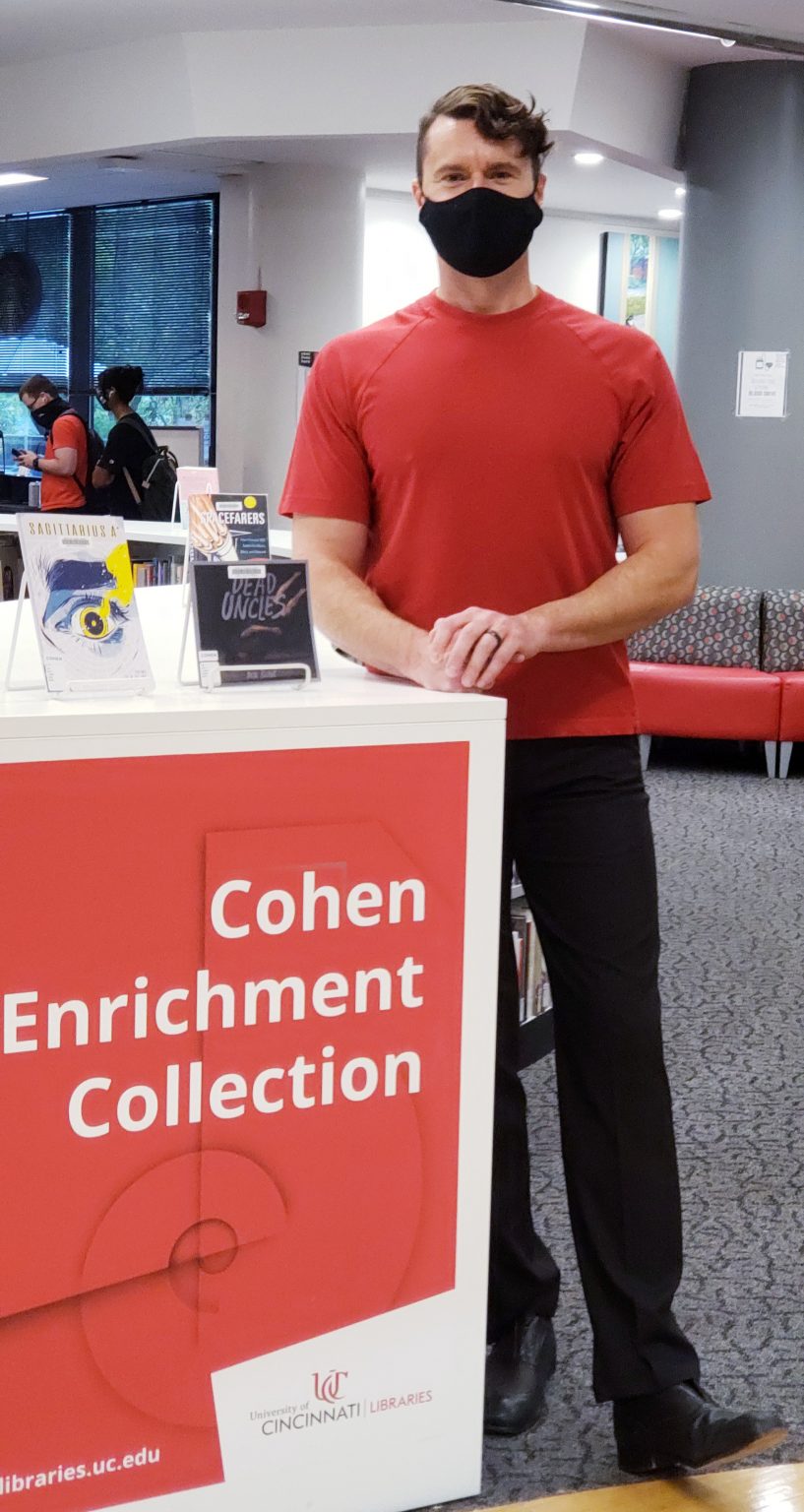 In your role as assistant director of Research, Teaching and Services, what are your responsibilities?
I could cut and paste the opening paragraph of my job description, but for the non-library readers in the audience, it might be best to say I'm one of the managers who helps keep Langsam Library staffed, open and running smoothly. My list of duties covers a lot, but highlights include user policies, procedures and privileges; visiting scholars; operations; and my favorite, answering "I want to speak to the manager" requests.
What led you to work in libraries?
The early 90s recession. Following a hot summer of painting houses, finding no jobs in publishing or printing, I wanted an indoor job with air conditioning and found one at a small public library where I worked evenings and weekends. I shelved books, assisted with story times and leaf projects, vacuumed the floors on occasion. Quite a learning experience.
Aside from your work at UC Libraries, you have a very active life as a published poet. How long have you been writing poetry and what got you started?
In the spring of 1989, on the other side of a traumatic family event, I turned to writing poetry and short fiction as therapy and self-assessment.
Writing wasn't unfamiliar to me – I spent my non-reading free time on the farm writing (and trying to draw) my own comic books – but trying to create fiction and poetry was new. I remember doubling my reading, adding writers such as Thom Gunn, Rita Dove, Jeanette Winterson, Sharon Olds, Salman Rushdie, Carl Hiaasen and others to established favorites like Whitman, Dickinson, Hawthorne, Eliot and Bishop. Which was possible in the days of school libraries having actual librarians who developed legitimate collections for their students. I could read the latest New Yorker at lunch, enjoying each issue's poem and short story with my PB&J.
Writers are often active readers. How does reading help you as a writer? Anything you avoid reading while you're writing?
While I mainly read as a reader, not a writer, reading does expose you to what your peers are doing. I might discover a writing technique I may experiment with in the future, but I largely read for pleasure or for education. I do, however, create a playlist for every writing project. For my latest book, Dead Uncles, I listened to a lot of George Michael, Troye Sivan and Frank Ocean. My playlists inspire me and get me in the mood to write. I then delete them when I'm finished with that particular project.
You mentioned some above, but who are your favorite current poets?
This changes frequently, but my current list of favorite poets includes: Jose Olivarez, Taylor Byas, Todd Dillard, Jericho Brown, Tracy K Smith, Victoria Chang, Matt Mitchell, Khadijah Queen, Anthony Aguero, Michael Chang and Kyle Carrero Lopez.
Do you write in other genres?
Yes. I began my creative journey as a fiction writer and have published many short stories over the decades. I still write fiction, which I find easier, if more time consuming. I also write an occasional essay, one of which became a featured part of USA Today's "I Am an American" storytelling series.
Are there common themes or subject matters in your poetry?
Yes. Usually, my poems ponder or interrogate dualities, such as rural/urban, digital/analog, origin/outcome, etc. Family appears a lot in my work, often in exaggerated forms for drama and humor. Technology, vice, queerness, and pop culture are additional concepts I spend a lot of lines wandering and wondering.
Do you ever draw inspiration from your work in the libraries? Any examples you wish to share?
I do. I've written quite a few things about some of the zanier incidents I've encountered in my library life. Recently, I wrote a poem inspired by the chalkboards we used pre-pandemic in Langsam Library. Published in the spring of 2021 by The Indianapolis Review, "Free Coffee" riffs on the intersection of anonymity and community that we in libraries often experience in a unique way.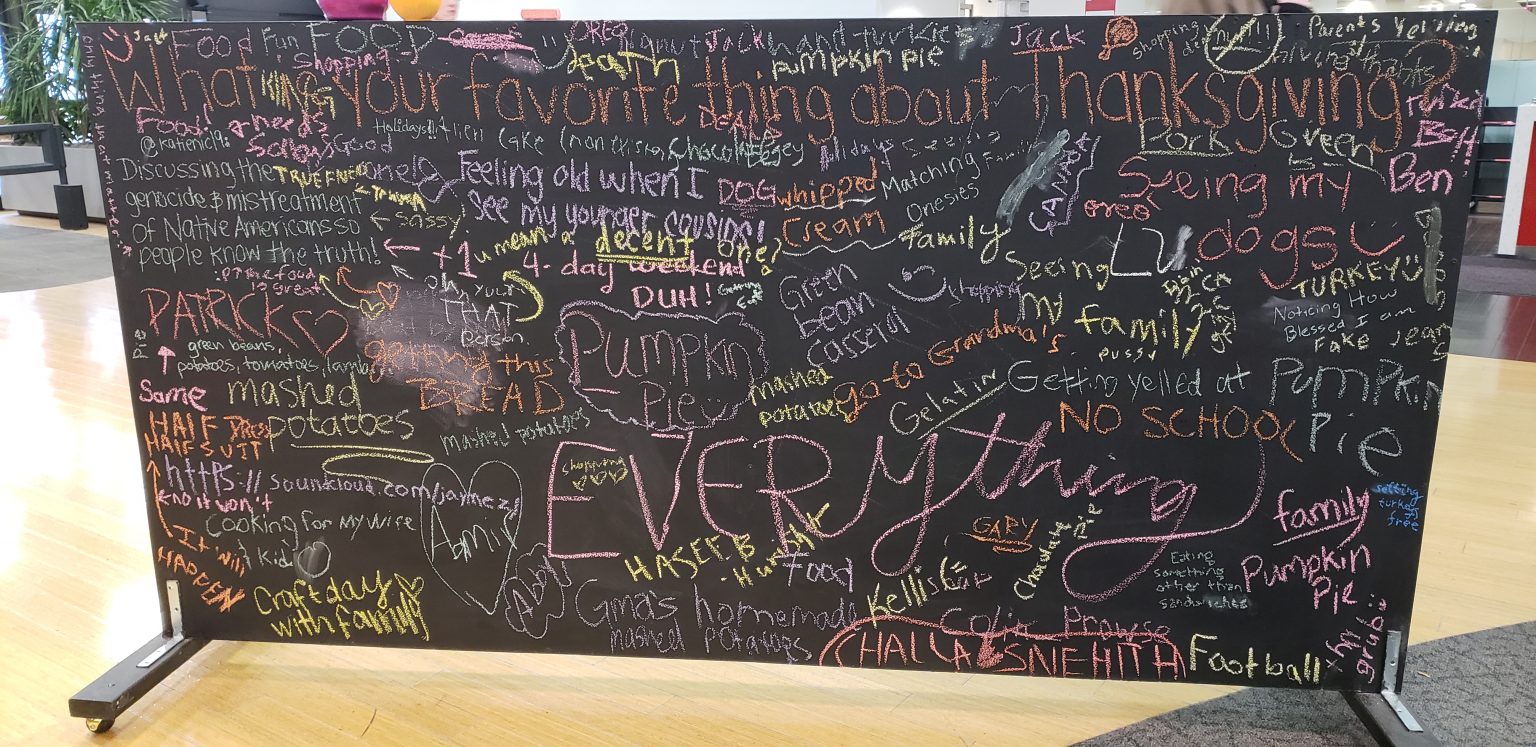 How do you balance your professional life with your poetry life?
Scheduling. Dedicated blocks of writing time dot my calendar. Luckily, I'm both an early-morning-with-a-latte writer and a late-night-with-a-bourbon writer.
But if you ask me to poem at 3PM, I might curse.
What are your short-term and long-term aspirations for your poetry?
Short term: finish two large poetry projects I'm working on and return to finishing my first short story collection. Find publishers for the full-length manuscript and the chapbook I have "in the drawer."
Long term: write more fiction, finally get my web comic launched, and continue to publish poetry (and tell stories) that people enjoy reading. I also want to orchestrate more public readings/events that encourage poets and non-poets to mingle and interact with work.
Anything on the near horizon you wish to share about your poetry (publications, awards, readings, etc.)
I have a few new poems debuting in the next few months from the many projects I've been working on. I've resumed hosting a semi-regular reading series called POETRY AFIELD at The Littlefield in Cincinnati's Northside neighborhood. We have it outdoors on their patio.
Any words of advice for someone wanting to pursue writing professionally?
Ignore most advice – just write.
I like a regimented, disciplined approach to craft and practice, but that won't work for every person or life. But writers write – they can't help themselves – and should write when, where and however they're able.
Anything else you wish to share?
A thank you to my many colleagues at UC Libraries who've always shown interest in and supported my writing endeavors.
Also, I didn't follow the MFA path, didn't attempt to publish for 15 years, focused on life and adventures, although I continued working on my craft, learning through trying, etc. Yet at 40, I decided to get serious and make more of an effort to share my work with the world. After a couple of years purely work-shopping, revising and remembering the sting of rejection, I managed to publish a few poems and short stories, some work for hire, setting on the path that's led me to the past four years, dozens of my poems appearing in print and digital journals, with two chapbooks published during a global pandemic! Which is all to say: it's never too late.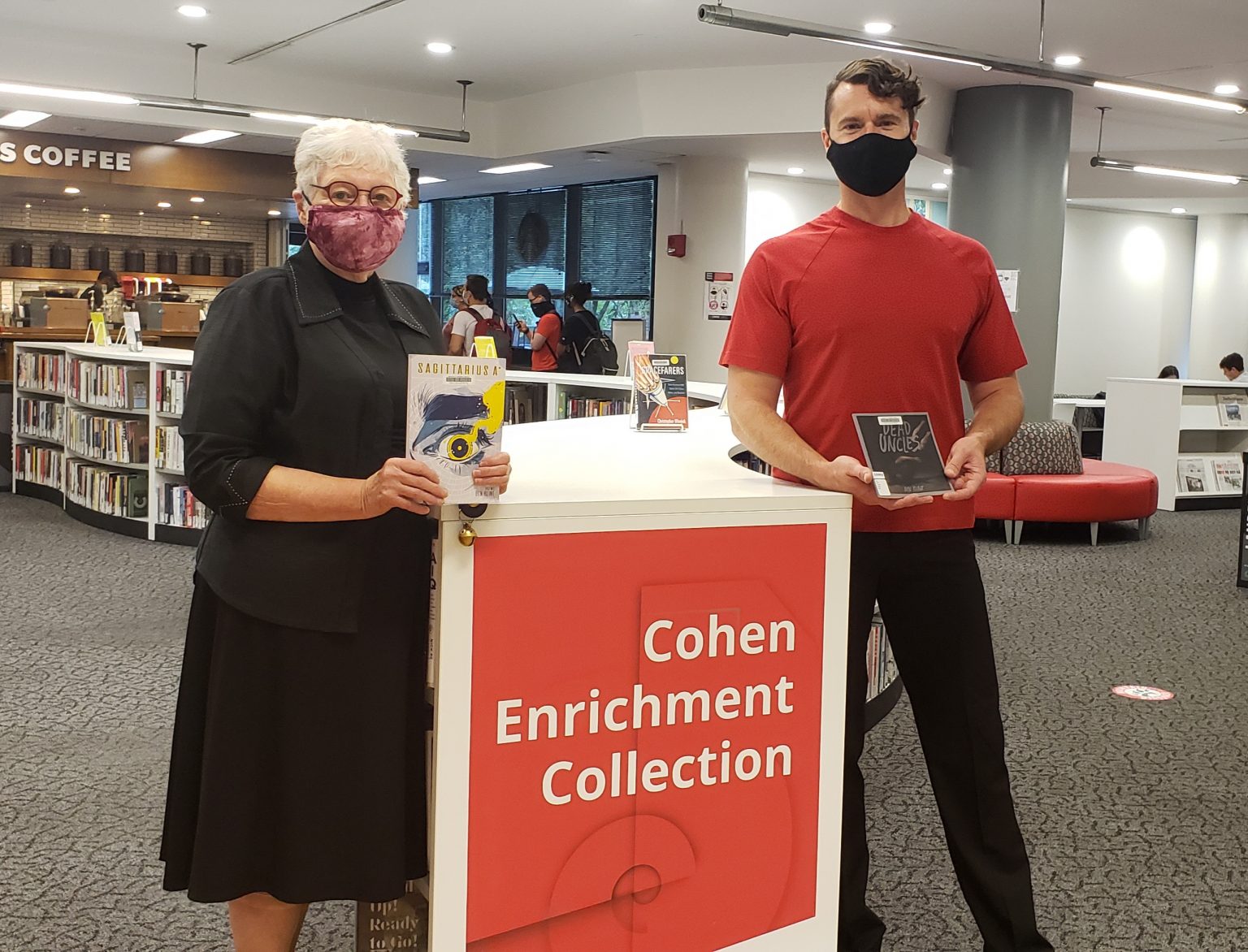 Select list of recent publications
Poetry Books
Selected Poems