P. Alfred Marchand – Trailblazer and Librarian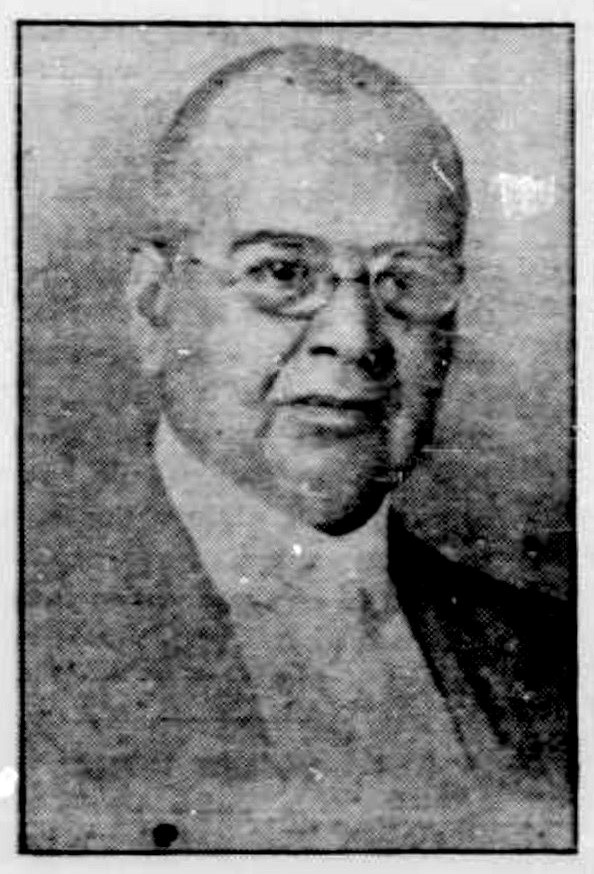 Leah Everitt, graduate research assistant in the Donald C. Harrison Health Sciences Library, recently presented information obtained from archival materials regarding P. Alfred Marchand, one of the first Black librarians in the Midwest and possibly the United States, having worked at Cincinnati Hospital from 1869-1918. It is difficult to say definitively if Marchand was the first Black librarian since he started working before the establishment of the American Library Association in 1876 or professional library programs in 1887. Edward C. Williams is cited as the first professionally trained Black librarian in the U.S., having obtained his degree in librarianship from New York State Library School in 1898. Regardless, Marchand performed the duties of a librarian, and by many accounts, performed them with care, expertise and with excellence.

P. Alfred Marchand was born in Cincinnati in 1853 to Laura Kyte and Louis Soule Alfred Marchand, who was once enslaved. He married Mary A. McPherson in 1881 and would have three children survive to adulthood: Laura, Alfred and Arthur.
Community involvement was often written about in gossip articles in the local newspapers, and it is through these that it is learned that Marchand was active in the Grand United Order of the Odd Fellow, a "colored" lodge that believed in "mutual aid and protection in care of sickness and distress." In this organization, which would "relieve members when sick, assist with the burial of members and their families, protect the widows of Odd Fellows and educate orphans," Marchand was a part of the Messiah Lodge and served as both Vice Grand and the Noble Father traveling to represent the group at conferences.
As stated in newspaper articles in the Cincinnati Commercial and Cincinnati Enquirer, Marchand was politically active, participating in meetings "in support of rights for colored voters (1877)" and "protesting separate schools for colored students in 1890."
According to his obituary, Marchand started his employment at Cincinnati Hospital in 1869. He was listed as an office boy in the Cincinnati Hospital Annual Report in both 1873 and 1874, where he made $15 a month (a day nurse made $25 and the messenger $10). Marchand is first listed as a librarian and clerk to the librarian in the 1885 report. The job duties of the librarian/library clerk/registrar would have included organizing the library, collecting materials, providing reference services and preparing statistics for the hospital's annual report.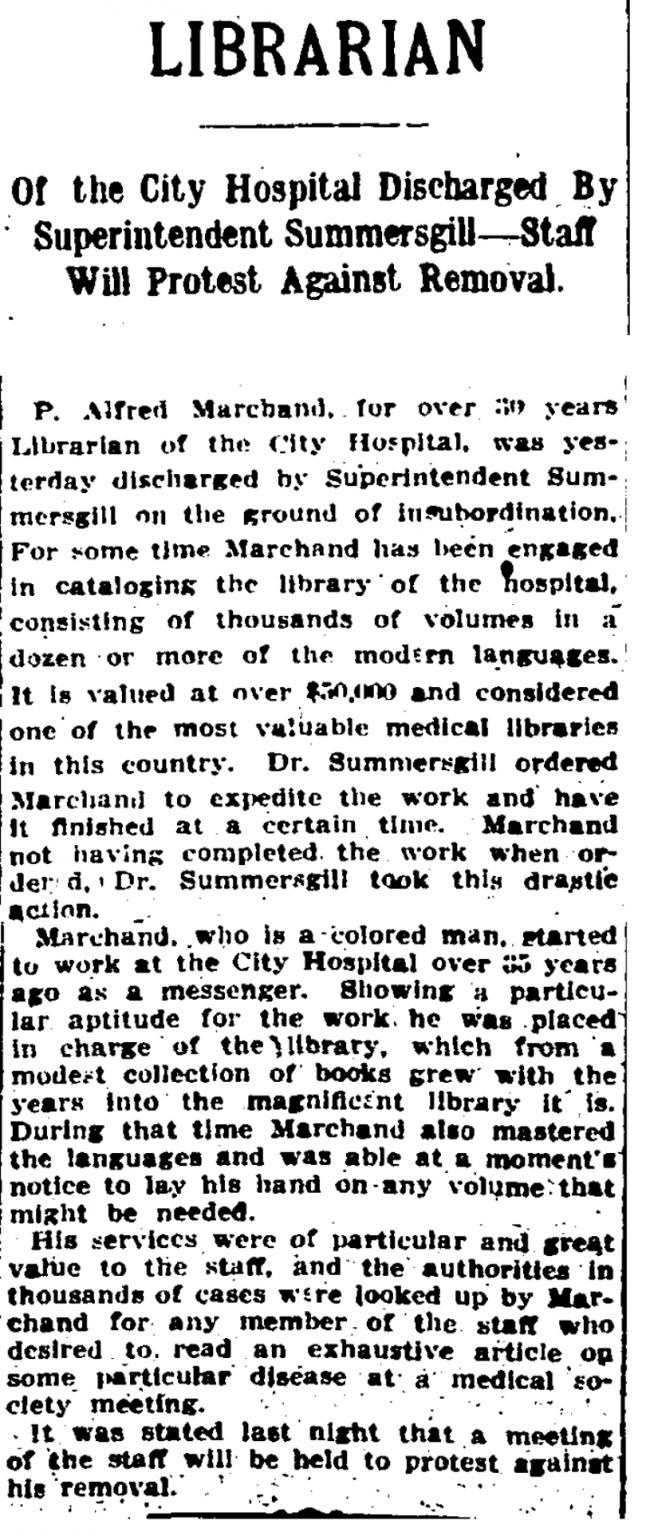 The annual report was given to the City of Cincinnati as a record of what the hospital did each year, the number of patients seen and types and results of diseases, surgeries and injuries. Marchand complied statistics in these reports from 1885 until at least 1914. There are a few years where he was not acknowledged to have written this report, but no one else is listed. In 1909, the Cincinnati Enquirer reported that Marchand "compiled his annual report, covering over 500 typewritten pages, bristling with statistics covering all the cases admitted to the institution." The 1887 annual report included an acknowledgement by the Chief of Medical Staff citing Marchand's "important contribution to the statistics of the general hospitals of the world" for his work in collecting and classifying data for Cincinnati Hospital.
Despite his important, and often praised, work in 1913 hospital superintendent Dr. H. T. Summersgill attempted to remove Marchand from his position as librarian on the grounds of insubordination when he failed to meet a deadline to complete the cataloging of thousands of volumes. According to the July 18, 1913 Cincinnati Enquirer, " Marchand…started to work at the City Hospital over 35 years ago as a messenger. Showing a particular aptitude for the work, he was placed in charge of the library, which from a modest collection of books grew with the years into the magnificent library it is. During that time Marchand also mastered the languages and was able at a moment's notice to lay his hand on any volume that might be needed." The article goes on to say that hospital staff greatly valued Marchand's work and were planning a protest against his removal, which resulted in his reinstatement. Dr. Summersgill would soon resign after facing other complaints about his mismanagement of the hospital from the Director of Public Safety who claimed that Summersgill was "too arbitrary and kept his subordinates in a constant state of unrest."
Marchand would continue to work until his death on November 21, 1918, at 65 and just three months shy of 50 years of his life spent at Cincinnati Hospital. At the time of his death, he was making $50 a month. His obituary, which appeared in The Union on December 7, 1918, described Marchand as a "self-made man, whose greatness and capability were only limited by his environment. When but a lad, bright, eager, ambitious, aspiring, he became messenger at the Cincinnati Hospital." The article speaks of Marchand's work as a librarian, "into the library he was soon placed and the thousands of volumes in that celebrated branch of the hospital became his friends, his associates. He knew them and knew them so well that invaluable assistance was rendered by him to the many doctors who daily visited the sacred groves in search of lore and learning."
---
Leah Everitt was a masters of library science (MSLS) graduate student at the University of Kentucky where she graduated in June 2022. She is now a fellow with the National Library of Medicine in their Associate Fellow Program where she hopes to work on more open scholarship projects facilitating interoperability through standard languages.
Gerry Wagner, manager of unit operations in the Health Sciences Library, was instrumental in Leah's research of P. Alfred Marchand as he located and secured numerous archival documents.
Sources
Cincinnati Correspondence Indianapolis Leader 1881/07/23
Our Colored Citizens Cincinnati Commercial Gazette 1885/07/19
Our Colored Citizens Cincinnati Commercial Gazette 1895/01/05
Cincinnati Commercial, August 07, 1877, Pg. 18, Cincinnati, Ohio, US (Newspaper Archive)
Meeting of Colored Citizens. Cincinnati Enquirer March 18, 1890, Cincinnati, Ohio, US (Proquest Historical Newspapers)
The Union Newspaper