Student Spotlight: Hannah Harper
By Regina Bourne and June Taylor-Slaughter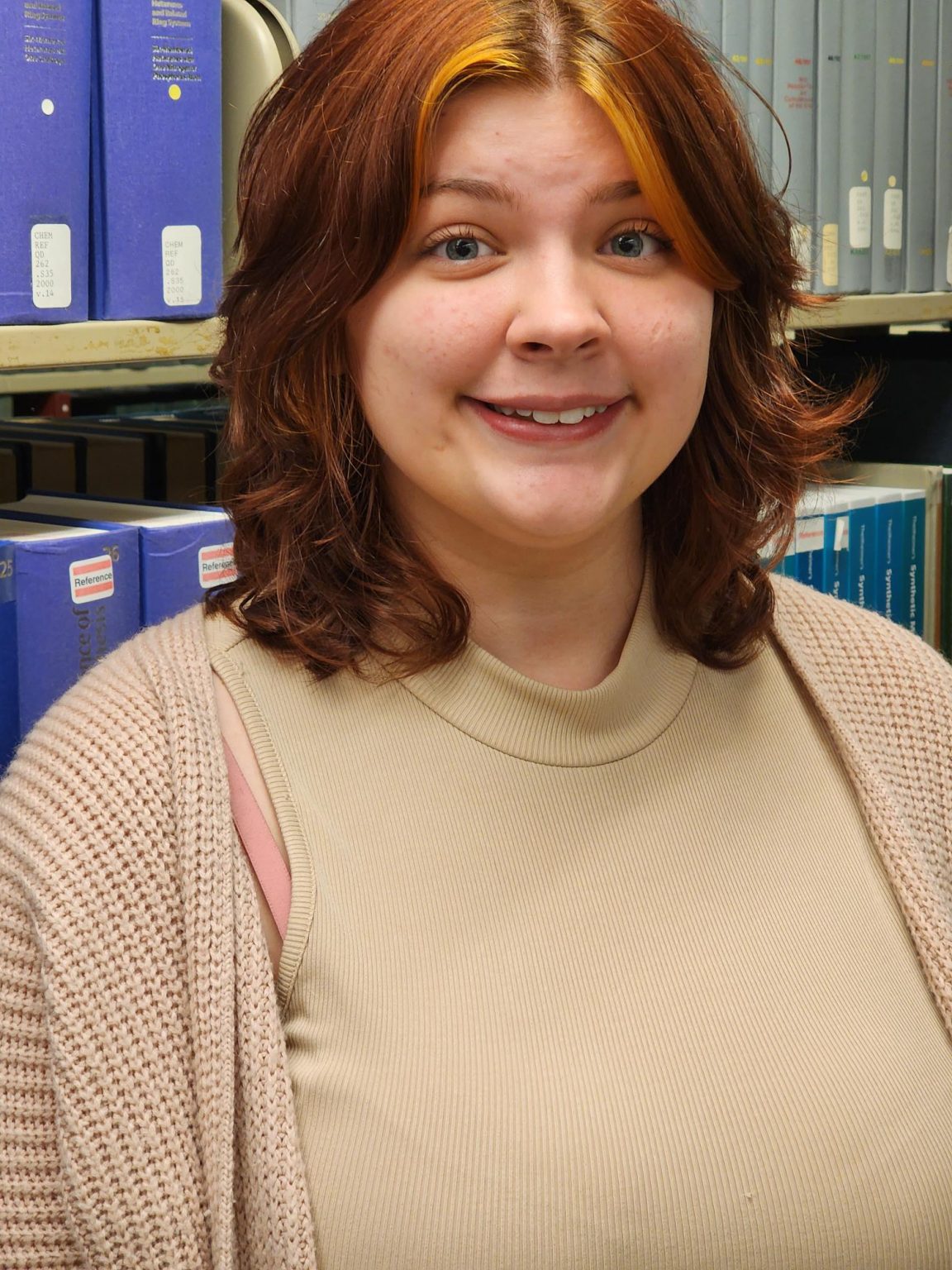 Student's name: Hannah Harper
Major and academic year: Environmental Studies and Anthropology 2nd Year
Name of DEI program and goal: DEI FUNctions for Student Assistants; is a UC Libraries pilot program building from the student assistant Diversity, Equity and Inclusion (DEI) training with the goal of developing cultural competency skills.   
How the program works: After library student assistants complete DEI online training they will participate in a variety of learning activities with themes related to such topics as Title IX, disability etiquette/accessibility and systemic racism. At the end of the semester students will receive recognition for completing the program.
Hannah Harper is a student worker with the Science and Engineering Libraries since the fall of 2021. Hannah actively assists her supervisor June Taylor-Slaughter in leading discussions with her student assistant peers and has shown great interest in DEI subjects. She is comfortable with the subjects and enjoys bringing her personal experience to the discussions, which causes others to do the same. She is looking forward to opportunities to develop presentation skills.
Name of supervisor and location: June Taylor-Slaughter and Craig Person
Length of time student has been a participant: 1 year
Why do you take special interest in this initiative?
I am interested in DEI because I personally feel very strongly about equity and creating safe spaces for others. When I learned about this initiative, I was immediately drawn to the open and safe space it offers. The DEI training program had the ability to teach people about diversity, equity and inclusion while still being able to have open-ended conversations about diverse questions, experiences and perspectives. The DEI training has had this impact on me and others making me want to help build the DEI training even more than it is right now. 
What do you enjoy about this initiative?
I hope to have the opportunity to present my own thoughts and ideas on DEI projects and use my knowledge to help develop pre-existing DEI work. I genuinely appreciate and enjoy contributing to and assisting with this initiative in a personalized way. While participating in this initiative, I had the opportunity to discuss open-ended and progressive diversity, equity and inclusion topics with my colleagues and supervisors; I love this because I believe DEI topics should be discussed more generally. 
What are you learning by engaging in these workplace DEI activities and how do you think it will translate post-graduation?
Working with June Taylor-Slaughter for the DEI training program, I have been able to gain the perspective of a multitude of people who are somehow different from me. Whether these differences are racial, economic, gender based or anything else, it broadens my understanding of the conscious/unconscious biases that others endure throughout their lives. While being able to listen to other stories, I am able to tell my own. I think being able to do that in an open and comfortable environment allows me to understand and recognize my own personal bias. I believe working on the FUNction project will broaden my perspective post-graduation when working with a variety of people. By participating in DEI training programs, I also assist in facilitating discussions, which I believe has been developing my professional skills as well as my public speaking skills. When assisting with project development, I have been learning research and project management skills. These skills will translate well for post-graduation as I hope to work in a career where I will need to develop and present ideas.