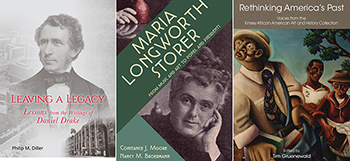 The Latest from the University of Cincinnati Press
The three latest books published by the University of Cincinnati Press feature a pioneer in medical education, the founder of the first female-run manufacturing company, and the famed Kinsey African American Art and History Collection.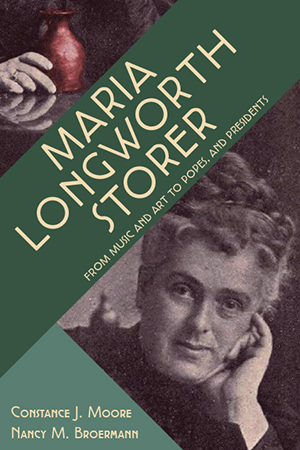 Maria Longworth Storer: From Music and Art to Popes and Presidents is the first comprehensive biography of this one-of-a-kind Cincinnatian. Known as the founder of the first female-run manufacturing company in the United States, Rookwood Pottery, Longworth Storer was passionate about women's rights, her city and issues of poverty and the arts. She owned Rookwood Pottery for nine years, and then transferred ownership after earning recognition at the Exhibition of American Art Industry in Philadelphia and receiving a gold medal at the Exposition Universelle in Paris. Aside from her success with Rookwood, Longworth Storer was central to making the Queen City the major cultural landmark it is today. Although the rest of her life was no less remarkable as the wife of notorious diplomat Bellamy Storer, later embroiled in the famous Roosevelt-Storer scandal, little has been written about her contributions and exploits in diplomatic relations and her powerful influence on turn-of-the-20th-century political leaders. Featuring new archival research, and never before seen photos of the Storer family, authors Constance J. Moore and Nancy M. Broermann have compiled a portrait of Maria Longworth Storer that is rich in detail, fitting to both the wide, often eclectic, breadth of Storer's projects, and to the depth of her impact with leaders from Washington DC to Europe.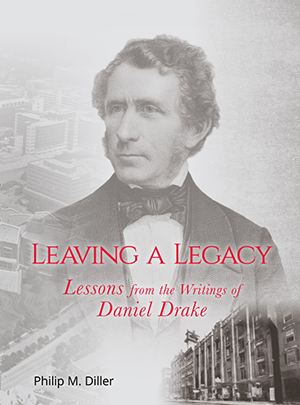 Philip M. Diller's Leaving a Legacy: Lessons from the Writings of Daniel Drake is a selective collection of excerpts from the vast writings from the 19th -century doctor and medical pioneer Daniel Drake. From Drake's life, documented here in his own words from excerpts of lectures, personal journal entries, presentations, speeches, books and letters to his children, readers learn about the scope of his accomplishments in medicine, contributions to his community and dedication to his family. Diller goes beyond biography to contextualize Drake's life choices and what made him a role model for today's physicians. Diller selected 180 thematically arranged excerpts, which he paired with original reflection questions to guide the reader through thought-provoking prompts. In doing so, Diller presents the lessons from Drake's remarkable life and work as a guide for others who wish to build an enduring legacy. Documented previously as a man whose life was remarkable for the breadth and depth of his professional accomplishments, Drake's countless contributions are showcased here to demonstrate the impact he truly had in his time and for generations to come.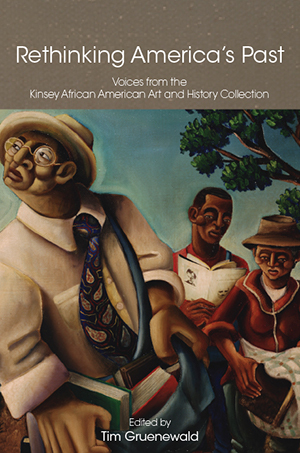 While visitors to art and history museums may be there simply to enjoy the curated objects, the question of what is included (and excluded) in these collections and who has the power over this process echoes the struggle for inclusion that is so central to the African American experience. Since its inception, the Kinsey African American Art and History Collection® has played an important role in this struggle, seeking out objects that give voice to previously excluded experiences, and providing an alternative to the limits of institutional collections. Among the first scholarly books dedicated to a private African American collection, Rethinking America's Past: Voices from the Kinsey African American Art and History Collection by Tim Gruenewald both chronicles the reach of this important cultural collection and contributes to its project by sharing selected objects and stories with a broader audience. Essays range in subject from iconic African American artists Loïs Mailou Jones and Beauford Delaney to important historical figures as Frederick Douglas and Martin Luther King, to individuals whose experiences might be lost to history but for the found objects that preserve their stories. Rethinking America's Past demonstrates how the African American story, from slavery through the present, is represented and can be actively remembered through the act of collecting.
For more information on these and other books, visit the University of Cincinnati Press's web site at https://ucincinnatipress.uc.edu/.