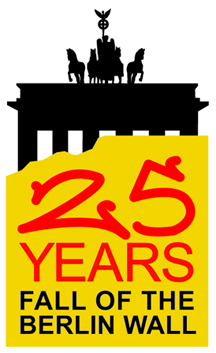 25 Years After the Fall of the Wall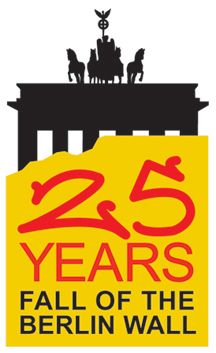 November 9, 2014 marks the 25th anniversary of the fall of the Berlin Wall. To commemorate this important event, the University of Cincinnati Libraries have created an exhibit on display in Langsam Library through fall quarter.
"Fall of the Berlin Wall," on display on Langsam Library's 5th floor lobby, displays a Berlin Wall timeline tracing the history of the Berlin Wall. Spanning over 65 years, the timeline begins in 1945 at the end of World War II when the Allied Powers (France, England, the United States, and the Soviet Union) split Germany into four occupation zones, and its capital, Berlin, into four sectors.
Photographs in the exhibit show significant moments in the life of the Berlin Wall including its being built in August 1961, President Kennedy's 1963 "Ich bin ein Berliner!" speech, President Ronald Reagan's 1987 "Mr. Gorbachev, tear down this wall!" speech, the tearing down of the wall in 1989 and celebrations in 2009 when the world celebrated the 20th anniversary of the fall of the Berlin Wall.
The exhibit showcases UC Libraries' resources about the Berlin Wall, including some from past and current UC German studies faculty members. A bibliography is available online (bibliography14) and in print at the exhibit.
Created by Olga Hart, instruction librarian, Richard Schade, professor emeritus of German studies, Melissa Cox Norris, director of library communications, and Anna Freeman DAAP co-op design student, the exhibit takes its inspiration from the "25 Years: Fall of the Berlin Wall" celebrations being organized by the Embassy of the Federal Republic of Germany, Washington. For more information visit http://www.germany.info/Vertretung/usa/en/02__GIC/GIC/05/08-Mauerfall25/Mauerfall25.html.