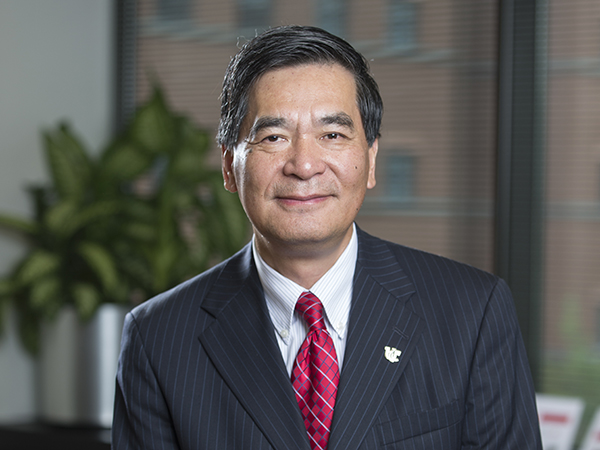 Looking back as we plan our NEXT Directions.
---
This year's Annual Progress Report covers July 2020 through June 2021. It was an exceptionally complicated time, during which we entered the second year of the pandemic, developed and adopted new digital resources to support remote learning and remote research and prepared for the transition back to campus for the 2021 fall semester.
We have had our share of hardships and successes. The difficulty and stress of the pandemic has put a strain on library faculty and staff, but they persevered, working together to find innovative solutions to meet the needs of our users. In these unprecedented times, they continuously found ways to transform and elevate library services.
Unprecedented. That is certainly a word we have heard a lot over the last two years. The pandemic has been a once-in-a-lifetime event — a worldwide, communal experience and one in which we were not alone in our need to confront and transform. I am ever thankful for the library faculty, staff and student workers for their commitment to push through, for bringing their experience and talents and dedication to the forefront so as to continue to fulfill our mission to "empower discovery, stimulate learning and inspire the creation of knowledge by connecting students, faculty, researchers and scholars to dynamic data, information and resources."
And push through we did. We continued and expanded our emergency services, like our CHAT online reference or Click and Collect. We hosted online exhibits, like Votes for Women. Many of our annual events were hosted virtually, including: GIS Day, Life of the Mind, Data Day, the Cecil Striker Webinar Series, Edible Books and Preservation Week.
We created new groups devoted to Diversity, Equity and Inclusion, including the CECH Anti-Racism Community Space (ARCS) and R.E.S.P.E.C.T (Racial Equity Support and Programming to Educate the Community Team), who hosted a Juneteenth celebration just in time for the date to become a national holiday.
The University of Cincinnati Press hosted an online author event for "The Speaking Stone" by Michael Griffith. One of their publications, "Digital Community Engagement: Partnering Communities with the Academy," edited by Rebecca S. Wingo, Jason A. Heppler and Paul Schadewald, had the honor of being named Best New Book of the Year from the National Council on Public History.
We partnered with DAAP to manage the University Art Collection and helped bring it online.
We reopened the library spaces to users. With 10 locations, all with different user needs and staffing, we worked with one another and the colleges we support to make our spaces and collections available in person as quickly as safety permitted. The spring and summer of 2021 were spent preparing for the upcoming fall, when the university would reopen for in-person classes and the students would return to campus and the libraries.
The pandemic isn't over. After a successful fall 2021 semester, the need for flexibility, for transformation has not abated. The lessons we have learned this last year have forever changed us. One aspect of that change I am looking forward to is the continued digital transformation of campus. Digital transformation has long been a goal of UC Libraries, and the pandemic has acted as a catalyst to elevate that need. It is a part of the presidential agenda and will be a focus of our work moving forward.
As we continue to explore the new landscape created over the last two years, we are planning a path forward by reviewing and revising our current Strategic Plan into an updated Strategic Framework . We are articulating both who we are and what we want to be. We are examining our strengths as we identify challenges. We are discerning areas where our expertise, services, and collaborations can best be put to use as we pursue our vision to be "the globally engaged, intellectual commons of the university – positioning ourselves as the hub of collaboration, digital innovation and scholarly endeavor on campus." I hope you will join us on the next stage of our journey.