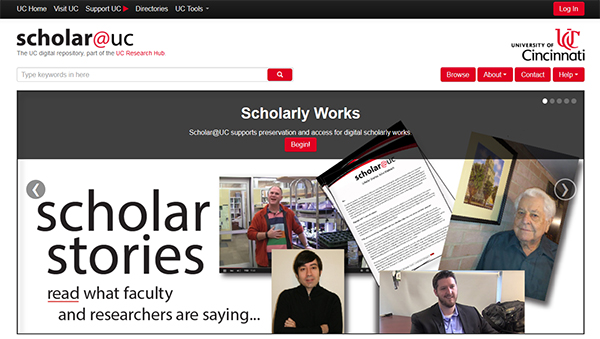 Scholar@UC is Open for Self-Submissions

UC faculty and researchers are invited to self-submit their research, creative and scholarly works to Scholar@UC, the university's enterprise-wide, cutting-edge digital repository.
A digital repository makes accessible, enables re-use, stores, organizes and preserves the full range of an institution's intellectual output, including all formats of scholarly, historical and research materials. Faculty and researchers can use Scholar@UC to collect their work in one location and create an Internet-enabled, durable and citable record of their papers, presentations, publications, data sets or other scholarly creations. The global influence, impact and recognition of the faculty and researchers' scholarly work and research are both enhanced and preserved securely. With sponsorship from a faculty member, undergraduate and graduate students may also contribute their academic output, such as capstone projects, senior design projects, research data and other creative and scholarly works.
"Scholar@UC is one of the key initiatives that UC Libraries is working on to develop innovative technologies and services that transform and generate new modes of inquiry, access, scholarship, learning and creative ways of working together," said Xuemao Wang, dean and university librarian. "It has great potential to provide an important and new service to faculty and researchers in the preservation and sharing of their work and research globally in the digital world."
Scholar@UC is supported by open-source, agile software development through a partnership between UC Libraries and IT@UC with support from the Office of Research. "Scholar@UC enables researchers to contribute their research and projects into the scholarly record of the university," said Patrick Limbach, incoming vice president for research. "UC's Third Century strategic vision emphasizes the need to leverage research. Scholar@UC represents an investment in our faculty and researchers and the impact of their creative output that will lead to more productive research and scholarship."
"Scholar@UC is built through partnerships," said Nelson Vincent, vice president for information technology and chief information officer. "We have come together to invest jointly in the ideas and expectations that have made this incredible resource a reality. Scholar@UC will allow us to leverage the research generated at UC and cultivate new collaborations around the university, the nation and the globe."
To self-submit to Scholar@UC, faculty and researchers visit https://scholar.uc.edu/ and select "Log In." A UC central login username and password is then used to sign into Scholar@UC. Once logged in, the user can select "Add New" from the menu to begin self-submitting work. Assistance in the form of FAQ's, copyright information and a contact link are available. For additional help, submitters can e-mail scholar@uc.edu.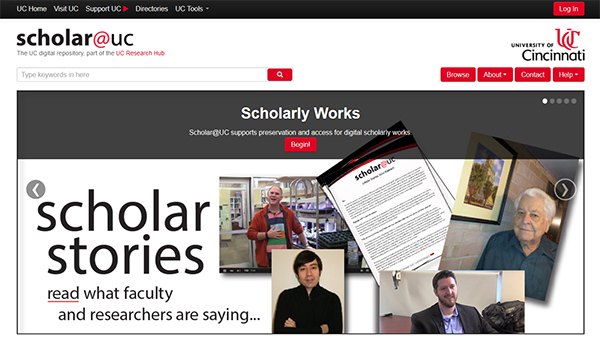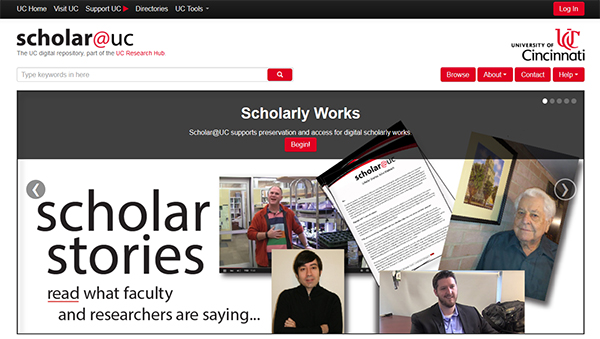 Scholar@UC is not 'finished' or 'done' as it will continue to evolve and improve. Recently, a small group of UC faculty members used Scholar@UC to self-submit their scholarly output such as white papers, analyses, data sets, publications, presentations, instructional materials and more. The feedback from these early adopters helped refine the functionality and future development of Scholar@UC. The on-going development of Scholar@UC will be driven by user feedback, and users are encouraged to e-mail scholar@uc.edu with suggestions and questions.
For more information about Scholar@UC, contact scholar@uc.edu or visit https://scholar.uc.edu/. For announcements about new software functionality and changes, as well as stories about the Scholar@UC early adopters ("Scholar Stories"), follow ScholarBlog at http://libapps.libraries.uc.edu/scholarblog/.