Introducing the University of Cincinnati Libraries Research and Data Services Unit

UC Libraries provides access to a wide range of research data and geographic information systems (GIS) services and resources for the campus community. Informationists and librarians are available to assist researchers in managing and preserving research data, finding and acquiring external data and in utilizing GIS techniques and software. How did these services get their start in UC Libraries?
In 2014 the University of Cincinnati Libraries launched its Strategic Plan and set as its vision to become the "globally engaged, intellectual commons of the university – positioning ourselves as the hub of collaboration, digital innovation and scholarly endeavor on campus." Under the Digital Technologies and Innovation pillar, the Libraries stated as a goal to "develop innovative technologies and services that transform and generate new modes of inquiry, access, scholarship, learning and creative ways of working together."
Under these auspices, two initiatives were charted – Delivering Health Informatics and Support for the UC Researchers: Developing a Suite of Programs. These initiatives were sponsored by then associate dean and director of the Donald C. Harrison Health Sciences Library, Leslie Schick, and led by Ted Baldwin, head of the Science and Engineering Libraries and Kristen Burgess, assistant director for research and informatics, and were comprised of three informationists, Tiffany Grant, Don Jason and Amy Koshoffer. Informationists are librarians who have graduate training and practical experience in the biomedical, behavioral or biological sciences and library and information sciences/informatics. The cross-training received by informationists provided each of them with a unique perspective on the acquisition, synthesis, management and use of data in research. The informationist group was tasked with developing a niche role for the Health Sciences Library in the health informatics realm and with developing a full suite of programs supporting all levels of UC researchers across any discipline. The group's initial focus areas included the health/biomedical sciences, basic science, engineering and clinical services.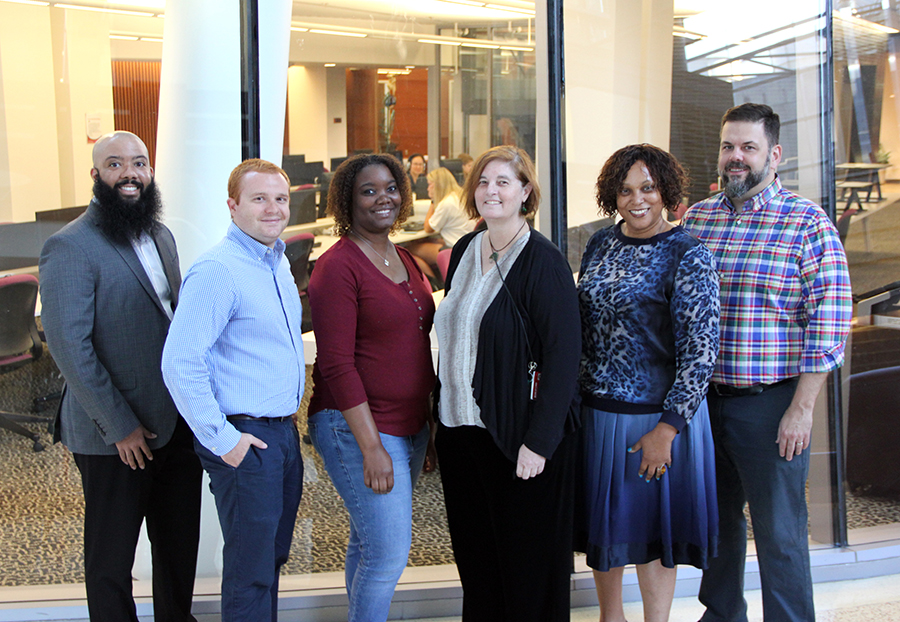 Over time the two initiatives merged to create the UC Libraries Research Data Services (RDS) group and expanded to include student consultants, Richard Johansen, data visualization specialist, and Rebecca Olson, informationist for business and social sciences. Collectively, the group championed UC sponsored research tools such as REDCap, DMPTool, Scholar@UC, ICPSR, and BOX. Individually, members became campus ambassadors for project management tools like Open Science Frame and site-wide administrators for the LabArchives electronic lab notebook.
The group has collaborated extensively with researchers using a combination of their subject matter expertise, funding from two NIH supplement grants, 3 Universal Provider Awards from the UC Provost's Office and partnerships with the College of Medicine's Dean's Office and the National Library of Medicine. The group has brought trainers from the National Center for Biotechnology Information, Jetstream, University of California Santa Cruz's Genome Browser, Data Carpentry and the Center for Open Science. Members of the group consistently embed themselves in cross-disciplinary curricula, teaching sessions on data management, information literacy, data analyses/visualization, biomedical informatics and geographic information systems. Also, members of the group serve as course directors, instructors and curriculum developers for an undergraduate medical sciences course and an honors course. The RDS group consults on best practices for research reproducibility and readily engages researchers across the span of the research data cycle from proposal planning to archiving and storage of project data.
The RDS group has evolved once again when in the summer of 2018 they were tasked with drafting a white paper that would identify actions necessary to forward the momentum of the group. The paper became a seminal one for the group as it outlined steps forward and ways that the group would increase in excellence. It presented an expanded mission for the group and a desire to explore impactful ways to engage in data science services.
Mission Statement: The UC Libraries Research Data Services group inspires the creation of knowledge and enhances research productivity across the UC research community through the development and implementation of interdisciplinary research data services that enable research and promotes synergistic collaborations between UC Libraries and UC researchers.
The chosen name for the group was Research & Data Services. The slight modification held significance as the addition of "&" to the name of the group was critical to delineate the change in the mission and the growth and alignment toward data science. As the RDS service catalog started to expand services from strictly data management and project management, into data analyses, data visualization, data cleaning/preparation and modeling, the inclusion of and became essential. R&DS group members would no longer simply perform consultations and provide advice, but they had evolved into forming research collaborations and becoming equal partners with researchers.
Synonymous with the "&", came a 3-Tiered Service model of R&DS services. For each "tier" of service, a team member would provide a greater level of support to the researcher with an expectation of consideration for inclusion in grant proposals and/or authorship on published research manuscripts that included the member's efforts. The tiers are: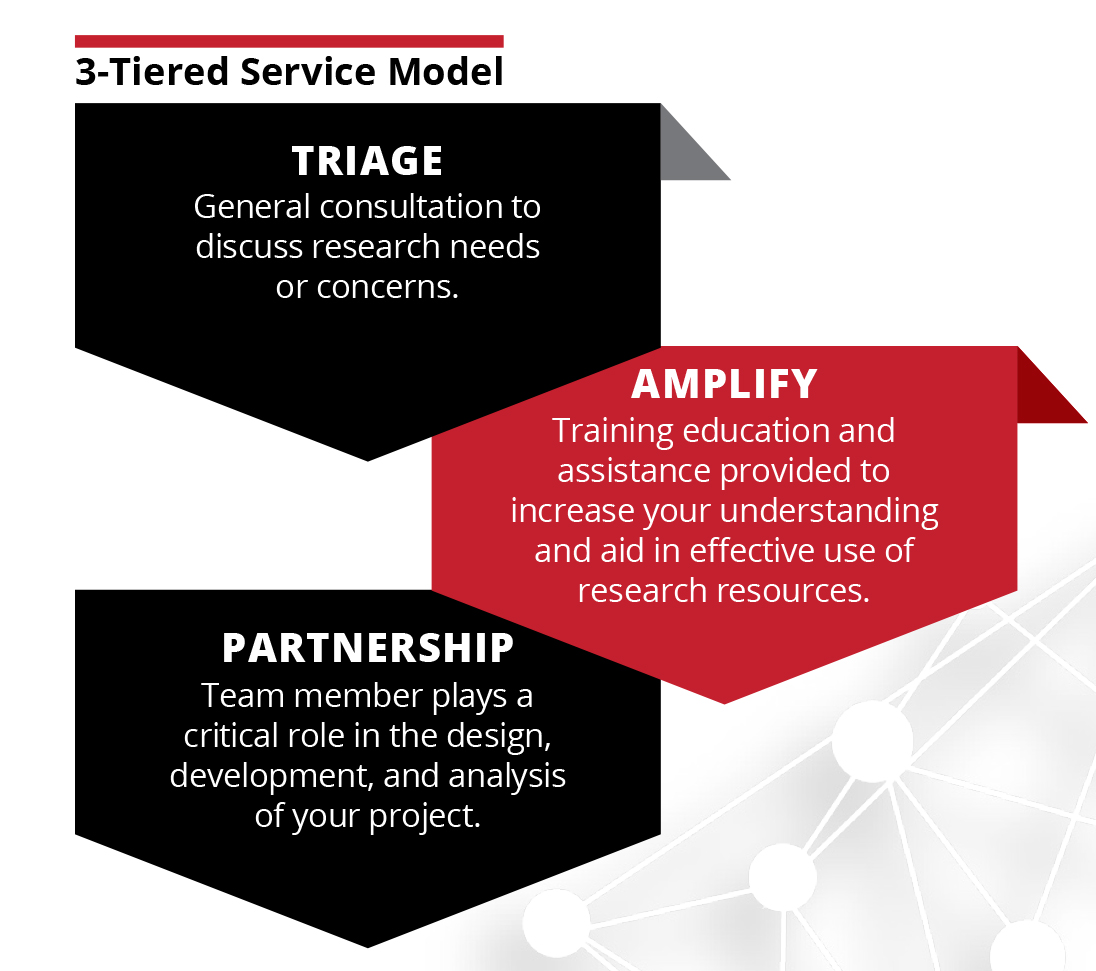 As a result of the white paper and the ideals set forward in the paper, in January 2019 vice provost for digital scholarship and dean and university librarian Xuemao Wang established a new unit in UC Libraries that would encompass Research and Data Services, Data Science and Informatics. In doing so, Dean Wang merged the old strategic initiatives with the new and innovative direction toward data science. Dean Wang appointed Tiffany Grant and Amy Koshoffer to serve as co-leaders of the new unit, and tasked them to "further advance and develop the service model and partnership in the emerging areas of Research Data Service, Data Science, GIS, and Health Informatics".
To date, the R&DS team has worked to increase awareness of services offered by the group by redesigning their web pages (https://libraries.uc.edu/research-teaching-support/research-data-services.html) and working to obtain marketing material for promotion. Group leaders have held several strategic meetings with key stakeholders at UC, including the Office of Research, the Faculty Enrichment Center and Next Lives Here Pathway Leaders.  
To read more about some of the projects the R&DS team have been involved in: https://www.uc.edu/news/articles/2019/09/n20859462.html.