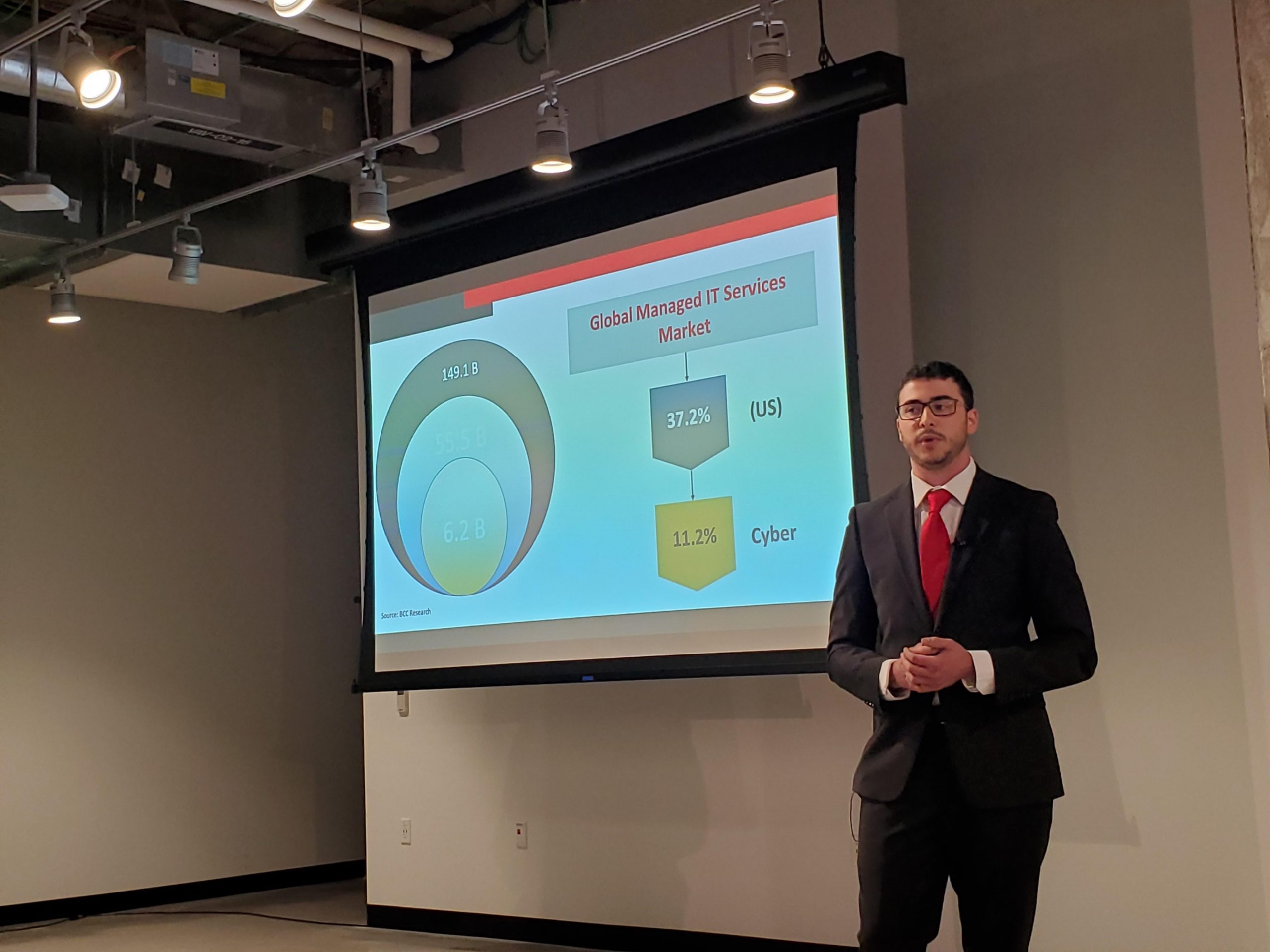 UC Libraries and the UC Venture Lab – a Partnership to Boost Innovation
By Ted Baldwin and Rebecca Olson
Building a Connection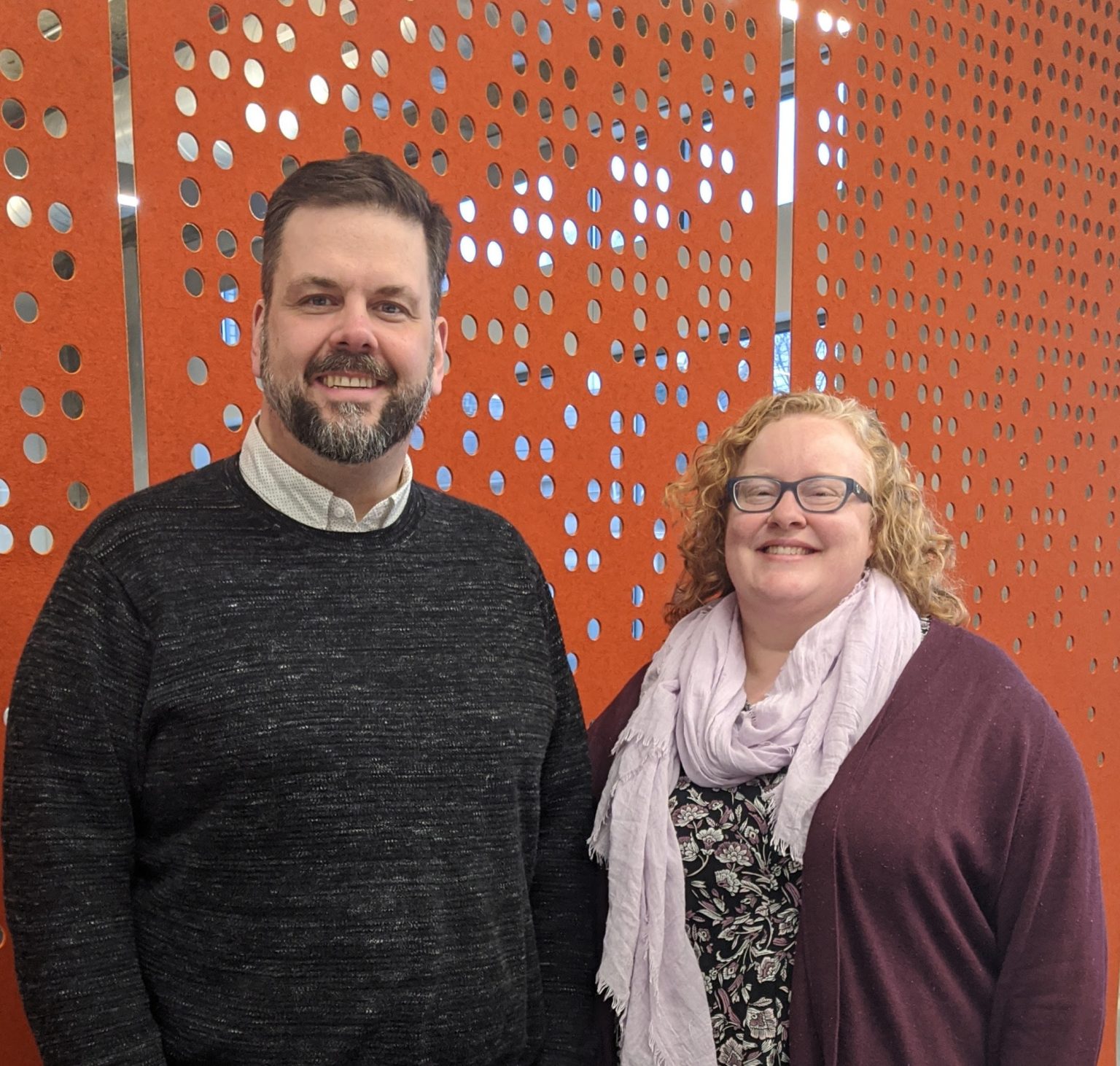 In summer of 2019, Ted Baldwin, director, Science and Engineering Libraries, and Rebecca Olson, business and social science informationist, sought new opportunities that would align the University of Cincinnati Libraries with UC's Innovation Agenda, part of the university's Next Lives Here framework. Both Ted and Rebecca held prior experience as information research professionals in industry. They desired to build bridges between academic and commercial endeavors of the university that would leverage existing skills and expertise of UC's faculty and staff. Ted and Rebecca connected with leaders at UC's new 1819 Innovation Hub – director of startups Grant Hoffman, and lead entrepreneur-in-residence, Nancy Koors – to discuss opportunities for collaboration. Together, they identified strong potential for meaningful collaboration through integrated librarian support with the Venture Lab program, an initiative of the Startups unit.
The UC Venture Lab is a seven-week program (repeated throughout the year) that assists early-stage entrepreneurs in exploring the business potential of their innovation or product. Cohort teams are selected through a competitive application process. Those participating include students, staff and faculty from UC and regional institutions (Xavier University, University of Dayton, Wright State University and Cincinnati State Technical and Community College) as well as non-affiliated community members. The Venture Lab instructs teams on many aspects of business plan formulation, including Idea Formation, Market Positioning, Market Share and Storytelling. Teams also receive guidance and consultation from a wide variety of experienced entrepreneurs and other business professionals. The program culminates in a "Graduation Day" presentation at which each entrepreneurial team presents a formal "pitch" to an audience of potential investors and invited members of the public. The Venture Lab seeks to equip innovators with a business plan and knowledge that enables them to pursue next steps in business partnerships and investor funding.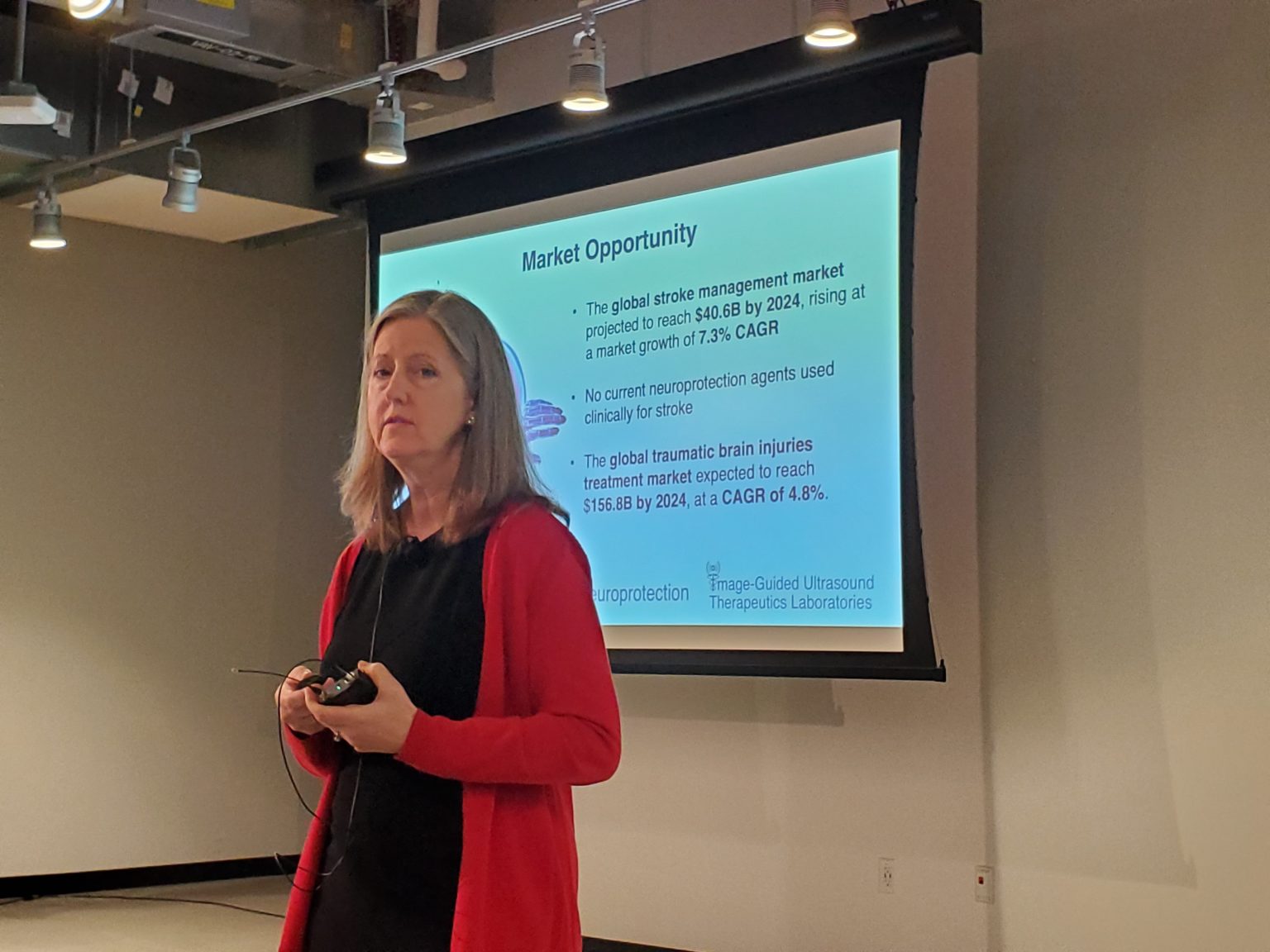 Aligning Our Expertise
Librarians' skills in information seeking and analysis were seen as most critical with the Venture Lab's teams' needs for quality Market Share information. Market share refers to the target market for a product, including the key population that would purchase it.
Week three of the program focused on Market Share, what it was and how to find it. Grant Hoffman discovered entrepreneurial teams were spending a great deal of time searching for quality information. This limited their ability to interpret the market data and develop meaningful visualizations for the Graduation Day presentation (Cohort 10 graduation https://www.youtube.com/watch?v=XnftadfhN1s).
In light of this concern, we proposed a new model of research support that connected Venture Lab teams directly with UC librarians. This capitalized on the librarians' vast knowledge of information resources and database research skills. Each team holds an in-depth consultation with their designated librarian from the newly formed Libraries Innovation Team. The librarian and team members work through the details of numerous information needs, including market goals, target customer data, competing products or companies, technology landscape or other data needs. The librarians customize a search and reporting process based on these needs, delivering relevant market and demographic data, news articles, technical articles, patent results and more. This process continued throughout the year for every cohort, moving seamlessly online after Covid-19 restrictions prevented in-person meetings.
The Libraries Innovation Team has expanded over this past year, due to the growth in this successful partnership. Ted and Rebecca were joined initially by Maggie Patel, business and data analytics librarian, and Mark Chalmers, science and engineering librarian. Melissa Previtera, health sciences librarian, joined the team soon thereafter, given the increasing number of medical-related innovations. For fall 2020, Catie Carlson, director of the UC Clermont College Library, and Hong Cheng, global services librarian, were added to the team.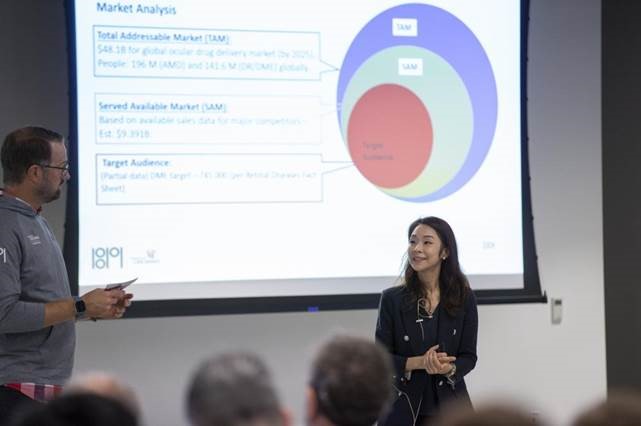 Benefits to the Venture Lab Cohort Teams
Because the Venture teams no longer have to learn how to use the databases, they can focus on interpreting and analyzing the results found. They have to use these numbers to create their product pitch for their final presentation. Using actual market share, growth and sales figures found from librarian research materials, the Cohort Teams create a persuasive video presentation to tell their story of why their idea is valuable and is worthy of development.
In addition, if teams are chosen to join the next stage in the accelerator program, they are able to contact the librarians for additional research assistance.
Grant Hoffman states: "we have partnered with the [UC Libraries] team in delivering meaningful experiences for our Startup teams looking to learn more about their potential market opportunity through the resources at the UC Libraries. They have been instrumental in us being able to create real value for our teams, creating efficiencies in rapid learning, and providing a helpful outside perspective to our teams and how they are approaching their ideas. I look forward to continuing to collaborate with them as we drive home the Innovation and Startups pieces of Next Lives Here."
Nancy Koors builds on his words: "Working with the Library has been so valuable for our teams as they learn how to identify the market potential and competitive landscape for their concepts. The expertise of the library staff to help them hone in on their true market opportunity and assisting them with the research needed has helped our teams accelerate their progress while in the Venture Lab cohort."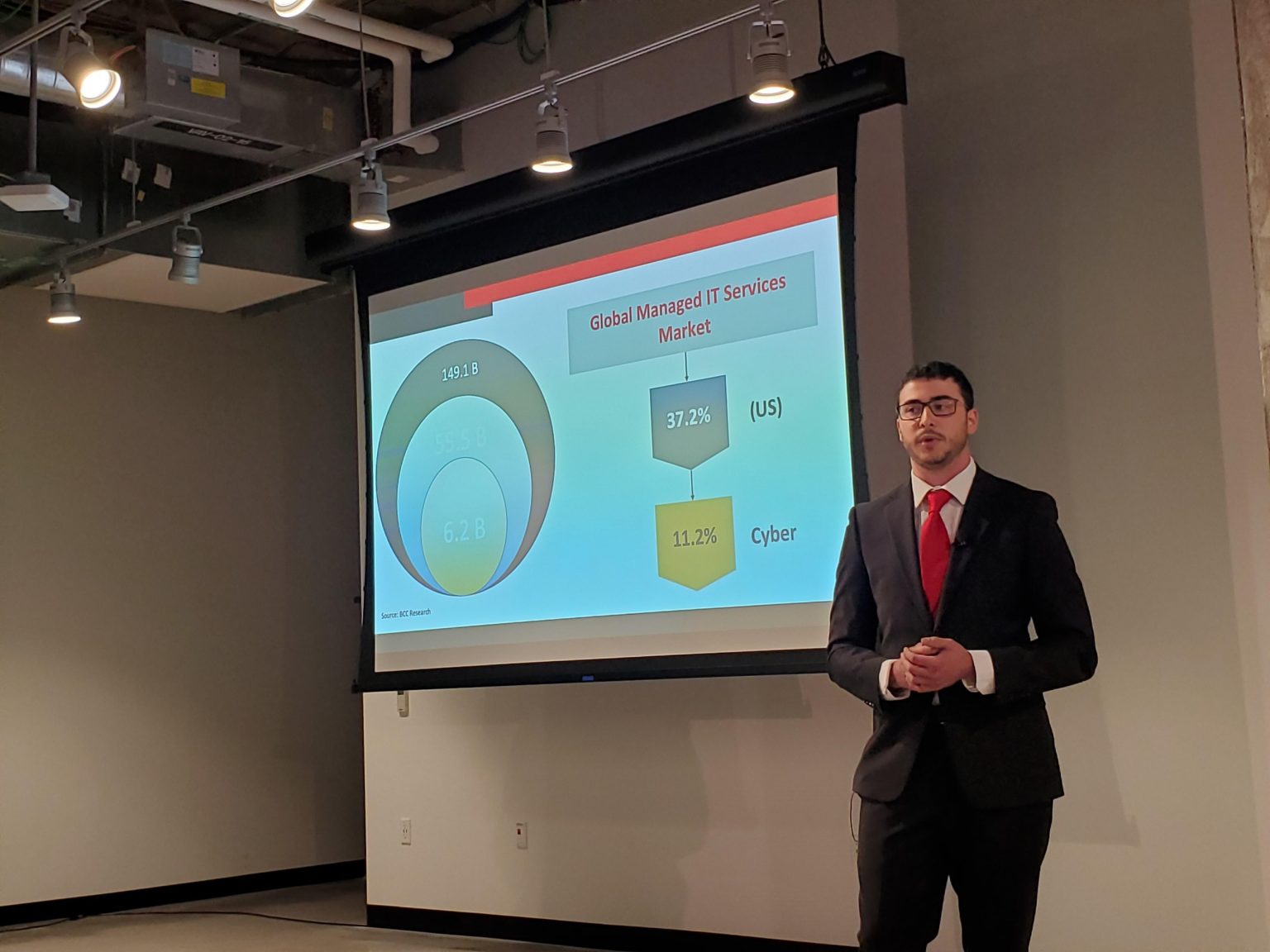 Benefits to the Campus
In support of the Libraries program of support, the Venture Lab sponsors student research assistants that serve on the Libraries Innovation Team. Thanks to this partnership, we have hired multiple students over the past year, including College of Business and Engineering undergraduates. These students assisted by participating in the Cohort team interviews and by conducting primary research that supported teams under the supervision of a paired librarian. This invaluable experience allowed the students to continue skills they had learned on co-ops and put classroom learning to real practice.
Because the Venture teams combine science and technology with business marketing needs, the library team had to become familiar with many types of resources. Several of the librarians were experts in the scientific or medical databases, but the business databases were new. Some had never searched for patents or scientific news, but could find business deals easily. With this new partnership, the librarians were expanding their expertise and expanding it to other areas outside of the Venture Lab.
Ted Baldwin teaches graduate design and engineering seminars to students. He has added components on finding marketing reports and finding data on industries that he wouldn't have thought to include before. This allows students to have real world industry experience in how to find the demographics they are designing for. It also allows students to see who the companies are in their fields and helps them explore for career and coop research.
Mark Chalmers has brought Factiva, Hoovers and other company and financial research tools into his graduate seminars he offers to the science and engineering classes as part of his liaison duties. His expanded knowledge of business resources is being shared to disciplines that may not normally be exposed to them, but will need them for career and personal financial success.
Rebecca Olson often teaches sessions on patent and intellectual property searching/ownership for various classes on campus. This past summer she taught a session on ownership with the Summer Undergraduate Student Research program and highlighted the Venture Lab program as an innovation program undergraduates could participate in to develop their ideas.
Maggie Patel is an expert in using the business and financial resources. She has branched out to include patent resources for certain classes when finding competitive intelligence. In addition, her partnership with the venture lab has allowed her to promote the program with undergrad and graduate students and professors at Lindner.
Melissa Previtera works with patrons in the health sciences. Her partnership with the venture lab has increased her ability to promote and teach business and financial databases and resources, tools that are not the standard for her patrons.
A Year of Impact
The library team has worked with six cohorts (Cohort 11's graduation is 9/22). We started with four librarians and now have a team of seven librarians from different colleges, libraries and campuses. We have hired and trained four student workers during this time. The original cohorts had 10 teams. The most recent cohort had 17. The librarians have helped 67 individual start up teams that have come from all areas of UC and beyond. Our direct outreach to the entrepreneurial and innovation segment of this region reflects the missions of the University of Cincinnati and the University Libraries, embracing Next Lives Here.
Application for the Venture Lab Pre-Accelerator Program: https://uc1819.com/application/