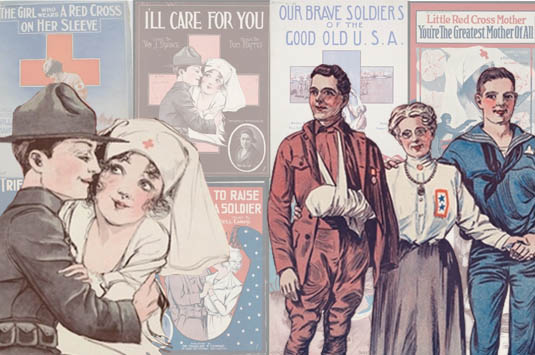 World War I Illustrated Sheet Music Highlights Depictions of Women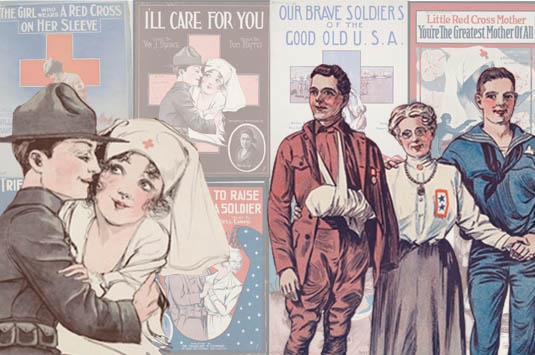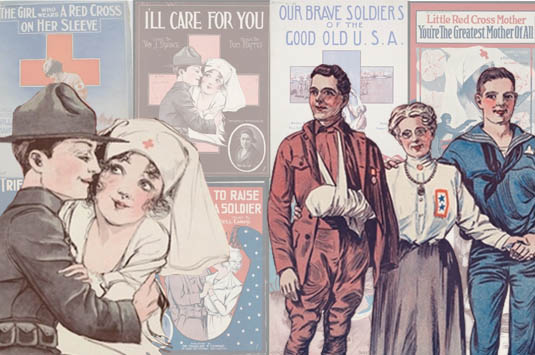 In commemoration of both Women's History Month (March) and the centennial of the United States entry into World War I (April 6, 1917), two new library exhibits feature illustrated sheet music from the era. "Sheet music served as propaganda for the war effort, but also offered solace—and sometimes levity—to those on the home front. Between the war years of 1914 and 1918, music publishers produced over 13,500 individual compositions," said exhibit curator Theresa Leininger-Miller, associate professor of art history in the College of Design, Architecture, Art and Planning.
The Angel of No Man's Land: Red Cross Nurses in World War I Illustrated Sheet Music, on display on the fourth floor of Blegen Library, displays sheet music organized into the categories of angels, mothers, patriots, sweethearts, and caregivers – all personas soldiers attributed to nurses. "These graphically bold and vibrantly colored music covers provide a window into early 20th-century popular culture and American wartime values. While traditional gender roles abound in such images, we also witness an emergent feminism as women took on vital positions outside the home, then continued to seek equal rights after the war," said Leininger-Miller.
America, Here's My Boy: Mothers of Soldiers in World War I Illustrated Sheet Music is on display on the 4th floor of Langsam Library. "Out of 9,670 patriotic songs published in the United States between 1914 and 1918, at least 120 images of white American mothers of soldiers on sheet music are remarkably consistent, even when depicted by various artists and published by many different companies across the country. The illustrated covers are compelling visual culture items that reveal once-widely held beliefs and values about maternalism, masculinity, citizenship and patriotism," said Leininger-Miller. "Men in uniform, usually dough-boys, appear as stoic, alert, virile youths, often with weapons in hand. By contrast, mothers, even though most were in their late thirties and forties, are regularly portrayed as grandmotherly—emotional, passive and elderly…Such images surely had particular psychological and ideological responses in middle-class consumers, most of whom were not soldiers (who were abroad), but rather, families and friends at home in the United States."
The exhibits were produced by UC Libraries Communications Department and include images from the electronic database, The First World War Online Portal, which features entire reproductions of several hundred WWI pieces of sheet music. This database was jointly purchased by the Taft Research Center, Werner E. Von Rosenstiel Fund (Department of History) and UC Libraries collection funds.
Both exhibits are on display February 28 through March 31.