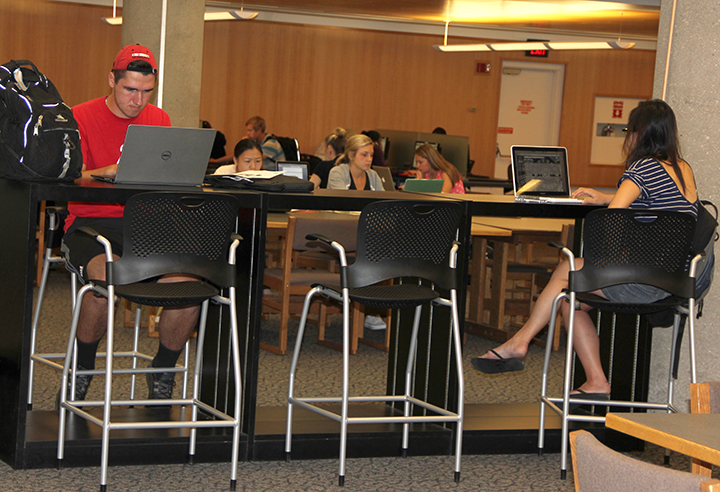 Sitting Smart in Langsam Library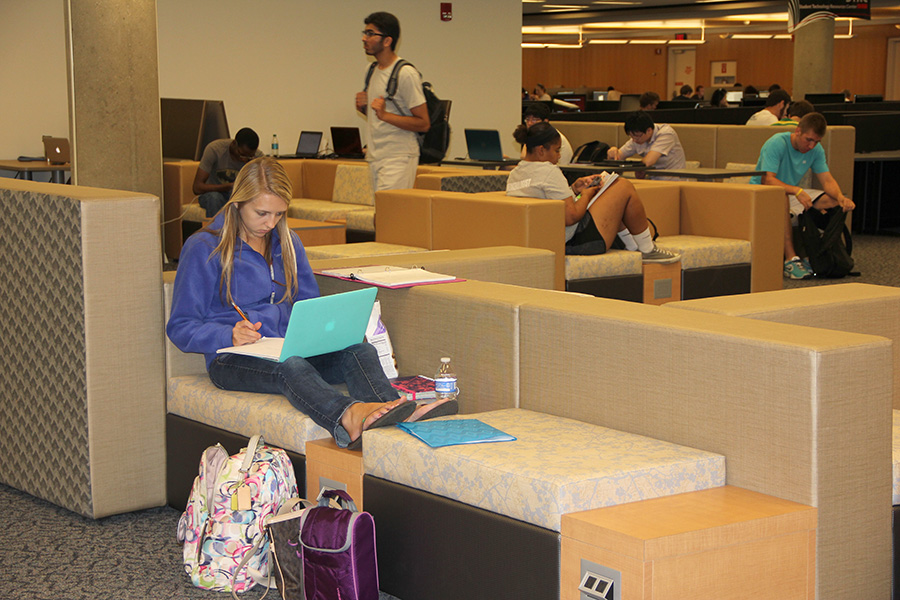 In the evolving world of modern academic libraries, change is a constant. The Walter C. Langsam Library is no exception. In 2013, the Student Technology Resources Center (STRC) experienced major renovations, which resulted in a dynamic space that is now a highlight of the library's 4th floor. This year, library enhancements focused on furnishing comfortable, well lit, technology-friendly and functional study areas.
Modular, lounge-style furniture was installed on the busy 4th floor of the library, providing students with soft seating equipped with outlets to power their electronics while they study. A laptop bar was created from re-purposed shelving and mounted at counter height for students to use, and additional seating was deployed throughout the library to better accommodate users.
Accommodation is an important facet of the library's goal to provide students with the rooms and resources they need. Five glass-enclosed group study rooms were constructed on the east side of the 4th floor, complete with modular furniture, accessible outlets, white boards and digital monitors designed for effortless use with multiple devices.
The library experienced a major departmental change in 2014. What was once the InfoCommons desk was converted into a Micro Reader station while Reference and Circulation were combined to form TheDesk@Langsam, a one-stop shop for user needs.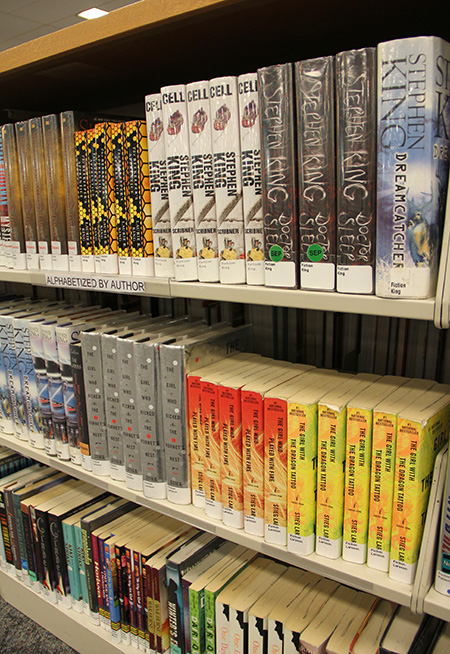 Also new to Langsam Library is the Popular Reading Collection, an assortment of 1,500 books, courtesy of the Public Library of Cincinnati & Hamilton County, that are available for check out by UC students, faculty and staff.
Carrying the improvements up one level in the library, four group study rooms on the 5th floor were transformed with glass walls, windows and wall-mounted LCD displays outfitted with AirMedia, which enables wireless projection for laptops, tablets and other personal devices. The objective was to create isolated spaces perfect for groups or individual students seeking quiet and some degree of privacy, while sharing light and visual space with the surrounding area.
Whether constructing new rooms to facilitate group study or working with the local public library to offer a wider range of materials, in 2014 Langsam Library demonstrated and endorsed collaboration. Changes were made in response to expressed needs and common spaces were transformed with comfortable, practical furnishings.
As students' work habits and needs change, UC Libraries will continue to adjust our spaces accordingly. Our goal is to provide a comfortable and safe environment for all who work in and use our libraries.