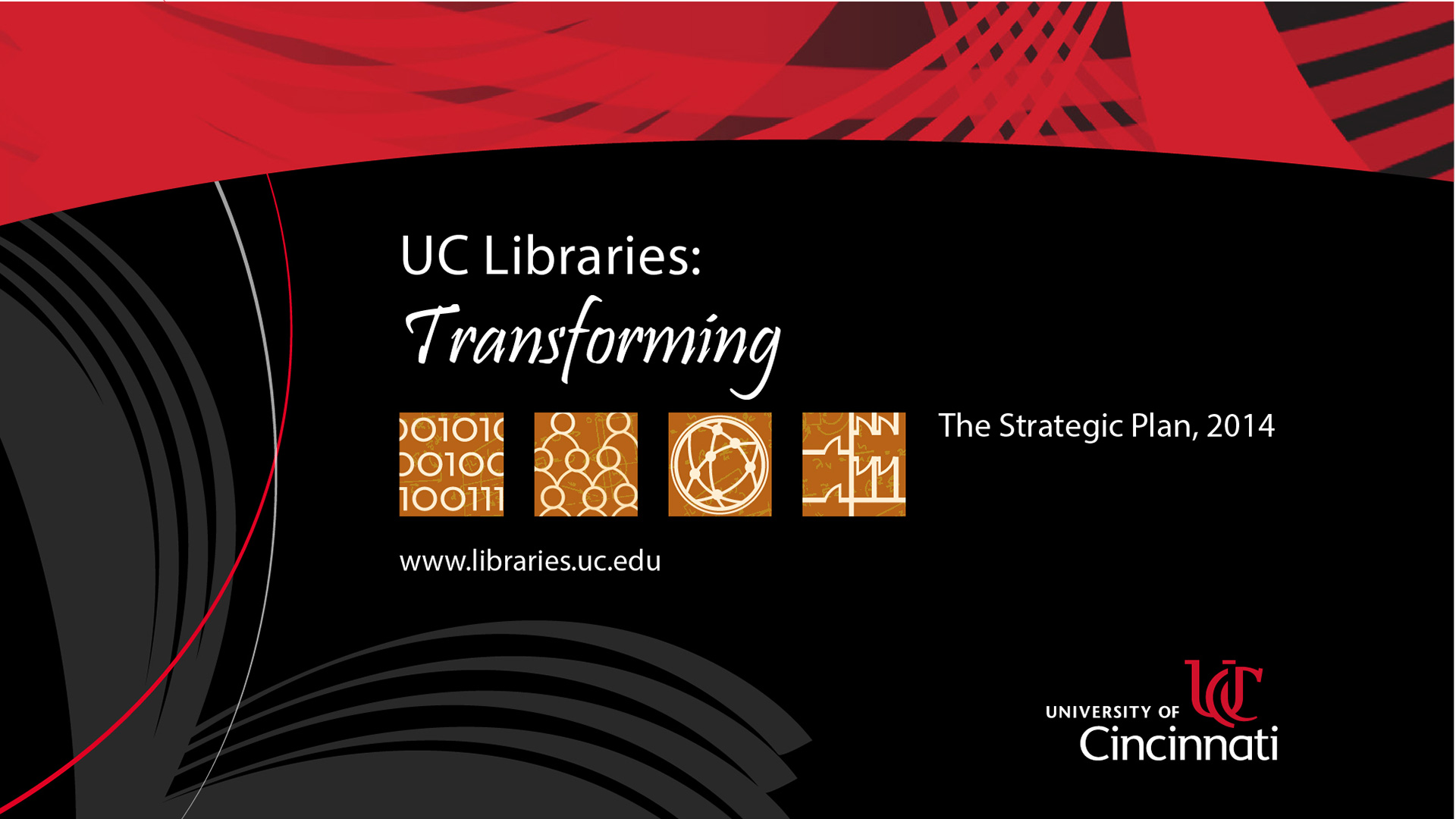 Implementing the Strategic Plan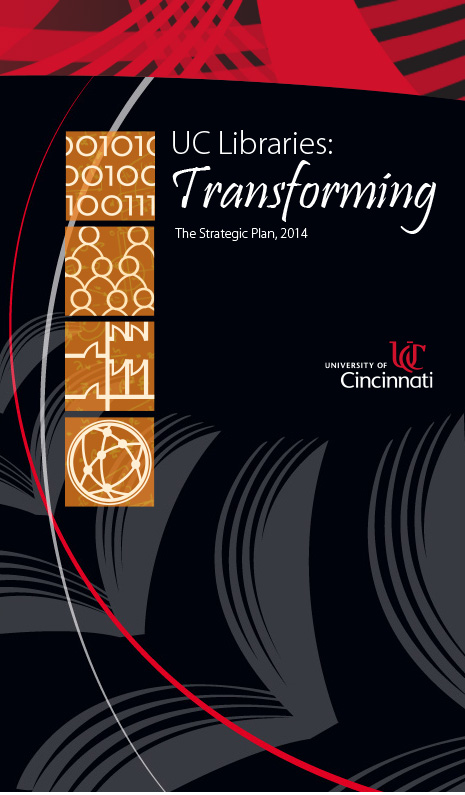 In May 2014, the University of Cincinnati Libraries launched our Strategic Plan. The plan defines our mission to "empower discovery, stimulate learning and inspire the creation of knowledge by connecting students, researchers and scholars to dynamic data, information and resources." It announces bold objectives under four pillars of Digital Technologies & Innovation, People, Space and Data to Information to Knowledge. By meeting these objectives, we will achieve our vision to become the "globally engaged, intellectual commons of the university – positioning ourselves as the hub of collaboration, digital innovation and scholarly endeavor on campus."
As the first step in the implementation of our Strategic Plan, we will undertake 10 initiatives in the 2014/2015 academic year. Some initiatives are research endeavors that will result in recommendations for innovation or expansion of services, and others will implement new programs or create new ways of working in UC Libraries and beyond. The 10 initiatives are:
Scholar@UC: Creating the Next Generation Digital Repository – create an enterprise-wide digital repository that captures, organizes, makes accessible, enables reuse and reformatting, and preserves the institution's intellectual output.
DigitizeUC – research the possibility to expand current digitization activities into a comprehensive program.
Delivering Health Informatics – develop a niche role for the Health Sciences Library in creating informatics programming.
Exploring Digital Humanities/Digital Scholarship – build engagement and awareness of digital humanities and digital scholarship within UC Libraries and the university.
eLearning and Digital Literacy – investigate, identify and make recommendations on eLearning resources, pedagogical approaches, tools and best practices.
Support for the UC Researcher – define and develop a responsive, sustainable, cohesive and scalable full suite of programs for researchers.
Langsam Library Digital Scholarship Area  – create a Master Plan for the 400 level of Langsam that creates a digital space.

UCL Discovery – investigate current and innovative practices for access and discovery of resources and examine the potential to leverage new and/or existing technology to implement a next-generation discovery interface.
Collection Management Life Cycle – identify emerging trends and innovation options for the management of all library collections.
Collection Budget Realignment – make recommendations on improvement and reallocation of collection budgets in support of the university's strategic directions in teaching, learning and research.
Visit http://www.libraries.uc.edu/about/strategic-plan/teninitiatives.html to learn more specifics about the 10 initiatives including deliverables and objectives.
Watch a video about UC Libraries Strategic Plan – the vision, mission and how the four pillars translate to students' work in the Libraries.