Mikaila Corday Awarded the 2022 Marian Spencer Equity Ambassador Award for Staff
Mikaila Corday, serials cataloger in the Electronic Resources Department at the University of Cincinnati Libraries, in a ceremony held April 12 was honored to receive the 2022 Marian Spencer Equity Ambassador Award for Staff. Named for the celebrated civil rights activist, this award is designed to showcase current campus-affiliated individuals and groups whose efforts related to diversity, equity and inclusion have had a positive impact on the university.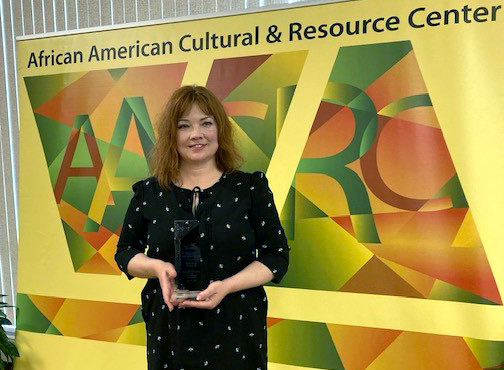 Mikaila was nominated by her colleagues for her work to promote awareness of diversity, equity, and inclusion; for exhibiting sensitivity to people of various cultures; facilitating growth among colleagues and peers; preparing students, faculty and staff to thrive in a diverse and global workforce; and for collaborating with colleagues to create and implement initiatives and policies that build an equitable and inclusive environment.
One nominator wrote of Mikaila, "throughout the years I've attended numerous workshops for DEI with Mikaila, and it's a continuous learning process for her. This last year she has gone beyond measure to promote awareness and educate others by creating an awesome library guide, Racial Justice Resources for Activists, Advocates & Allies, that encompasses DEI and so much more."
With links to library and other resources, the LibGuide aims to support the work of racial justice activists, advocates and allies by providing resources for self-guided education including:
Core concepts needed to understand the inter-generational effects of systemic racism and its impact today on the lives of BIPOC (Black, Indigenous and People of Color), our society and the structures within it.
Healing and wellness resources for the BIPOC community
Information intended to help us better understand ourselves; especially how our social identities impact others so that we can be more effective activists, advocates & allies for racial justice.
Tools, tips and services to assist student advocates and activists to help them document and archive their work to ensure it will be discoverable and accessible to others even after they graduate.
Data to guide us in our goals setting and policy creation.
In creating the LibGuide, Mikaila enhanced her personal and professional development by conducting the research for the guide. "Mikaila has been and continues to be vigilant in trying to protect marginalized groups by being an ally, advocating and being active by using her privileges to promote awareness and solutions to help those whose voices aren't heard," said her nominator.
Mikaila is passionate about creating seamless access for library users to the Libraries' wealth of online resources. After the 2020 death of George Floyd and hearing President's Pinto's words that we must use our "own campus experts to eliminate structural racism throughout the educational life cycle," Mikaila responded to the needs of the UC community by creating the LibGuide. She believes that to eliminate racism in our society we must first eliminate it within ourselves; we can change ourselves through self-study, reflection and everyday activism.
Congratulations, Mikaila!