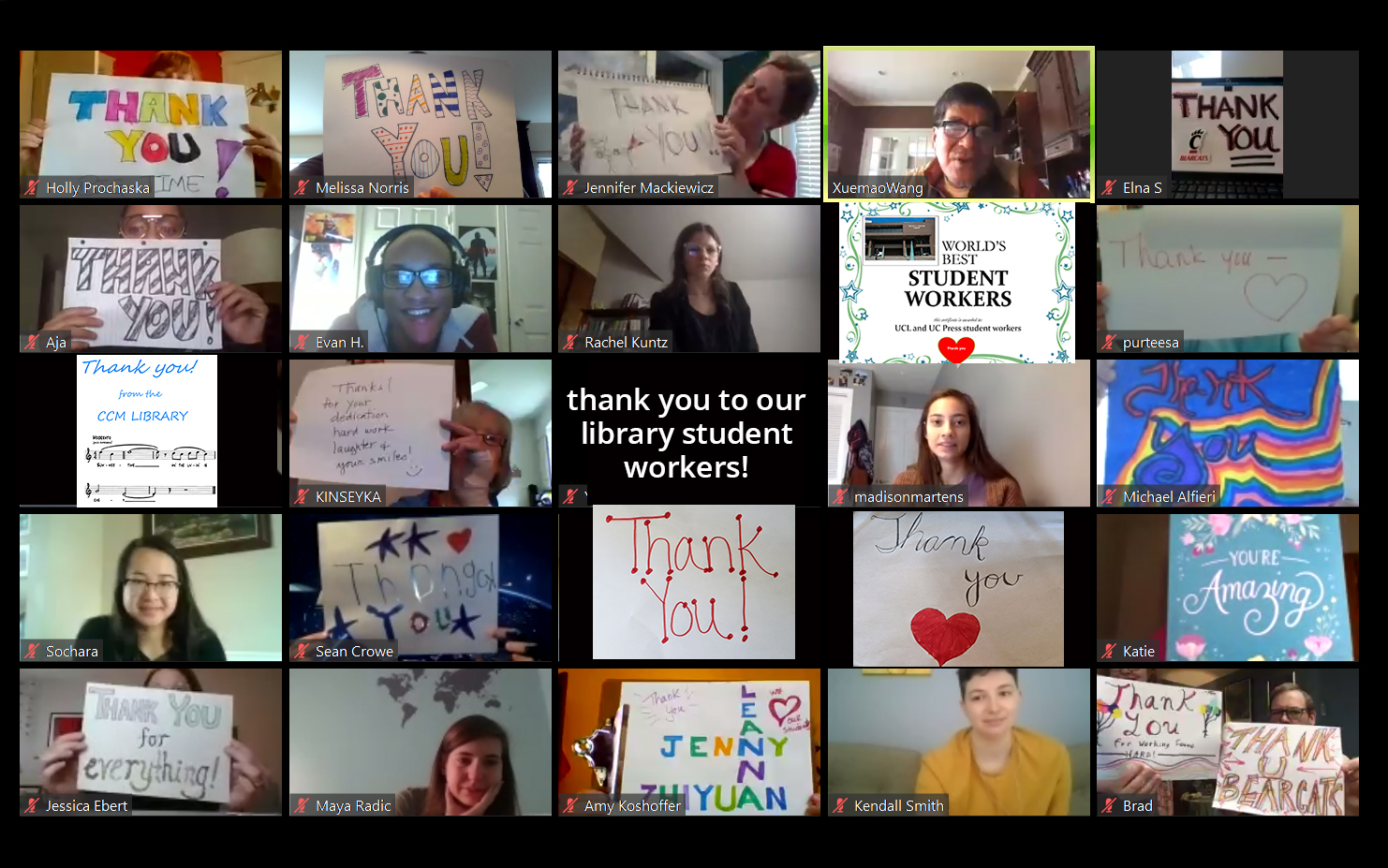 Working with Library Student Workers in a Remote Environment
When UC Libraries closed its physical locations in mid-March in response to COVID-19, student supervisors transitioned quickly not just their own work online, but that of their library student workers. All interested and available library student workers were given the opportunity to finish spring semester working remotely. This provided them the opportunity to continue to earn an income, remain engaged with coworkers and to provide essential library services while they and learned new skills.
The tasks the library student workers performed varied across departments depending on unit needs, priorities and opportunities. From shelving books to repairing books to helping users find the right books in the collection, library student work is by nature done in the library, so it took some creative thinking to transition in-person work to completely online work.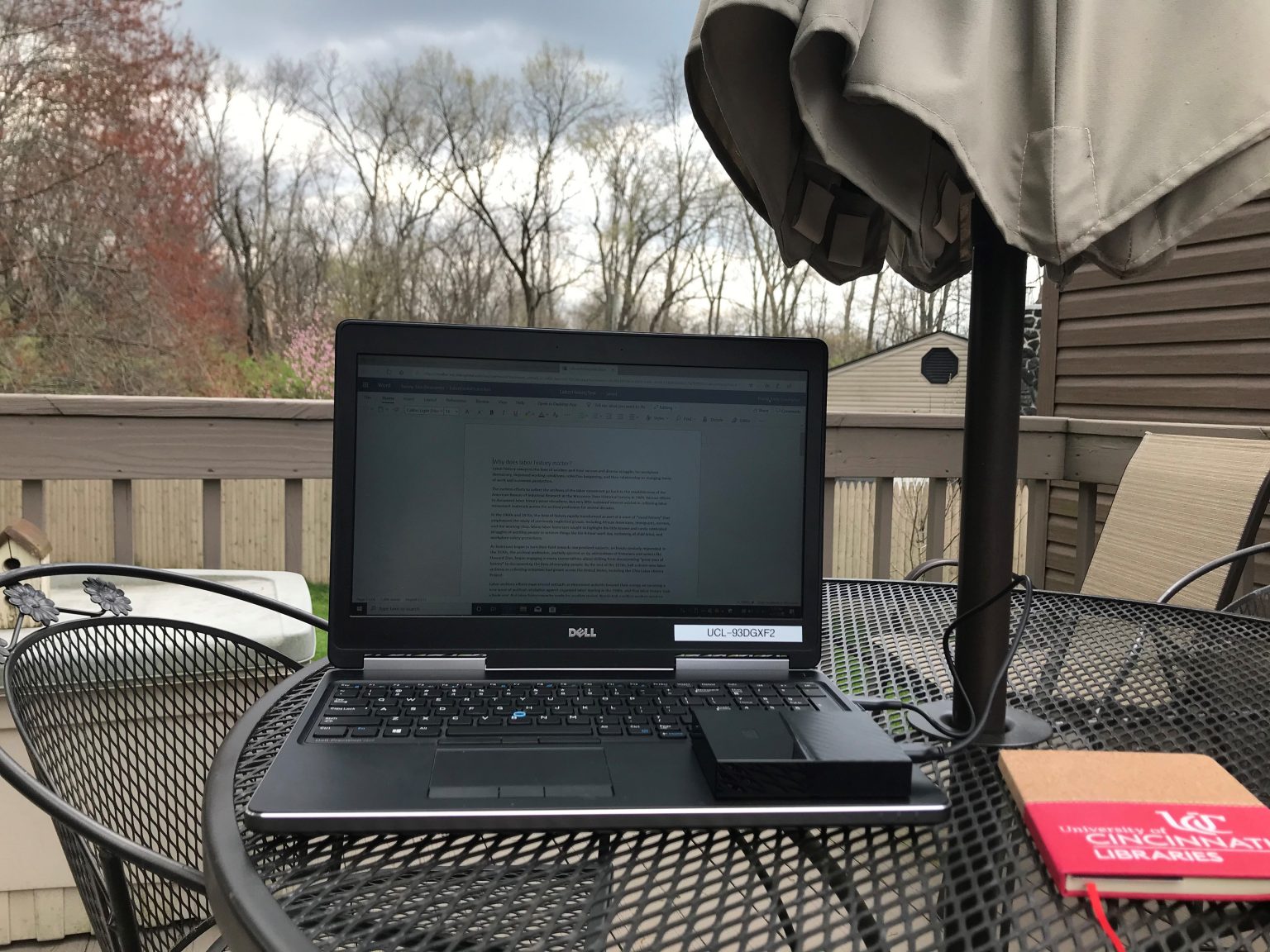 Several departments found research projects to keep their student workers learning and to contribute to the education of library staff. Students in the Science Libraries used online resources to advance their knowledge of professional development topics including implicit bias, understanding the Americans with Disabilities Act (ADA), mindfulness and cultural competency, among other topics. Donald C. Harrison Health Sciences Library circulation students used their remote work time to take webinars on providing excellent customer service while the library's IT student workers trained on how to use Bomgar, the IT@UC help desk ticketing system.
College of Education, Criminal Justice and Human Services (CECH) Library student workers utilized Linkedin Learning on topics related to customer service and created active learning tasks on reference topics. Two students working in the Preservation Lab researched mental health in the workplace, a topic of interest to both the students and of their supervisors, but one that often falls to the wayside amidst the daily hustle and bustle in the Lab. They were tasked with synthesizing their research and personal experiences into a written response and presentation that can be found on the Preservation Lab blog.
Other library units used remote working time for tasks that they normally do not have time for when working on site, such as Albino Gorno Memorial (CCM) Library student workers who checked the library website for broken links and performed usability analysis on navigation, content and display. Research and Data Services students searched the library catalog for videos the library has a hard copy of so that a free, limited time, digital copy could be acquired for users. Working on LibGuides, image cataloging and editing closed captioning were important tasks performed by student workers in the Karl J. Schlachter and Robert A. Deshon Library for Design, Architecture, Art and Planning (DAAP). The student workers in the Walter C. Langsam Library's Research, Teaching and Services Department played a vital role in the initial startup and rollout of the Libraries CHAT. The online reference services would not have been offered for the number of hours in the spring without the student workers who manned the service. Four CECH Library students worked on displays that will be implemented throughout the coming year. While library student workers have been doing displays for years, working remotely allowed them to plan a year ahead, choosing themes and materials, and uploading their work.
For those students whose work is in technology, transitioning to working remotely was an easier process. Students working in the application development team continued development on library projects such as the Artists, Authors, Editors & Composers and Adopt-a-Book online forms, as well as an app for the Preservation Lab to track their treatment projects. In the Donald C. Harrison Health Sciences Library, one student helped convert animated training modules for medical students to a new software platform while five students who had been working at the computer lab help desk prior to the quarantine, were transitioned to provide support to medical students who needed assistance with online testing systems, computer software and hardware support and connectivity issues.
Transitioning from working together in-person to working remotely posed challenges as student supervisors had to devise new ways to communicate and to assign and monitor the completion of tasks. To remediate this, most supervisors created Microsoft Teams so that they could meet, chat and collaborate online with their library student workers regularly. Others found that phone calls worked best to keep in touch with their students and provide them an opportunity to check in and answer any questions.

Overwhelmingly, both supervisors and students expressed appreciation for the opportunity for library student workers to continue their work remotely. Supervisors remarked that their students adapted quickly to the new circumstances and were grateful to have the opportunity to learn new skills and technologies while continuing to contribute to the work of the Libraries. The work of library student workers provided useful information for use in evaluating library services, collections and procedures. They did outstanding work in a very challenging situation. The move to transition quickly from working onsite to remote benefited both the supervisor and library student workers as they both learned new skills:
I think this was one of the best training opportunities and practical experiences for work in the real world. One of our students really accomplished a great deal with remote displays. Summer semester she expected to work for the Museum Center in her area of study, archaeology, but that seemed unlikely due to the pandemic. However, at the last minute the Museum Center found remote work for her to do. I think her experience with the Libraries this spring likely contributed to her being able to fulfill a remote role with the Museum Center.
Student supervisors strengthened their relationships with their students as they shared resources and learning experiences and worked together to transition to a new working model.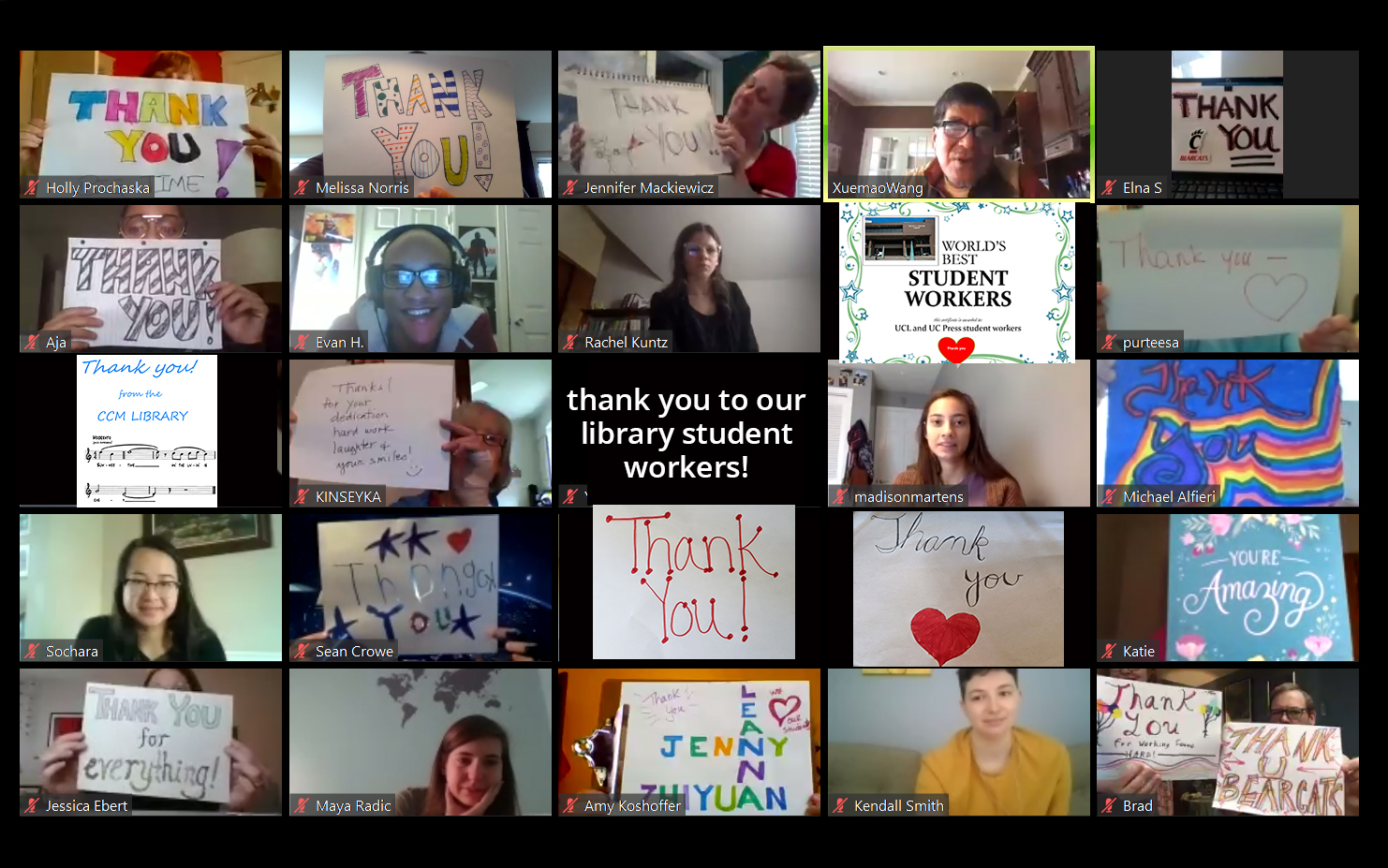 At the conclusion of the spring semester, UC Libraries held an online celebration of our library student workers. After that event, Madison Martens, a library student worker in Langsam's RTS Department wrote Dean Wang to say:
I wanted to (again) extend my gratefulness to you and the rest of the library staff for your kind words at the Town Hall meeting. We appreciate having employment for the remainder of the semester, and have been happy to adjust to doing it remotely. Not having to scramble to find work is a big stress reliever for many of us; thank you for caring for us during these trying times. Also, thank you for recognizing our hard work and making us feel appreciated! Seeing everyone's smiling faces was such a great way to end this semester. Tell the staff members that we especially loved the signs!!! We already miss everyone, but are eager to return when the time is right.