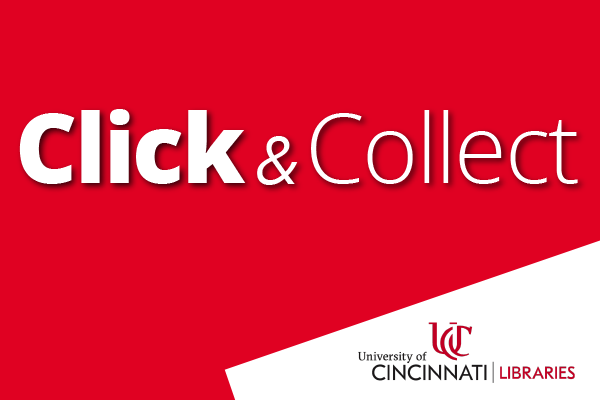 UC Libraries' Click & Collect Service Offers Access to Library Print Materials
The University of Cincinnati Libraries is providing users with access to print collection materials in order to support UC teaching and research.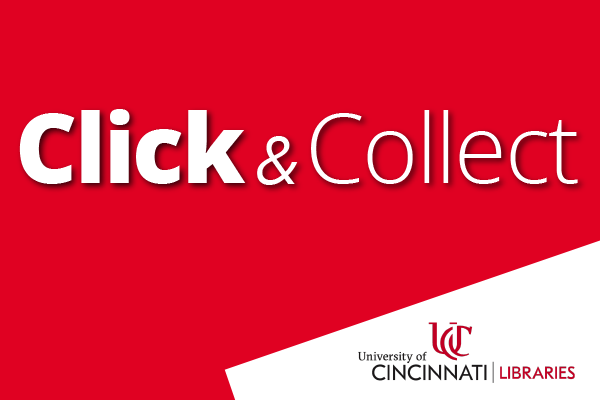 The Click & Collect retrieval and pickup service allows UC users to request print library materials in the Library Catalog for pickup at designated library locations. Requests made by 9am Wednesdays will be available for pickup between noon-4pm on Thursdays. Due dates have been automatically set for August 10. When searching for print materials in the Library Catalog, items with the status of "Held By Library" are available for request. Items from one library location cannot be requested for pickup at another library location.
Click & Collect started with the Albino Gorno Memorial (CCM) Library, the Robert A. Deshon and Karl J. Schlachter Library for Design, Architecture, Art and Planning (DAAP), the Donald C. Harrison Health Sciences Library and to some degree the Archives and Rare Books Library.
The week of June 22, the service was expanded to include the College of Engineering and Applied Science (CEAS) Library; College of Education, Criminal Justice, and Human Services (CECH) Library; the Geology-Mathematics-Physics Library and the Walter C. Langsam Library. Plans are underway to provide access to the John Miller Burnam Classics Library collection to Classics faculty and graduate students and details will be announced soon.
The Ralph E. Oesper Chemistry-Biology Library is not participating in Click & Collect. UC users should contact Craig Person craig.person@uc.edu with questions and requests for reserves/Oesper History of Chemistry books.
Location details and updates to Click & Collect will continue to be posted on the Libraries website.
Providing the UC community with access to our print collections is a tangible way in which we continue to achieve our mission to empower discovery, stimulate learning and inspire the creation of knowledge by connecting students, faculty, researchers and scholars to dynamic data, information and resources.
For other research and library service needs, the University of Cincinnati Libraries remains open and available online to provide users with access to library resources and services.